Bem-vindo a Denver, Colorado! A cidade para curtir o ar livre e as inúmeras aventuras urbanas. A "Mile High City", como é conhecida, desfruta de trezentos dias de sol por ano, um cenário artístico e cultural vibrante, e fácil acesso às Rocky Mountains.
MUSEUS
Denver é o lar de museus de primeira classe, incluindo o Denver Art Museum com suas coleções de arte do oeste e de índios norte-americanos, o Museum of Contemporary Art Denver com sua arte, programas e exposições contemporâneas inovadoras, o Clyfford Still Museum que apresenta a história do pintor expressionista abstrato que dá nome ao museu, o Kirkland Museum of Fine & Decorative Art que é um verdadeiro tesouro, recheado de arte do Colorado e internacional.
Para saber mais sobre as atrações de Denver e do Colorado, clique aqui (somente em inglês).
MÚSICA, ESPORTES E CERVEJA
Denver é uma cidade que sabe trazer diversão, seja na hora de curtir música ao vivo em algum dos bares ou clubes do LoDo (Lower Downtown) ou para vibrar na torcida por um dos sete times profissionais, como o time de beisebol Colorado Rockies no Coors Field. A atração imperdível é o Red Rocks Park & Amphitheatre onde músicos famosos se apresentam rodeados pelas antigas formações rochosas. E dezenas de pubs oferecem excelentes opções de cervejas artesanais locais.
Para saber mais sobre as atrações de Denver e do Colorado, clique aqui (somente em inglês).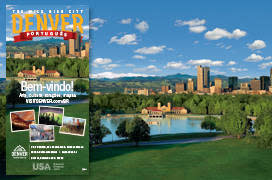 Baixe uma versão para impressão do folheto em Denver.
COMPRAS
Para encontrar marcas norte-americanas, varejistas, butiques e galerias sofisticadas, o Cherry Creek Shopping Center e o bairro de Cherry Creek North são os lugares certos. Opções de compras no centro da cidade incluem o 16th Street Mall, o Denver Pavilions e a Larimer Square. A uma pequena distância do centro da cidade, visitantes aproveitam o Belmar, FlatIron Crossing, Park Meadows Retail Resort, Outlets at Castle Rock ou Loveland.
Para saber mais sobre as atrações de Denver e do Colorado, clique aqui (somente em inglês).
HISTÓRIA DO OESTE E ATRAÇÕES PARA FAMÍLIAS
Conheça o History Colorado Center e visite suas exposições interativas, explore o Black American West Museum, e o Denver Museum of Nature & Science, ou faça um passeio rápido até o Buffalo Bill Museum & Grave próximo à cidade de Golden, Colorado. Para encontrar botas ou chapéus para comprar, vá até a Rockmount Ranch Wear, a famosa loja localizada bem no centro de Denver.
Para saber mais sobre as atrações de Denver e do Colorado, clique aqui (somente em inglês).
ONDE COMER?
Experimente a culinária do campo servida por chefes locais na Larimer Square no centro da cidade ou em bairros de Denver, como o Highlands. Os restaurantes oferecem todo tipo de comida, de sushi ou comida mexicana à carne de búfalo e cordeiro do Colorado acompanhadas de bebidas alcoólicas, vinho e cerveja produzidos no estado. E, também, há pontos de referência para serem visitados como o The Fort ou o Buckhorn Exchange que servem alce, cascavel e várias carnes típicas dos Estados Unidos. Não importa o que você queira comer, Denver irá te surpreender.
EVENTOS
Encontre as últimas informações sobre dança, música, teatro, história, cultura, museus, festivais, eventos e esportes no Denver 365, o detalhado calendário de eventos on-line de Denver. Procure por data, tipo de evento, título ou bairro.
Para acessar a página inicial do calendário de eventos (em inglês): clique aqui
TRANSPORTE - MOBILIDADE
Denver tem um centro de cidade pelo qual é possível andar, com serviço de ônibus de traslado grátis que passa pelo 16th Street Mall, além do programa de empréstimo de bicicletas B-cycle por toda a cidade. Também tem uma estrada de ferro própria que leva os visitantes para alguns dos vários bairros de Denver, portanto é bem fácil se locomover sem carro. Voos diretos estão disponíveis pela British Airways de Londres, Lufthansa de Frankfurt, Icelandair de Reiquejavique, Volaris da Cidade do México e United do Japão. (A United também terá voos da Cidade do Panamá a partir de 3 de dezembro de 2014.)
Para saber mais sobre o transporte em Denver, clique aqui.
ATIVIDADES AO AR LIVRE EM DENVER
Tire um dia para conhecer as Rocky Mountains - caminhada, rafting em águas claras, ciclismo ou esqui, ou explore as históricas cidades mineiras próximas em trens maria fumaça e não deixe de visitar o Rocky Mountain National Park e conhecer a vida selvagem e as paisagens incríveis em uma viagem de uma hora e meia. Aprenda como explorar Denver e o Colorado (em inglês)...clique aqui para saber mais sobre a região de Denver e aqui para ideias de passeios.
Denver é um destino de classe mundial que oferece algo para todos os participantes. Esta cidade em rápido crescimento combina inovação, tradição e cultura, com um enérgico espírito Rocky Mountain. O centro de convenções fica bem no coração do centro da cidade bem próximo de dezenas de hotéis em todas as categorias de preço. Leia mais sobre outros motivos para você desfrutar de Denver.