Sophisticated, sleek and chic. Denver's cocktail lounges let you relax and enjoy great drinks and food with friends.
16Mix
Ideally situated on the 16th Street Mall, 16Mix has become a favorite watering hole for fashionable locals and trendy travelers alike. Enjoy specialty cocktails and local, hand-crafted beers along with an array of appetizers and weekday happy hour specials.
The Cruise Room at the Oxford Hotel
This award-winning cocktail lounge located in The Oxford Hotel appears frozen in time since its Art Deco facelift in 1933. The Cruise Room was fashioned after a lounge on the Queen Mary, with original chrome and neon reflecting onto wall panels depicting light-hearted "toasts" from around the world.
Peaks Lounge at Hyatt Regency CCC
Located high atop the Downtown Hyatt Regency Denver, Peaks Lounge is a contemporary oasis providing the perfect backdrop for sophisticated gatherings with an unmatched view. The gourmet small-plate cuisine and desserts are as luxurious as the cocktails and plush confines.
The Cooper Lounge
The Cooper Lounge, located on the mezzanine of Union Station overlooking the Great Hall, evokes the glamour and sophistication of the post-prohibition lounges of the 1930s. This stylish new venue serves high-end cocktails and offers an extensive wine list, in addition to stunning views of Downtown Denver through its huge, arched windows. 
GAME LOUNGE
Where else can you enjoy craft cocktails and delicious food while playing all the board games you can imagine? Check out the Game Lounge where you can also relax on the deck and play outdoor games. 
Harry's Bar at the Magnolia Hotel
The Denver Post said it best of Harry's: "If the late, great filmmaker Saul Bass designed cocktail lounges instead of film-title sequences, he might have come up with something like Harry's. Harry's is a mod-retro fantasy with colors that would make the Pink Panther purr, concentric circles that would impress Kandinsky and fabrics that would make Huggy Bear jealous."
Cru - A Wine Bar
Experience and explore the fascinating world of wine with hundreds of bottle selections, premium wines by the glass as well as taster pairings and wine flights. Cru's eclectic, wine-friendly cuisine includes shared appetizers, gourmet pizzas and entrees.
Green Russell
Green Russell is a chef-driven cocktail bar with an old-school spirit. The menu is meant to be in keeping with the philosophy: fresh ingredients, at the peak of their flavor profile. Every item from the grenadine, to the amarena cherries, to the infused liquors and sodas siphoned to accompany them bear the stamp of Green Russell craftsmanship.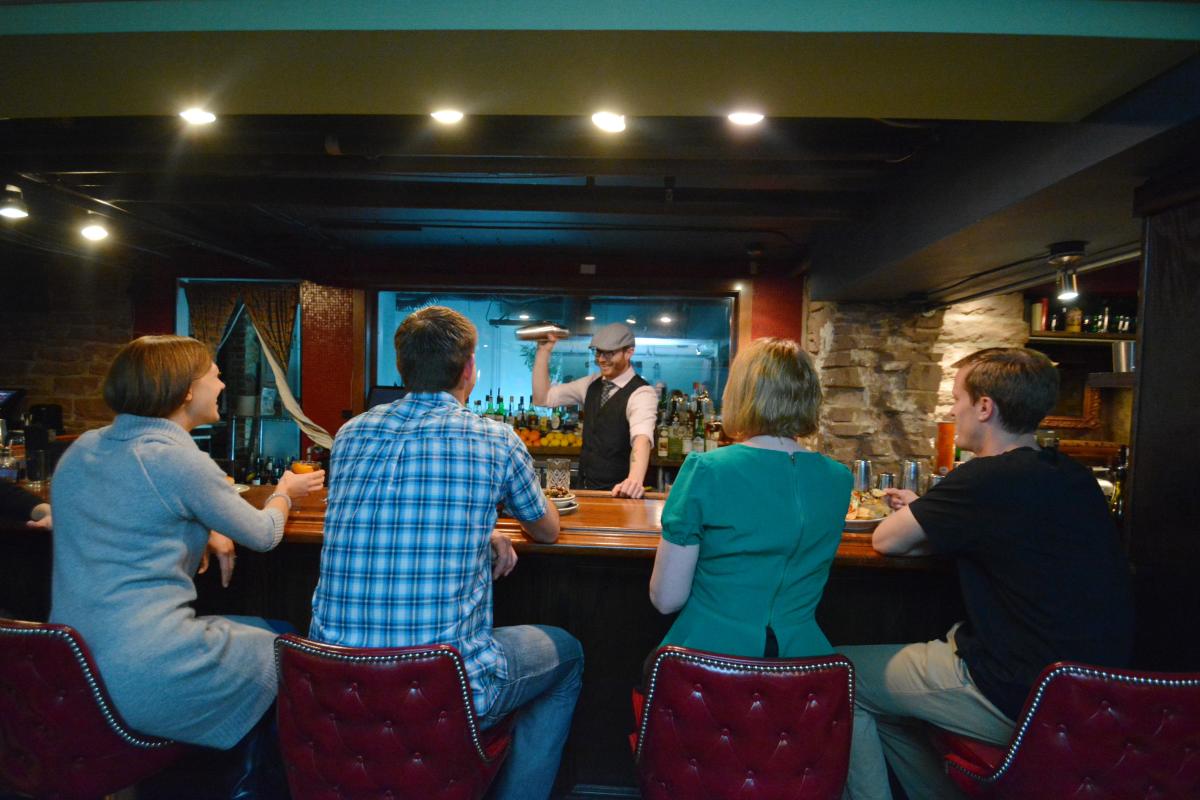 MARTINI BARS
PANZANO (HOTEL MONACO)
An under-the-radar sort of bar that on any given evening might be populated by rockers, writers, lawyers, hair stylists or, well, you never know. Whether prelude to a meal, an after-work wind-down or post-dinner nightcap, the bartender at Panzano pours a most satisfying libation, whether shaken or stirred.
CAPITAL GRILLE
This offshoot of the popular hangout for Washington insiders in the nation's capital is dark and clubby. Generous pours from a range of vodkas ease you through the transition from power-brokering to the evening's poker game or whatever other games powerbrokers play. Like the mother ship in the District of Columbia, the Capital Grille is all dark wood, subdued light and testosterone. But in a good way.
CHERRY CREEK GRILL
A popular Cherry Creek neighborhood bar frequented by locals and visitors as well (being as it's an easy walk from the nearby JW Marriott hotel), the Cherry Creek Grill is a just plain nice place to be. It's perfectly OK to eat at the bar, and if there isn't a crazy crush thoughtful bartenders will replace your martini glass with a chilled one if it looks like the contents are drifting toward room temperature.
CRUISE ROOM (OXFORD HOTEL)
Ambience abounds here, a renovated Art Deco spot in Denver's Lower Downtown. Patterned after a lounge on the Queen Mary, its rescue renovation kept the original chrome and neon that draws attention to art that portrays various international toasts. It's hard to believe Denver almost lost the Oxford Hotel housing the Cruise Room. But it didn't and Denver is the better for it.
JAX FISH HOUSE
The 4-6 Happy Hour at Jax Fish House LoDo is heaven for oyster lovers who enjoy a good slurp of bivalves as accompaniments to the martini of choice. It's an easy place to debate the relative merits of Wellfleets and Kumamotos; Bluepoints or Moonstones; Atlantic or Pacific mollusks as you sip. There is always enough variety from both coasts to pair nicely with a hearty martini, be it dry or dirty.
DEL FRISCO'S DOUBLE EAGLE STEAK HOUSE
Steak houses are supposed to have good martinis, and this classy joint is no exception. Augmented by the strategic placement of oversized containers filled with fresh flowers, Del Frisco's caters to a clientele clearly defined by its smartly dressed diners and their expensive cars, customarily parked by attentive valets. Also a gathering place for sports figures, real and imagined cowboys who mingle easily with captains of industry - some ensconced in corner offices in the nearby Tech Center.
AVENUE GRILL
Another neighborhood fave, the Avenue Grill consistently wins high marks for its martini menu. Who knows where the notion arose of filling olives with blue cheese, anchovies or citrus, but a review of the grill's stirred (never shaken) libations served up in the familiar thin-stemmed triangular vessel is bound to slake the devotee's thirst, whether it leans toward gin, vodka, ginger, sake or just plain vermouth.
SHIP TAVERN (BROWN PALACE HOTEL)
Located in Denver's Grande Dame of hotels, the Ship Tavern pub-like setting incorporates the appropriate nautical themes with such un-pub-like offerings as the "El 'Tini," which unites El Tesoro platinum tequila with lime and ruby red grapefruit juices. A suave gathering place where, Wednesday through Saturday, a pianist tickling the ivories provides background sounds. Stroll through the hotel lobby and appreciate the architectural touches that make place truly grand.
LOLA MEXICAN FISH HOUSE
Nestled in Lower Highland (LoHi), which embraces an easy, breezy, laid-back bar scene, is a product of Metro bar big shot, the Big Red F Restaurant Group. Ignore that you're indulging in a delightfully sweet libation nearly adjacent to North Denver's historic Olinger Mortuary and you'll feel totally at ease at Lola, a spacious Mexican-coast influenced bar and bistro. It has a large upstairs dining area, downstairs tailored for private parties and inside/outside bar providing prime no-strings-attached, no-conversation-necessary scoping opportunity. And the mojitos are excellent.
COLORADO'S SIGNATURE COCKTAIL: TREE LINE
A few years ago, the Colorado Distillers Guild and the Colorado Bartenders Guild (along with co-sponsors Westword and MCA Denver) hosted the Colorado Cocktail Contest. The aim? To get the state's best mixologists to create a signature Centennial State cocktail. The competition was fierce, but Marnie Ward of Denver's Avenue Grill emerged victorious with the Tree Line, a cocktail that makes use of Leopold Bros. whiskey and herbal liqueur. The recipe:
Tree Line
2 Bing cherries
2 oz. Leopold Bros. American Small Batch Whiskey
.5 oz. Leopold Bros. Three Pins Alpine Herbal Liqueur
.5 oz. fresh squeezed lemon juice
.5 oz. simple syrup
Muddle cherries, lemon juice and simple syrup; add whiskey and liqueur; add ice and shake. Serve up. Garnish with round slice of lemon peel (to replicate the Colorado sun). Drink and enjoy!

MORE DENVER COCKTAILS
JALISCO SOUR
Downtown Denver's speakeasy-style cocktail bar, Green Russell, offers the Jalisco Sour: blanco tequila, mezcal, Leopold Bros. Rocky Mountain Peach Whiskey, fresh grapefruit juice, lime juice and black-pepper syrup.
COLORADO SIDECAR
Head to the Ship Tavern in the historic Brown Palace Hotel for a Colorado Sidecar, made with Stranahan's Colorado Whiskey, Grand Marnier, simple syrup and lime juice.
CORPSE REVIVER
The curiously-named-but-delicious Corpse Reviver at Jax Fish House is a mix of Leopold Bros. American Small Batch Gin, Cointreau, Cocchi Americano, and fresh lemon juice with a rinse of absinthe.
OLD SAIGON
Get adventurous at ChoLon Bistro and order the Old Saigon, made with Stranahan's Colorado Whiskey, muddled Thai basil, Luxardo Cherries and housemade bitters.
BLACKBERRY SAGE MANHATTAN
Duo Restaurant offers the enticing Blackberry Sage Manhattan, made with Leopold Bros. Rocky Mountain Blackberry Whiskey spiked with sage and lemon.
RAMONA FLOWERS
Williams & Graham, recently named America's "Best Cocktail Bar," doubles down on Leopold Bros. libations with the Ramona Flowers, a blend of Gekkeikan Sake, Leopold Bros. Navy Strength American Gin, Leopold Bros. Michigan Tart Cherry Liqueur, lime juice and simple syrup. 
EL DIABLO
Terminal Bar at Union Station is shaking up something devilish with the El Diablo: Corralejo tequila, fresh lime juice, Leopold Bros. Rocky Mountain Blackberry Liqueur and ginger beer.