Top Chef Season 15, Episode 2: 'SMILE AND SAY MISE'
Top Chef Season 15 Episode 2 Recap
After last week's kick to the curb of San Francisco chef Melissa Perfit, the remaining 14 chefs settle into their swanky new digs. While several of the burly male chefs erupt in giggles over their self-described "Bear Den," Denver's Carrie Baird, who came close to getting the boot last week, is far more concerned with redeeming herself. 
"The first impression I made is not the right one, and serving food on a block that I worked on for four years was not a good way to start," admits Baird. "My hope moving forward is that I stop relying on past dishes as a crutch and start creating organically."
Host and judge Padma Lakshmi greets the contestants in the Top Chef kitchen and introduces this week's Quickfire Challenge guest judge, who happens to be none other than local restaurant luminary Troy Guard.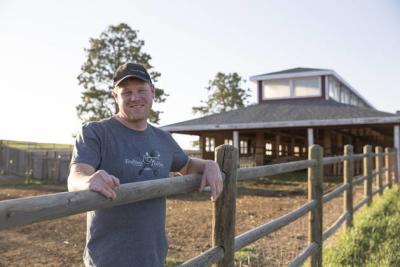 A table lavishly stocked with Blue Apron ingredients suggests a repeat of last season's Blue Apron challenge, but Lakshmi has other plans. She divides the chefs into two teams of seven (Baird is on the Green team; Bother Luck of Colorado Springs is on the Blue team) and announces the showdown: a mise en place relay race. The teams must peel and brunoise a quart of shallots, peel, de-stem and slice a quart of mushrooms and, for their last task, clean and portion 20 beef tenderloins, each of which must weigh between 7 and 8 ounces. 
They have 30 minutes to finish their missions, and the first team to complete the trio of challenges has the spare minutes to cook against each other using the ingredients they incorporated into their dishes. The prize for the winner? Immunity, $5,000 and a year's supply of dinners and wine from Blue Apron. Not a bad haul. 
Last week's episode showcased the chefs cooking on Larimer Square, and while Guard claims that he ate "a few tartares that were great," he makes it clear that he doesn't want a repeat: "We want some cooking done today," he tells the chefs. 
The challenge appeals to Luck, who shows off his impressive mise en place forearm tattoo. "I look at this every day and know that's what I need to get done," he says. 
Once the chefs finish their designated missions, they race to show Guard their handiwork. Save for a few steaks that aren't the proper weight, the chefs perform well. "All of you guys did awesome!" brownnoses Lakshmi. Guard mostly agrees, and while he and Lakshmi profess love for Luck's pan-seared filet with a mushroom and goat cheese crème, hibiscus and tarragon mignonette, Guard ultimately deems Joseph Flamm, the competitor from Chicago, the champion of the Quickfire Challenge. 

Mercantile Dining & Provisions Kitchen
Lakshmi wastes no time announcing the theme for the Elimination Challenge: The teams must create a four-course progressive menu that features a mystery ingredient from Fruition Farms Creamery, chef and guest judge Alex Seidel's Larkspur-based farm, which he owns, along with Fruition restaurant and Mercantile Dining & Provision, the restaurant where the chefs will congregate for the elimination round. 
Seidel welcomes the chefs to the farm and introduces Jimmy Warren, the farm's bearded cheesemaker. Tyler Anderson, the chef from West Hartford, Conn., quips: "This is like Thor and Neptune got together and they're, like, running a cheese farm. Like, how beautiful are these Denver people? What's in the water here?" In response, Seidel and Warren lay out—and explain—the farm's four artisan sheep's milk cheeses: Cacio Pecora, feta, ricotta and Shepherd's Halo. Cheese, it turns out, is the mystery ingredient. The other chefs drool and swoon. 
The four-course feast, the cheftestants are told, must incorporate all four cheeses, one in each dish. After dashing through Whole Foods to gather ingredients, the chefs arrive at Denver Union Station, Denver's gorgeously restored transportation hub and restaurant wonderland.  
The chefs, antsy and stressed, decamp in Mercantile's kitchen, while the judges, including Seidel, squat squarely in the center of Mercantile's dining room. Let the eating (and critiques) commence. 
The dish that generates triumphant euphoria is —wait for it—Baird's potato, caramelized onion and ricotta dumpling pooled in a whey butter sauce, prepared by "Mustache" Joe Sasto, a domineering chef from Los Angeles. "There's a good balance between the dough and the amount of ricotta filling," comments Seidel. 
Local chef Paul Reilly, co-owner of Beast + Bottle and Coperta, is one of the dinner guests, and he heaps praise on the sauce: "My favorite part was the whey sauce at the bottom; I don't know how they did it, but it was a nice complement to the dumpling and ricotta."
Meanwhile, Baird, oblivious to the fact that her dish wowed the judges, is freaking out: "I'll just be in the corner puking if you need me," she announces to no one in particular. 
Luck is one of the chefs responsible for creating a dessert, and his blueberry tart with whipped ricotta, grated almonds, candied grapefruit zest and powdered sugar scores more points for the home state. "It's really pretty and baked off perfectly," notes judge Graham Elliot.  
It's time for the judges to deliberate. Baird's dumplings were "phenomenal," says Warren. "Delicious," echoes Padma. "Simple and perfectly executed," chimes head judge and chef mentor Tom Colicchio. 
It's reckoning time, and it's up to Seidel to make the dramatic pause before broadcasting the winner of the Elimination Challenge. Baird brings home the gold! "I'm so proud to have won this one," she beams. "Now that I won a challenge, I hope that they can see that I deserve to be here and that I can compete and win." Luck is in it to win it, too; he'll be back, along with Baird, for episode three.
Chef Claudette Zepeda-Wilkins, who represented San Diego, was told to pack her knives and go. Like those who have been booted before her, she'll have a chance at redemption in Last Chance Kitchen. 
Next week on Top Chef Colorado: episode two unfolds in Boulder, and we know from the preview that there's a sudden death Quickfire Challenge (one of the chefs will be immediately asked to skulk off after the verdict). We know, too, that the chefs are cooking from the confines of food trucks and that there's an appearance by chef Hosea Rosenberg, who snagged the Top Chef season five crown.  
By Lori Midson
---
For its 15th season, Top Chef, the smash Bravo TV show that features 15 chefs from across the country competing in high-pressure culinary challenges, unfolds in venues across Colorado, including several locations in Denver. 
Union Station's Culinary Hotspots
Denver Union Station, a crown jewel that underwent a glorious renovation in 2014 and is now known for its culinary offerings, was prominently highlighted in episode two of Top Chef Colorado.
Here's a Denver Union Station eating and drinking itinerary:
The Elimination Challenge unfolded in the kitchen of Mercantile Dining & Provision, a New American restaurant from Alex Seidel (Fruition and Fruition Farms Creamery) that features a barista counter and market that sells hand-crafted jams, spreads and pickled vegetables, along with sandwiches and terrific cheeses (many of which are produced at Seidel's farm). Book a dinner reservation in the gorgeous dining room to fawn over Seidel's roasted bone marrow, duck confit ravioli and crowd-pleasing paella.
Morning travelers hit up Snooze for the profoundly delicious pineapple upside-down pancakes, served in a super-cool, retro-themed dining room that buzzes with conversation and endless cups of caffeine-jolted java.
Stoic & Genuine, a restaurant from chef Jennifer Jasinski and Beth Gruitch, trumpets nuanced seafood and fish creations that rival its coastal counterparts, while Ultreia, their Spanish and Portuguese  "gastroteka"—and the most recent addition to Union Station—abounds with smart, crowd-pleasing food that struts tapas, sandwiches, large plates, a lovely selection of sweets and botanical gin-tonics (the Spanish eschew the ampersand) elaborately festooned with herbs.
For a more casual dining experience, head to The Kitchen Next Door, a community pub that offers post-work escapism at the bar and a kitchen that doles out dishes punctuated with ingredients sourced from local purveyors.
If you have a lust for libations, flash back to the golden age of swanky bars at The Cooper Lounge, perched on the mezzanine overlooking the 100-year-old great hall, or commune in the historic ticketing office that's now the Terminal Bar, a festive space that pours Colorado craft brews, cocktails and wine.
During the summer months, don't miss the Denver Union Station farmers' market, a collection of local vendors showcasing fresh produce, honey, cheeses, pastries, coffee, bread and meat.
Check back every week for more stories about the culinary landmarks, restaurants and chefs featured in Top Chef Colorado.