Top Chef Season 15, Episode 5: 'This Is Not Glamping'
TOP CHEF SEASON 15 EPISODE 5 RECAP
If you've been following Top Chef Colorado, then you know that the "Bear Den"—a trio of burly male chefs, all of whom share a room and seem to suffer from sleep apnea—is bereft of one if its cubs following last week's elimination of Tyler Anderson, the guy from Connecticut who was booted back to the East Coast. The Bear Den feels a little empty," sighs a wistful Bruce Kalman, the challenger from Los Angeles who also landed in the bottom three.
Cut to Brother Luck, the Colorado Springs chef who cooked dirty rice—the one and only recipe that was given to him by his late father—for last week's emotional Elimination Challenge, which focused on dishes that represented the heritage of the chefs. "I really cooked more for me than for the judges, and while it was risky, it really satisfied my soul. Top Chef is pushing me to cook from different levels of experience and inspiration. Brother Luck style is changing!" fist bumps Luck. He announces, too, that his mornings have a new ritual: "I wake up and look in the mirror and be, like, you have pride, you have power!"
There's definitely power in numbers in the Top Chef Kitchen, which is full of surprises, including three former Top Chef contestants. "Welcome to Last Chance Kitchen. Whoever wins this competition is going back into the competition right now," declares head judge Tom Colicchio. The theme? The returning chefs are tasked with cooking with guts, namely internal organs and entrails—things like livers and kidneys. Fifteen minutes later, it's judgment day. "What I liked was that all of the dishes were offal-forward," deadpans Colicchio.
Host Padma Lakshmi waltzes in with one folded chef coat. She should have brought two, because Colicchio pulls a fast one. It's a tie! Both Claudette Zepeda-Wilkins, the feisty chef from San Diego and Lee Anne Wong, a veteran Top Chef contestant from 2006 (who's also three months pregnant) create magic, and Colicchio deems them dually victorious. Judging from the reactions of this season's challengers, there are too many chefs in the kitchen.
More surprises! There's no Quickfire Challenge. Instead, purrs Lakshmi, "I think it's time for a little Kumbaya." Eyebrows are raised. "You can't visit Colorado and not spend time in the great outdoors," she teases. "For your Elimination Challenge, you're going…camping!" But not just any camping. The chefs are heading for the "beautiful mountains of Estes Park!" enthuses Lakshmi. "I really want to see what you can do with just fire, camping equipment and limited ingredients."
Colicchio raises the bar: "I'm looking for a five-star meal in the woods," he quips. No pressure.
The chefs, they're told, will be cooking with ingredients native to Colorado. "Stay warm…because it's looking like it's going to snow," smirks Lakshmi.  The chefs lunge for the pantry. Luck goes flying. Literally. Eggs roll. "It's like an airplane hittin' a chicken coop," say Luck. "What a terrible idea," he moans.
Denver's Carrie Baird is more optimistic "I grew up in Idaho, and we were a pretty outdoorsy family. We did a lot of river-tripping and camping, so cooking at a campsite is not unfamiliar to me," she says. While the other chefs dive headfirst for quail, venison and buffalo, Baird settles on a dish that could make or break her: "It might be crazy, but I've decided to make a cake. No one else is going to do that; it's going to set me apart." Her dad used to cook cakes in a large Dutch oven, so there you have it. Advantage: Baird.
Off they go in their ritzy BMW's packed with camping gear, passing Colorado's gorgeous snow-capped peaks, rustic cabins and lots and lots of deer on their way to Estes Park. They stop at an outdoor camping store, which doesn't sell Dutch ovens, so Baird must resort to plan B, which entails baking her cake—now cakes—in individual cups.
The chefs pull up to the camping site and, lo and behold, there's enough snow to trigger an avalanche. "This has got to be a joke," opines Carrie. Nope, not a joke. The chefs grab their shovels and start digging. No one, except Baird, has a clue about setting up the tents. "She's like Miss Wilderness," says Luck, who's emerging as the king of one-liners.
Once the tents are in place (thanks to Baird), the chefs start prepping for the day ahead. "We should be sipping delicious beers," suggests Baird. Later, they do (Colorado beers, naturally), and they have s'mores, too, courtesy of Colicchio, who has the wherewithal to realize that it's cold out there. "To the great outdoors," says Baird, raising her can to the stars.
They sleep (sort of) and wake up to cobalt blue Colorado skies the next morning. Just another day in paradise.
Baird, though, is struggling. Her first test batch of cakes are too hot from the original oven she used, so she clears the snow down to the ground and adds a heap of logs that break down to charcoal. "Carrie is MacGyvering her dish. She's legit," praises her comrade from Colorado Springs. Except that she burns the next batch of cakes, too. "My dad made this look so much easier," she sighs.
The judges traipse through the snow and take their seats at an outdoor table. It's al fresco dining in the woods!
Baird's maple and pine nut upside down cake with honey oats and strawberry, rhubarb, raspberry and blueberry jam generates raves from the panel, which includes professional chef and restaurateur Naomi Pomeroy and representatives from Estes Park. "This is the perfect way to serve Carrie's upside-down cake," coos Lakshmi. "Right side up is the best way to serve an upside-down cake," echoes Colicchio.
Luck's dish, a lemon-herb pheasant with rutabaga, caraway and ramps, isn't quite so popular. "The flavor of the pheasant was great, but the rest was a mess," scolds judge Gail Simmons.
Baird's cakes are a favorite, and her dessert lands her in the top three. "I've rarely had a dessert on this show with such nuance," gushes Simmons. "It's beyond good," says Colicchio.
Despite the glory of Baird's cake, it's Kalman from the "Bear Den" who wins top honors for his cavatelli pasta, which he shapes using the blade on his freakin' mandoline. Genius, really.
It's Tu David Phu, the often forlorn chef from Oakland, who gets sent packing for his sin of preparing rabbit three ways. Actually, according to Colicchio, Phu is kicked to the curb because of his garnishes. "You need to spend more time on the garnish," says Colicchio. Really? He's axed because of a garnish mishap? Still, Phu isn't surprised. "I was overambitious," he admits. "I was expecting this."
Next week on Top Chef Colorado: "Why aren't you cooking our food like that?" pleads a clearly disgruntled Lakshmi to one of the chefs. A pregnant Wong heads toward an ambulance. And it looks like Keegan Gerhard, former host of Food Network Challenge and chef and co-owner of D Bar Denver, in Denver's Uptown 'hood, is a guest judge.  
By Lori Midson
---
For its 15th season, Top Chef, the smash Bravo TV show that features 15 chefs from across the country competing in high-pressure culinary challenges, unfolds in venues across Colorado, including several locations in Denver. 
Denver Restaurants that serve wild game 
This week's Top Chef Colorado Elimination Challenge involved camping in the snow-soaked hills of Estes Park and creating dishes utilizing ingredients native to Colorado, so it's no surprise that most of the plates strutted elk, buffalo, quail, rabbit and other local game meats, for which the state is known. Feast on those and more at these six restaurants in—and around—Denver, all of which ink their menus with meats sourced from Colorado.
Range: Focusing on the ranch-style cooking of the American West, this modernized whiskey saloon and onsite restaurant in the Renaissance Denver Downtown City Center Hotel proffers locally sourced beef from nearby 7X Ranch, Colorado-raised chicken, lamb and bison, plus local cheeses. The menu, built around live wood-fired cooking, a charcoal grill and smoker, also favors season-inspired herbs and vegetables.
The Nickel: The signature restaurant of the upscale Hotel Teatro, perched in the heart of the Theatre District, deftly incorporates wood-fired cooking with proteins, including lamb and pork from Buckner Family Farm, a ranch in Longmont that's revered for its ethically raised animals that grace a multitude of local menus.
Buckhorn Exchange: Squatting in Lincoln Park, Denver's oldest neighborhood, this rusticated shrine to game is a shining example of Denver's fabled past. The storied restaurant, serving cuisine that channels the Wild West, sports a taxidermy collection of mounted animal heads that represent what eventually ends up on your plate: prime-grade steaks, buffalo prime rib, quail, game hen and Rocky Mountain oysters.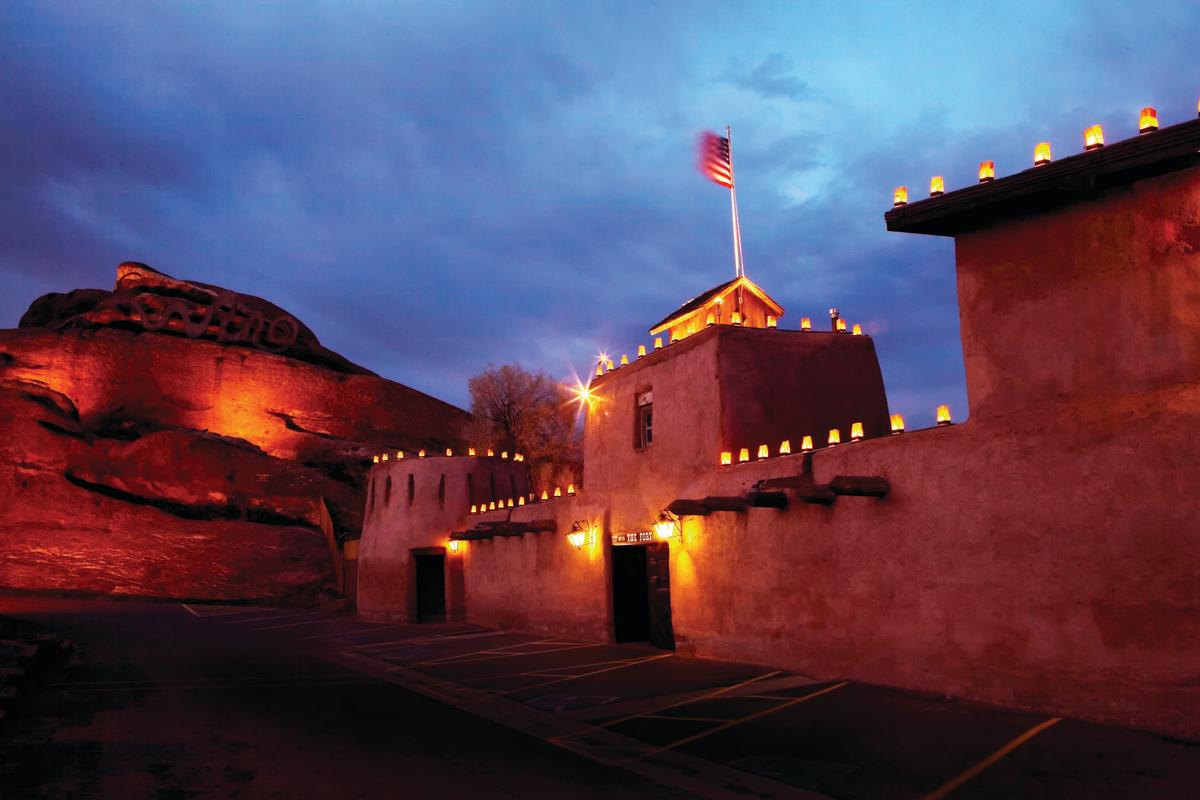 The Fort: Indulge in steak and buffalo, along with several other varieties of wild game dishes and frontier days cuisine—all elegantly adapted for modern-day palates—at this historic Western-themed restaurant situated in Morrison, just 25 minutes west of the city.
Elway's: It doesn't get more classically Colorado than Elway's, a local steakhouse named for John Elway, the former Super Bowl-winning Denver Broncos quarterback. All four locations, including the Downtown Denver outpost in the Ritz-Carlton Hotel, extol prime-grade slabs of Colorado-raised steer, Colorado rack of lamb and Rocky Mountain trout.
Biker Jim's Gourmet Dogs: This game-changing gourmet sausage parlor near Coors Field unleashes the city's most exotic sausages (think rattlesnake, pheasant, reindeer, buffalo, elk-jalapeno and wild boar) in a tricked-out industrialized setting that's supplemented by multiple mobile carts across the city, including one on the 16th Street Mall.