The following materials have been created to help you promote Denver as the ideal location for your meeting or event and highlight the many great aspects of the city. A wide variety of elements have been included to meet your marketing needs, all of which have areas that you can customize with your logo, event name and dates.
---
Show some Denver pride by using these Zoom video backgrounds during your video conferences. 
---
Bring the spirit of Denver to your attendees before they arrive! This series of Denver-themed DIY activities are inspired by everything from the local dining scene to Red Rocks workouts and more.
---
The Colorado Convention Center's 40-foot Blue Bear statue is actually named, "I See What You Mean" by Denver artist Lawrence Argent (1957-2017). It is a steel sculpture, encased in a fiberglass and cement composite and acts as a Denver ambassador, communicating the city's appeal as a meeting destination.
Click here to read an exclusive interview with Lawrence Argent.
Many groups have used the Blue Bear to help them promote their meeting. VISIT DENVER can assist you in this process by providing downloadable versions of the official Blue Bear files, available to you here.
USE & RESTRICTIONS OF THE BLUE BEAR GRAPHICS
The artist's estate retains copyright to the statue itself and to all visual representations. VISIT DENVER has a copyright license agreement with Lawrence Argent's estate that covers certain specific uses and poses for the Blue Bear, and we are able to offer those resources via the files below. The files can be used in your promotional material, but may not be altered in any way. Should you require other uses of the Blue Bear, we will be happy to put you in touch with the artist's estate directly to work out separate arrangements.
If you have additional questions about use of these files, please contact Chelsea Reinis at 303.571.9448 or creinis@visitdenver.com.
BLUE BEAR FILES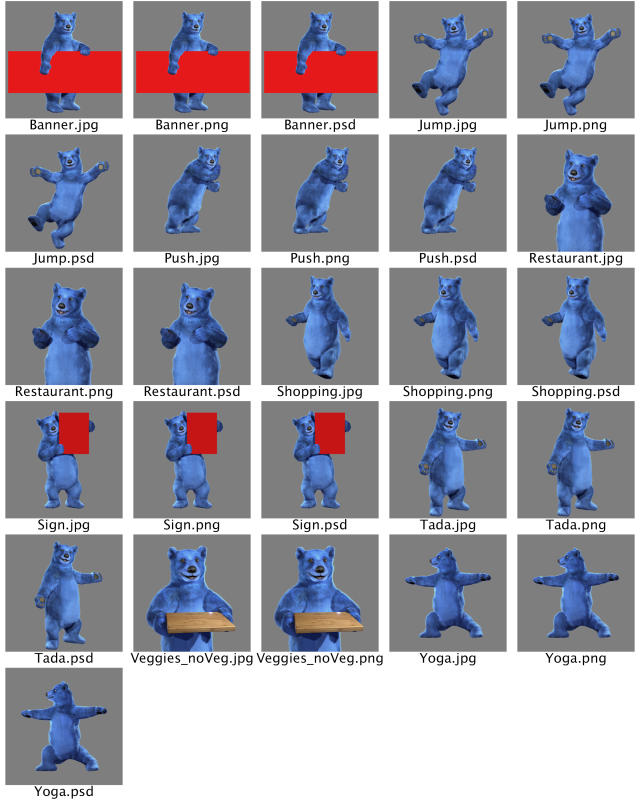 ---
VISIT DENVER is happy to provide Denver, The Mile High City logos for use on your marketing materials. Please download the .zip file to access the complete library of logos.
---
Flyers to be printed for your uses, your logo may be inserted.
Programs Required: To edit the flyers you will need a page layout program like Adobe InDesign or Quark Xpress.

Download PDF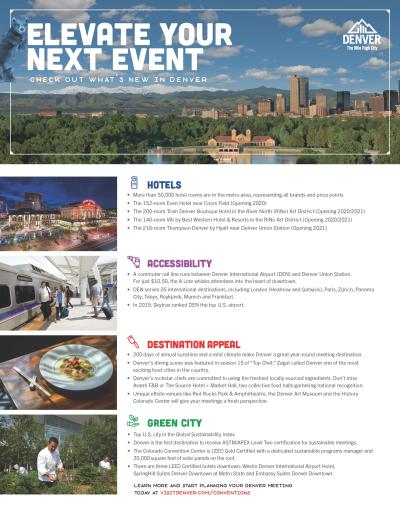 ---
| | | |
| --- | --- | --- |
| Digital Visitors Guide | Digital Dining Guide | International Vistors Brochure (English) |
| | | |
---
Colorado is, simply put, one of the most amazing playgrounds on earth, with four-season excitement and breathtaking landscapes. Many visitors to Denver choose to begin or end their trip in one of our charming historic towns or world-class mountain resorts. Our "Come Early/Stay Late" program gives your customers helpful information on many of Colorado's most iconic areas and top resorts. Learn more >>
---
VISIT DENVER offers multiple resources for meeting planners and attendees, which include our mobile applications (iOS, Android), mobile websites and our Official Visitors Guide download for iPad. The files below can be used to promote these programs.
To save an ad, simply right click on it and choose "Save As".
Download the app
XML Data Feed
VISIT DENVER offers up-to-date partner, event and offer information available to use on your meeting or convention website and app.
Download the Visitors Guide Ipad App