Holiday weekends, elaborate light displays, special cultural events and spectacular shopping and hotel deals bring Denver to life during the holiday season
Mile High Holidays, Denver's annual celebration of the festive holiday season, runs from Thanksgiving weekend through the National Western Stock Show & Rodeo in mid-January; and it offers plenty of events and activities to help visitors and locals get in the holiday spirit. From classic traditions to new events and performances to shopping and great deals on hotels, The Mile High City extends a warm holiday welcome with something for everyone.
"The holiday season is always one of the most exciting times in Denver," says Richard Scharf, president and CEO of VISIT DENVER, The Convention & Visitors Bureau. "There really is magic in the air – the City & County Building glows with the largest holiday light display in Colorado, our performing arts community rings with the sounds of the season and our premier shopping destinations provide plenty of opportunities to find the perfect gifts."
There is holiday spirit at every turn in Denver, and special holiday hotel deals starting at $99 make it easy to spend an evening or long weekend experiencing the most wonderful time of year in The Mile High City. For a detailed list of events and hotel deals, visit MileHighHolidays.com.
Holiday Weekends
This season's holiday weekends are the perfect opportunities to turn a holiday celebration into a weekend full of fun and activities. Below are some suggested activities for the most popular holiday weekends, many of which are free.
Thanksgiving Weekend – Many of the Mile High Holidays festivities commence during Thanksgiving weekend, November 24-27. The typically extra-long weekend allows plenty of time to celebrate the holiday and get out to enjoy things like The Polar Express™ Train Ride, find unique handmade gifts at the Denver Christkindl Market, visit the Star Wars™ and the Power of Costume exhibit at the Denver Art Museum and attend the Downtown Denver Grand Illumination.
Parade of Lights Weekend – The first weekend is a spectacular one with the annual 9News Parade of Lights. So nice, it happens twice, the 9News Parade of Lights takes place on both December 2 and 3 through downtown Denver; and it features thousands of sparkling lights, marching bands, giant balloons, majestic floats and more. While waiting for the show to start (8 p.m. on the 2nd, 6 p.m. on the 3rd), visitors can take in a show or concert, ice skate for free in Skyline Park, visit Santa on Larimer Square or at the Denver Pavilions and much more.
Christmas Weekend – Take a downtown holiday light tour during Christmas weekend; visit the Denver Zoo Lights and the Zoo's special exhibition, Washed Ashore, Art to Save the Sea, Blossoms of Light at Denver Botanic Gardens, the City & County Building and Denver Union Station for impressive light displays. And, for the last-minute shoppers, Cherry Creek Shopping Center and some businesses in Cherry Creek North and on Larimer Square are open until December 24th.
New Year's Eve Weekend – Ring in the New Year with Denver's annual New Year's Eve Fireworks. There are two shows, one at the family-friendly hour of 9 p.m. and the other at midnight. Before the fireworks, check out the Denver Museum of Nature & Science's special exhibition, Mummies: New Secrets from the Tombs. There are also plenty of fun parties for both families and adults – from "Noon Year's Eve" at the Children's Museum at Marsico Campus to the Countdown Party at Union Station. This is also your last chance to see Finding Neverland at the Denver Performing Arts Complex and check out the holiday lights around the city.
Blockbuster Exhibitions
Washed Ashore, Art to Save the Sea, Sep. 24, 2016 – Jan. 16, 2017
This amazing exhibit features 15 giant sculptures of sea life made almost entirely from debris collected from beaches. Developed by the non-profit group, The Washed Ashore Project, the exhibit is meant to create awareness about marine debris and plastic pollution though art. This is the second traveling exhibit of its kind to come to Denver Zoo, and the first time Washed Ashore will be hosted by an inland, noncoastal location. The detailed, colorful sculptures, each created using hundreds of individual pieces, all represent species that are directly impacted by marine debris, such as a sea turtle or a penguin.
Star Wars™ and the Power of Costume, November 13 – April 2
Explore the artistry of the world's most recognized cinematic costumes at Star Wars™ and the Power of Costume at Denver Art Museum. The exhibition will feature more than 70 hand-crafted costumes from the first seven blockbuster Star Wars™ films, along with 100 additional pieces, many of which have never been seen, sourced directly from George Lucas's Skywalker Ranch.
Mummies: New Secrets from the Tombs, October 14, 2016 – February 5, 2017
This exhibition at Denver Museum of Nature & Science provides a rare look at 20 mummies – many of which have never been on public display – originating from ancient Egypt and Peru, from many historic ages and backgrounds. Mummies: New Secrets from the Tombs reveals burial secrets and new details about the mummies' lives and the societies they lived in. The experience is enhanced by richly decorated coffins, sarcophaguses, mummification tools, and mummies of birds, cats, and crocodiles. Ancient civilizations and the modern world intersect as the latest technologies make it possible to unravel the distant past.
Holiday Performing Arts
A Christmas Carol, November 25 - December 24
A Christmas Carol is an annual tradition during the holiday season in Denver. Based on Charles Dickens' classic novel, this joyous and opulent musical adaptation traces money-hoarding skinflint Ebenezer Scrooge's triumphant overnight journey to redemption. Live from the Stage Theatre at the Denver Performing Arts Complex, A Christmas Carol illuminates the meaning of the holiday season in a way that has resonated for generations.
The SantaLand Diaries
WHEN: November 25 - December 24
Crumpet the Elf returns to The Jones Theater in the Denver Performing Arts Complex for more hilarious holiday hijinks in this acclaimed one-man show. David Sedaris' offbeat tales from his stint as a Macy's elf in New York City are the sure cure for the common Christmas show.
The Nutcracker, November 26 - December 24
Children and adults will enjoy Colorado Ballet's 56th annual production of the classic Christmas ballet The Nutcracker, held at the Ellie Caulkins Opera House and featuring unforgettable characters, classic choreography, exquisite sets, dazzling costumes and Tchaikovsky's extraordinary arrangement performed live by the Colorado Ballet Orchestra.
The Hip Hop Nutcracker, November 20
A holiday mash-up for the entire family, The Hip Hop Nutcracker is a contemporary re-imagination of Tchaikovsky's timeless music. The dance show brings together a dozen all-star dancers, a DJ and a violinist for a celebration of love, community and the magic of New Year's Eve.
Finding Neverland, December 20, 2016 – January 1, 2017
The inspiration that spurred J.M. Barrie's Peter Pan is the subject of this heartwarming original musical. Inspired by the 2004 film of the same name, Finding Neverland played to wild success on Broadway for 17 months before beginning its national tour in late 2016.
Mile High Holiday Events
The Polar Express™ Train Ride, November 10 – December 23, 2016
The Colorado Railroad Museum recreates the story of The Polar ExpressTM for families to be immersed in the sights, sounds and intrigue of this classic children's tale. The theatrical re-creation surrounds passengers with magic and wonder of the holiday season.
Denver Christkindl Market, November 18 – December 23
The Christkindl Market at Skyline Park includes vendors from Germany, Ukraine, Ireland and other countries, as well as local artisans, offering high-quality, handcrafted gifts such as traditional hand-carved wooden figurines, handmade candles and ornaments. Traditional German food, warm Glühwein (hot spiced wine), and traditional Christmas carols and live German music make the market a full holiday experience.
Southwest Rink at Skyline Park, November 22, 2016 – February 14, 2017
One of the most popular holiday events in Denver, The Southwest Rink at Skyline Park returns in 2016 with ice skating and family fun. The rink is FREE and open to the public with the option to bring your own skates or rent a pair at a minimal cost.
9NEWS Parade of Lights, December 2 (8 p.m.) and 3 (6 p.m.)
The 9NEWS Parade of Lights is a signature event of the downtown Denver holiday season. The countless sparkling lights, marching bands, giant balloons, majestic floats and delightful characters will once again wow hundreds of thousands. Viewing along the parade route is free, and grandstand tickets are sold for seating in front of the beautifully illuminated City & County Building.
Breakfast with Santa, December 3-4, 10-11, 17-24
Join Sharkey and Santa for a delicious breakfast buffet at Denver's Downtown Aquarium. After breakfast, explore the Aquarium Adventure Exhibit with more than one million gallons of extraordinary marine life. 
42nd Annual TubaChristmas, December 18
More than 300 tuba players from all over the region will play favorite holiday tunes in Skyline Park, which will be decorated for the season, making it a perfect setting to experience this holiday spectacular.
National Western Stock Show & Rodeo, January 7-22, 2017
Held every January at the National Western Complex, it is the world's largest stock show; and each year is bigger and better than the last, with more than 15,000 animals, Mexican rodeos, bull riders, horse shows, livestock competitions, auctions and booths selling everything from cowboy boots to Native American jewelry.
Holiday Light Displays
Downtown Denver's Grand Illumination, November 25
As part of Downtown Denver's Winter in the City program, at 6 p.m. on Nov 25, 2016, Downtown Denver's Grand Illumination event will illuminate Downtown, from Denver Union Station to the City & County Building at Civic Center Park. Following a countdown shortly after 6:30 p.m., Denver Union Station will glow with brightly colored floodlights illuminating the historic structure in the heart of Lower Downtown and its lighted tree in front. The lights stay on through the end of December.
City & County Building Holiday Lights, November 25 – December 31
The largest lighting display in Denver comes on nightly at 6 p.m. at the City & County Building, where 600,000 lights deck the neo-classical building. The bell tower plays carols nightly as well.
Blossoms of Light, November 25, 2016 – January 1, 2017
Embrace the holidays with thousands of colorful lights draped in elegant designs at Denver Botanic Gardens' Blossoms of Light. The 2016 event will display more than one million colorful lights draped in elegant designs highlighting the Gardens' winter beauty. Visitors can enjoy sparkling passages, new displays and romantic spots under the mistletoe, all made even more beautiful through HoloSpex glasses. Warm drinks and tasty treats will also be available.
Denver Zoo Lights, December 2, 2016 – January 1, 2017
Denver Zoo Lights span 70 acres of Denver Zoo's campus, with nightly entertainment, animal encounters, Santa meet-and-greets and, of course, illuminated animal sculptures that swing through trees, jump across lawns hide in bushes and appear in places where they are least expected. Be sure to find the 15 installations throughout the zoo that make up the special exhibition of Washed Ashore, Art to Save the Sea, illuminated as part of Zoo Lights and running through January 26, 2017.
Shopping and Santa Sightings
Downtown Denver
With more than 450 unique shops and more than 300 restaurants, downtown Denver is the perfect place to spend the holiday season. Check out the holiday shopping at the Denver Pavilions, Larimer Square, and stroll down the 16th Street Mall for eclectic finds for everyone. There will be free parking on Black Friday and Small Business Saturday in the Denver Pavilions underground garage. For unique handmade gifts, check out the Denver Jackalope Holiday Market at McNichols Civic Center Building on Dec. 10 and 11, 2016, featuring art, photography, fashion, housewares and more. 
Holiday Festivities at Denver Pavilions, throughout December
Located on the 16th Street Mall, the Denver Pavilions is a 350,000 square foot open-air retail, restaurant, and entertainment complex. With 40 restaurants, shops & entertainment venues, Denver Pavilions is a convenient and fun resource for holiday festivities. Valet parking available nightly for only $5 after 5pm with a same day purchase from the Center. The Denver Pavilions Holiday Carousel returns to the 16th Street Mall and complements additional holiday activities at the shopping center.
Santa on the Square, throughout December
Historic charm meets holiday cheer during the happiest season of all at Larimer Square. With festive dining options and boutiques filled with treasures for everyone, Larimer Square celebrates the holidays in style. There are also carolers, carriage rides, and Santa on any given day. Visits with Santa are free and open to the public.
Cherry Creek Shopping Center
Cherry Creek Shopping Center is the region's most popular shopping destination with more than 160 stores and restaurants, including RH Denver Design Gallery, Nordstrom, Neiman Marcus, Macy's and 40 others unique to the region. Throughout the holidays, enjoy special events and photo opportunities with Santa Claus. Pick up a complimentary Passport to Shopping at Guest Services, offering incredible discounts.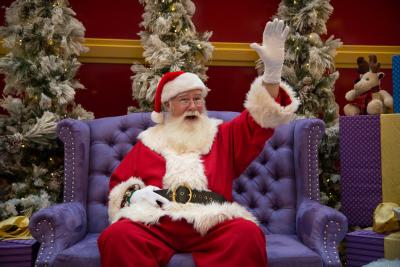 NEW Santa's Flight Academy
This season, Cherry Creek Shopping Center will debut "Santa's Flight Academy," a one-of-a-kind, immersive holiday experience that combines a giant re-imagination of the North Pole with state-of-the-art technology to enable children to become a member of Santa's flight crew. Partnering with an elf, each child will help ready Santa's sleigh so he can deliver presents to children around the world. At the end of the experience, each child will step inside the sleigh for a snowfall dance party before meeting Santa.
Denver Jackalope Holiday Market, December 10-11
Celebrate the holiday season with Jackalope, an indie artisan market on December 10th and 11th from 10 a.m. – 5 p.m. at the newly renovated McNichols Civic Center Building downtown. Shop more than 150 handmade vendors from art and photography, fashion and accessory design, home decor, housewares and more. Enjoy local food, full bar, and DIY workshops at this free and family friendly event.
Cherry Creek North
Denver's premier shopping and dining destination in the Rocky Mountain region – with twinkling holiday lights and festive atmosphere – this charming district has everything to celebrate the holidays in style. The neighborhood is home to sophisticated fashion boutiques like Andrisen Morton, Kate Spade, Hermes, Lawrence Covell, Calypso St. Barth, Loro Piana, St. John Boutique. Sip, savor and stroll through 16 blocks of more than 200 independently-owned luxury shops, galleries, spas, and top-rated restaurants. Located across the street from Cherry Creek Shopping Center and just five minutes from downtown Denver. 
Denver Flea, December 2-4
The Denver Flea is a contemporary marketplace showcasing makers and retailers who cultivate the Colorado lifestyle. This year's biggest and best ever Denver Flea will be the 8th annual; and it will take place at the Sports Castle on Broadway.
Gift Shops at Museums & Attractions
One of the best ways to see the city and find unique holiday gifts is to visit the gift shops at some of Denver's top attractions. Admission is not necessary for the gift shops, but it is the perfect way to discover more about the attraction itself and the context of the gifts available.
At the Denver Art Museum, buy beautiful posters and prints, in addition to art books and handmade jewelry. Grab a piece of the cutting-edge arts world at the Museum of Contemporary Art Denver's eclectic SHOP MCA. The Denver Zoo's two-story gift shop, Kibongi Market, offers hand-crafted ceramic and art items from Africa and a wide selection of toys and clothing. The Denver Museum of Nature & Science's gift shop has a great selection of books, science kits, DVDs, CDs and more. Denver Botanic Gardens' Shop at the Gardens offers all-natural gifts, plants and gardening supplies, art and much more. The Molly Brown House Museum features art deco-inspired jewelry, home décor and gift items.