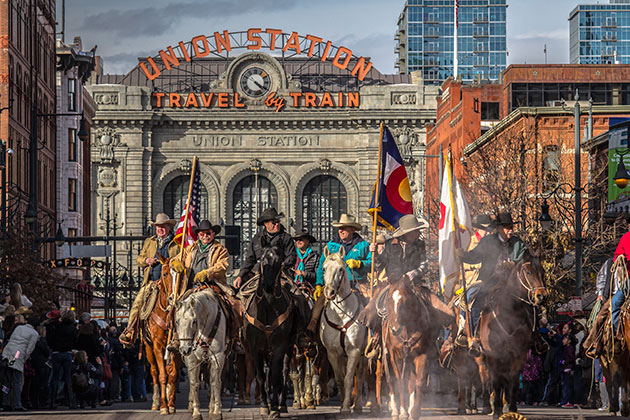 Despite its metropolitan, 21st-Century leanings, Denver is still the place to experience the real Old West at attractions, restaurants and annual events.
Buffalo Bill Museum & Grave
One of the most famous cowboys ever to put on a pair of stirrups, William F. "Buffalo Bill" Cody epitomized the Old West. After leaving his boyhood home in Leavenworth, Kansas at age 11, he went on to become a cattle herder, worked on a wagon train, mined for gold, rode in the Pony Express, scouted for the Army, and traveled the world with the Buffalo Bill's Wild West shows. Upon his request he was buried atop Lookout Mountain in 1917. The Buffalo Bill Museum & Grave opened in 1921 and offers a look into life in the Old West, with exhibits on Buffalo Bill's life, the Wild West shows, Indian artifacts including Sitting Bull's bows and arrows, Western art and firearms. 
The City of Denver Buffalo Herd 
The City of Denver's Buffalo Herd Nature Preserve (20 miles west of Denver at I-70, Exit 250), features 40 buffalo in a natural setting - the only city-maintained herd in the country. The buffalo are direct descendants of the last wild buffalo herd left in America.  
Rockmount Ranch Wear
A Denver original, fashion pioneer Papa Jack Weil invented the western snap-button shirt and opened shop back in 1946. He sold his shirts to presidents and rock stars alike including Eric Clapton and Bruce Springsteen. Stop by the Rockmount Ranch Wear flagship store and museum to browse the incredible selection of western-style shirts, hats and accessories. Papa Jack passed away at the grand old age of 107 in 2008, but his Mile High City Spirit lives on at this great Denver store.
The Buckhorn Exchange
The Buckhorn Exchange, Denver's oldest restaurant is rich in Colorado history and serves up a unique menu of wild game and steak in a rustic, elegant atmosphere. A charming roof-top patio overlooks downtown, and is open year round, thanks to the patio heaters. Downstairs, you'll dine with hundreds of mounted game heads. The menu features steak, buffalo and elk.
Black American West Museum
For decades Hollywood westerns depicted a Wild West that was populated almost entirely by white people. The Black American West Museum puts this myth to rest permanently by highlighting the prominent role Blacks played in the settlement of Colorado as miners, soldiers, homesteaders, schoolteachers, ranchers, blacksmiths, cowboys and lawmen. This fascinating museum, located in the former home of Colorado's first Black woman doctor, hosts countless photographs, artifacts and interactive exhibits that tell the story of the Wild West through a different lens.
Four Mile Historic Park
On the banks of Cherry Creek, just four miles from Downtown Denver, the true-to-its-name Four Mile Historic Park's pastoral 12 acres feature Denver's oldest standing structure, pioneer exhibits, special events for all ages, and guided tours that transport visitors to Colorado's frontier past. Once a wayside inn and stage stop, the Four Mile House and grounds offer a unique Old West experience. 
American Indian Collection & Western Art at the Denver Art Museum
The Denver Art Museum's American Indian art galleries focus on artists, their creations, and their inspirations. The museum's American Indian art collection includes more than 18,000 art objects representing the heritage of all cultures and tribes across the United States and Canada. Recognized as one of the best of its kind in the United States, the collection spans more than 2,000 years of artistic creativity, from prehistoric times to the present. Additionally, the museum's extensive collection includes work by Western masters such as George Catlin, Frederic Remington, Charles M. Russell, John Mix Stanley, Alfred Jacob Miller, and others. The crown jewel in the institute's collection is Charles Deas's Long Jakes, The Rocky Mountain Man, the single most influential image in Rocky Mountain iconography.
National Western Stock Show
Called the "Super Bowl of Cattle Shows," the National Western Stock Show is a Denver tradition, honoring the country's rich Old West heritage. Held every January at the National Western Complex, it is the world's largest stock show - and each year is bigger and better than the last, with more than 15,000 animals, rodeo performances, Mexican rodeos, bull riders, horse shows, livestock competitions, auctions and booths selling everything from cowboy boots to Native American jewelry. During the Stock Show, a parade is held in Downtown Denver, with a herd of cattle driven through the streets.
Denver March Powwow
Since 1984, the heritage of American Indians has been celebrated in Denver every year at the Denver March Powwow, one of the largest events of its kind in the country. The Powwow, taking place every March, features more than 1,600 dancers from close to 100 tribes from 38 states and three Canadian provinces. The three-day event in the Denver Coliseum is packed with singing, dancing, storytelling, food, art and more, ensuring a wonderful experience for everyone.
The Fort
A full-size replica of an adobe fur-trade fort with scenic view of downtown Denver, The Fort is an award-winning restaurant that has been featured in the New York Times, Sunset, and Bon Appetit as one of the nation's most recognized establishments. Fare features fine beef, buffalo, game, seafood - and even rattlesnake!
History Colorado Center
The History Colorado Center is an experiential museum that will make history fun. Soar off the world's first ski jump in Steamboat Springs; don a headlamp and descend into a mine; or push a "Jules Verne-like Time Machine" over the Rockies. Whether you spend time with Chief Yellow Wolf, Kit Carson or Barney Ford, expect history like you've never seen, heard or experienced it before.  
American Museum of Western Art
Denver's cultural renaissance continues with the comprehensive American Museum of Western Art. Housed in the historic Navarre building located across the street from the Brown Palace Hotel, the museum is home to the extraordinary Anschutz Collection - more than 650 paintings and drawings by more than 180 artists spanning 200 years of American history. Selections from the collection have appeared in shows from London to the People's Republic of China before being permanently placed in downtown Denver.