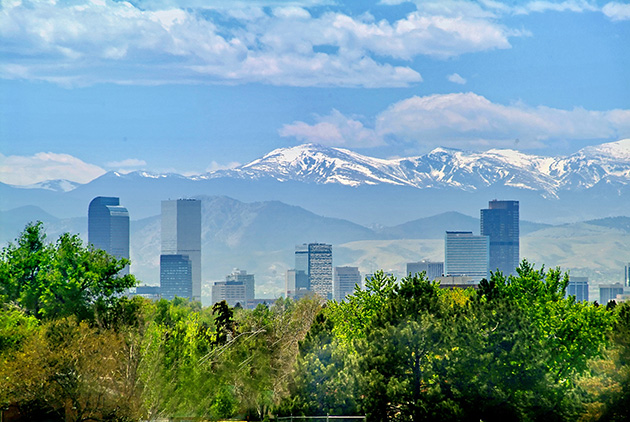 Discover Denver, The Mile High City
Denver, Colorado is a walkable, outdoor city with 300 days of sunshine, brilliant blue skies and breathtaking mountain scenery. Founded in 1858 as a gold mining camp, Denver is located at the base of the majestic Rocky Mountains, 5,280 feet (1,609 meters) above sea level – exactly one mile high. Denver offers urban adventures for all ages, spring, summer, fall or winter. Explore The Mile High City without ever needing a car. Getting into the city center is now easier with direct rail service from Denver International Airport to Denver Union Station. The 37-minute trip costs $9 each way.
Day One: Sightseeing & Shopping in Downtown Denver
Spend the afternoon exploring museums in the Golden Triangle Museum District, then relax with some of Denver's best craft beers.
Insider tip: Mile High Culture Pass: The best way to explore some of the city's most fascinating attractions for the bargain "Mile High" price of $52.80 for five-day access or three-day access for $30. Purchase at the Tourist Information Center or online at www.milehighculturepass.com
Day Two: Red Rocks Park & Amphitheatre, shopping in Cherry Creek and more!
Start the day with a trip west of downtown Denver to see the famous Red Rocks Park & Amphitheatre with some fun stops along the way:         
Spend the afternoon shopping and exploring other nearby attractions:
Discover some of Denver's Unique Neighborhoods for the evening: http://www.denver.org/about-denver/denver-neighborhoods/
RiNo (River North Art District) – RiNo is "where art is made" – a hotspot for creative types, with several uniquely renovated spaces that provide room for culinary and industrial creativity.
South Broadway – South Broadway is lined with an eclectic mixture of neighborhood taverns, avant-garde clothing stores, art galleries, antique stores, used bookstores, ethnic restaurants, music clubs and more.
LoHi (Lower Highlands) - Just west of downtown, this neighborhood is characterized by a mix of old and ultra-modern architecture, some of the city's most innovative restaurants and bars, and incredible views of the Highland Bridge and downtown Denver.
Insider tip: Explore on wheels: Try exploring The Mile High City using B-cycle, the city's bike share program http://www.DenverBcycle.com or try a Pedi-cab www.milehighpedicabs.com or E-tuk http://etukusa.com/
Day Three: Experience the Rocky Mountains
Take a day trip to the Rocky Mountains or a nearby town: http://www.denver.org/things-to-do/day-trips-around-colorado/
      Option 1:
Rocky Mountain National Park: Located 1 ½ hours northwest of Denver, Rocky Mountain National Park features 400 square miles (1,036 sq. km) of scenic beauty, including Trail Ridge Road, the highest continuous highway in the world, crossing the Continental Divide at over two miles (3.2 km) above sea level. The park has two information centers, hundreds of miles of hiking trails, tranquil lakes, waterfalls, wildlife and horseback riding. Estes Park is a resort town on the edge of the park with restaurants and shops. http://www.denver.org/things-to-do/day-trips-around-colorado/rocky-mountain-national-park/
      Option 2:
Mount Evans: Mount Evans has the highest paved auto road in North America, snaking its way to the 14,260-foot (4,346 m) summit. The road ($10 for a three-day pass) is open only from the Friday before Memorial Day through the first Monday in October, and frequently has snow on it, even in August. The view from the top takes in the entire Front Range. The summit is 60 miles (97 km) from downtown Denver. http://www.denver.org/things-to-do/day-trips-around-colorado/mount-evans/
      Option 3:
Georgetown: Located just 45 minutes west of Denver, Georgetown is a delightful Victorian village set in a spectacular mountain valley with 200 restored buildings from the 1870s. The main street has shops and restaurants and many of the old homes have been turned into antique stores. The Georgetown Loop Mining & Railroad Park operates in the summer months with narrow gauge steam locomotives curling down a mountain ledge, at one point crossing over a 90-foot (27 m) high trestle with optional tour of a silver mine. http://www.denver.org/listings/Georgetown-Loop-Mining-Railroad-Park/3757/
      Option 4:
Colorado Springs - Pikes Peak Country is located 1 hour south of Denver and features more than 40 attractions centered around 14,000-foot (4,267 m) high Pikes Peak and the city of Colorado Springs. Things to see include the Air Force Academy, one of three United States military colleges; the famous Broadmoor Resort with its lake and three golf courses; the Pro Rodeo Hall of Fame with its exhibits on this exciting professional sport; and Garden of the Gods which has gigantic 500-foot (152 m) high red sandstone rock monuments at the base of Pikes Peak. http://www.denver.org/listings/Colorado-Springs-Convention-Visitors-Bureau/3984/
      Option 5:
Fort Collins: Situated at the foothills of the Rocky Mountains, Fort Collins offers fabulous recreational opportunities, diverse cultural attractions, a vibrant nightlife scene, and plenty of family friendly activities. Just over an hour drive north on I-25, the town is home to Colorado State University. Explore the city's 50 parks and walking and bike trails, or go for a whitewater adventure on the Cache la Poudre, a river runner's paradise from May through September. And of course, no visit to the city would be complete without a trip to the world famous New Belgium Brewery, a must-see for craft beer aficionados. http://www.denver.org/listings/Visit-Fort-Collins/3791/