Denver is one of the best beer cities on the planet, and the planet is front of mind for many of the city's top breweries.
To help the industry become more sustainable, the Colorado Department of Public Health and Environment (CDPHE) launched a sustainable brewing program in 2017. Kaitlin Urso, an environmental consultant with CDPHE, says the free program has worked with more than 25 breweries in the years since.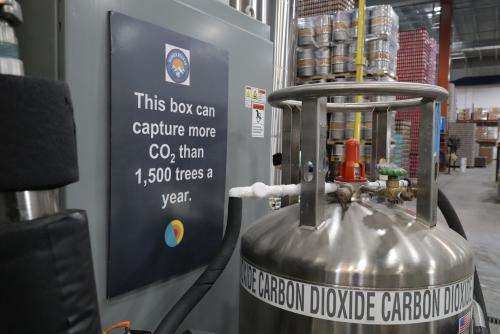 Following a site audit, the program's administrators develop recommendations on a case-by-case basis.
"A lot of the sustainability recommendations that we have are based on economies of scale where it may not make sense for a smaller brewery, but it certainly makes sense for a larger brewery," says Urso, noting that the primary sustainability issues at breweries relate to energy and water. "The energy is primarily coming from all of the heating and cooling that has to go on when you're brewing, and then also the cold storage that it needs. And it takes about six gallons of water per one gallon of beer."
The CDPHE program helps breweries implement new processes and technology to improve their efficiency with both energy and water, ranging from LED lighting and zip doors on walk-ins to waterless canning lines and solar arrays.
At Great Divide Brewing Company in the Ballpark neighborhood, an LED lighting upgrade resulted in "impactful" savings, says founder Brian Dunn. Water usage is likewise "trending down," he adds. "It takes a lot of water to brew, but we can control a lot of that. Use only what you need, but no more. That's a big one for us."
Recycling of certain items has gotten more difficult due to unfavorable economics. Regardless, Dunn remains committed to diverting waste from the landfill.
"We pay to have recycling bins at both locations," he says.
Then there are the byproducts of fermentation.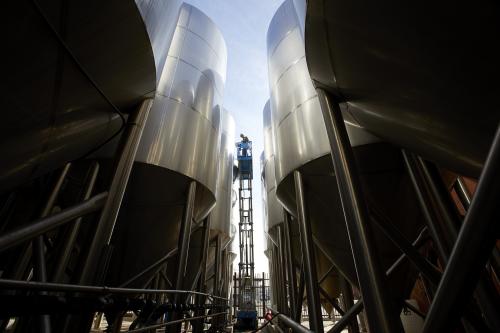 "The waste stream is primarily spent grains," says Urso. "Here in Colorado, almost all of our breweries, at least everyone that I've worked with, donate their spent grains to farmers for animal feed."
Great Divide is no exception, as it sells spent grain to a nearby feedlot. But animals can't consume everything from a fermentation tank, Urso adds. Case in point: "The biggest air emissions source is CO2 coming off of the fermentation process."
Denver Beer Co. is using equipment made by Earthly Labs to capture CO2 and use it in other applications.
"We're doing different projects with it," says co-founder Patrick Crawford. "Most recently, we captured our CO2 and brought it down to the taproom, and then pushed all the beer in the taproom with it."
According to Crawford, sustainability is woven into Denver Beer Co.'s DNA, saying, "It's been part of who we are from the beginning."
That means spent grain goes to a cattle ranch, recycling and composting programs are in effect in both the brewhouse and the taproom, and local suppliers, including Proximity Malt in Monte Vista, are preferred.
"We do our best to recapture heat, so when we have our boiler work, when we're cooling down, we capture all that and store it for the next brew," says Crawford. "We've partnered with the state for energy audits. They've come out and we've had this facility audited, and we've done everything that they suggested."
Crawford says part of it is "for the sake of our planet, but also some of the business parts of it make a ton of sense." He points to a solar array that offsets all of the brewery's electrical usage at its production brewery in the Sunnyside neighborhood. It paid for itself in four years.
This kind of return on investment isn't uncommon, says Urso, noting that sustainability initiatives usually make good business sense.
"Typically in a brewery, anything that you do to become more environmentally efficient, you're also becoming more economically efficient," she says. "It's a journey. Start your journey with low-cost, no-cost opportunities, and then take those savings so that you have the opportunity to invest in these larger opportunities as you grow."
Dunn echoes the sentiment, adding, "We think our customers care, we think our employees care, and we think it's the right thing to do."