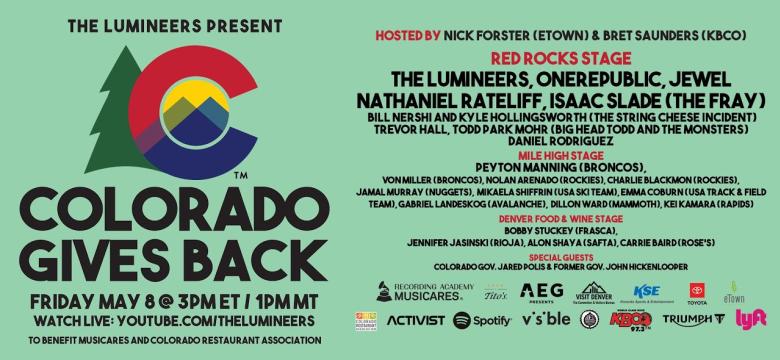 The Lumineers teamed up with fellow Colorado musicians, professional athletes, chefs and government officials for a livestream benefit concert.
Arts & Culture
'Beyond Monet,' (Denver Art Museum's audio series regarding the recent exhibition)
Clyfford Still Museum's online collection
Denver Art Museum's online collection
CherryArts Shop (featuring artists and their artwork from the Cherry Creek Arts Festival) 
Terry Maker: Because the World is Round
#letsmca - MCA's (Museum Contemporary Art Denver's) daily inspiration on Instagram
Kirkland Museum of Fine & Decorative Art's Process and Print 
Pull Up a Chair: A selection of chairs from Kirkland Museum's permanent collection
BORDER: A solo virtual exhibit of works by Mongolian artist Tsogo Mijid
Dearly Disillusioned: A virtual gallery with perspectives on gender identity, protest and equality
Colorado Photographic Arts Center's Permanent Collection​
Denver Arts & Venues' virtual public art collection
Spectra Art Space's virtual experiences
Latino Cultural Arts Center's online collection
Foothills (Art Center) At Home (painting lessons and more)
Live Artist Talk with street artist Detour (every day at 5 p.m.)
Performing Arts
Colorado Symphony members play "Ode to Joy" from various locations
Colorado Symphony members play "Don't Stand So Close to Me"
Colorado Opera's "Behind the Curtain" blog post series
Boulder Opera's Quarantine Events
Denver Brass at Home's YouTube channel 
"Seize the Day, A Parody" (from Phamaly Theatre Company​)
Kantorei (Denver's premier choral ensemble) performs "Fire and Ice"
"Moon Over Buffalo" (interviews with the play's cast by Miners Alley Playhouse)
"White Mirror" (live stream premiere by Lemon Sponge Cake Contemporary Ballet)
Online Dance Classes From Hannah Kahn Dance Company 
Cyber Dance 2020 by Cleo Parker Robinson Dance (online dance classes, chats and events)
Music
Dazzle's Online Stage (jazz performances by various artists)​
Streams with Grit (daily streaming concerts from Underground Music Showcase)
Inside the Orchestra's audio playlists 
Rocky Mountain Virtual Music Festival (Fridays) 
Love This City Mixtape by artist Pat Milbery (new local artists performing each Sunday)
Pandemic Playlists (enjoy music from various DJs)
Food & Drink
Slow Food Live webinars (live sessions throughout the week along with recorded webinars)
Cocktail Sessions (bartenders from Curio at The Denver Central Market, Brass Tacks and Roger's Liquid Oasis demonstrate how to make cocktails)
Uncorked Kitchen & Wine Bar's live-streamed cooking classes (various times on Fridays; family cooking on Wednesdays)
Socially Distanced Drinking with Wayne and Laura 
Cheesemaking 101 Class  (with Kate Johnson, founder of the Art of Cheese cheesemaking school)
Colorado Sake Co.'s Sushi Roll Livestream Masterclass
Taste & Talk - Live Virtual Wine Tasting Experience with Blanchard Family Wines 
Family-Friendly & Educational 
Colorado's Most Significant Artifacts from History Colorado Center
Denver Botanic Gardens' fun activities  
Museum Fun 101: At-home activities by the Children's Museum of Denver at Marsico Campus
Denver Art Museum's Creativity Resource 
Denver Public Library's Maker Challenge 
Denver Museum of Nature & Science's Learning Center
Family-Friendly Public Art Virtual Tour by Denver Arts & Venues
Denver Public Library's virtual services and programs
Denver Zoo's animal learning guides
Explore the World of Invertebrates, Virtually, with Butterfly Pavilion 
Online French Classes from Alliance Française de Denver​
Printable Fun from Elitch Gardens Theme & Water Park
American Museum of Western Art's lessons and activity ideas
Denver Botanic Gardens' Dig Into Nature at Home 
Film & Literature
Lighthouse Writers Workshop's online readings, happy hours, book reviews and events
Denver Film Society's Virtual Releases 
Movies and TV shows filmed in Denver
Comedy
Coast to Coast Roast (starting May 7, 48 comics in 24 cities, including Brandt Tobler and Steve Gillespie from Denver, will compete in a three-week-long digital roast)
Voodoo Comedy's online classes
Health, Safety & Wellness
Keep Cherry Creek Unique (Mondays: wellness tips; Wednesdays: fashion and home decor tips; Fridays: recipes from local chefs)
Sports & Fitness 
Colorado Rapids' ONE CLUB - ONE COMMUNITY program (live shows, player interviews, health and wellness tips, activities for kids, and more)
Watch classic Broncos, Avalanche, Nuggets and Rockies games for free
American Alpine Club's Clubhouse Live 
Hudson Gardens' self-guided tours 
Don't forget about cultural institutions during this time of need. They've also been hit hard by the COVID-19 outbreak and could use your help. You can make a contribution directly to a cultural institution by searching a list of SCFD organizations in the Denver metro area or by searching statewide through ColoradoGives. Also, if you have purchased tickets to a performance, exhibit or cultural event that's been canceled, you can simply forgo the refund, which will help support the respective organization. The Colorado Business Committee for the Arts (CBCA) has more tips on how you can support the arts.