There is an ice cream renaissance going on in Denver with locally made, tasty goodness available in both iconic ice cream shops and several newer creameries. The only requirement? Release any calorie-counting notions and simply go for it at these 12 delicious places.
The 28-foot-tall, 14,000-pound Little Man Ice Cream milk can signals your arrival in the Lower Highlands (LoHi) neighborhood. The milk can is a nod to the golden era of American road trips during the 1920s-1950s, when foods like donuts, hot dogs and ice cream were celebrated and memorialized by roadside monuments. Little Man Ice Cream serves up a wide range of homemade flavors and donates a scoop of rice, beans or other essentials to communities in need around the globe for each scoop of ice cream sold. Throughout summer, there is entertainment every night on Little Man's plaza, ranging from movies and open mic nights to live music and swing dancing. Watch for upcoming opportunities to tour, taste and purchase at the business's new creamery at the corner of Colfax and Tennyson, where all the ice cream is made. 
The creamery also helps keep sister shop, Sweet Cooie's Ice Cream and Chocolates in Congress Park, supplied. The classically inspired confectionery serves up scratch-made treats, including the "Gooie Cooie," a fresh-baked brioche ice cream sandwich. A portion of every scoop sold at Cooie's is donated to support women's education. It's also possible to savor 16 flavors of Little Man Ice Cream downtown (even in the form as boozy alcohol shakes) at Milkbox Ice Creamery in Denver Union Station. Located in the former barbershop space adjacent to the Great Hall and Pig Train Coffee Co., the shop looks the part with original large mirrors, terrazzo floor and subway tiles.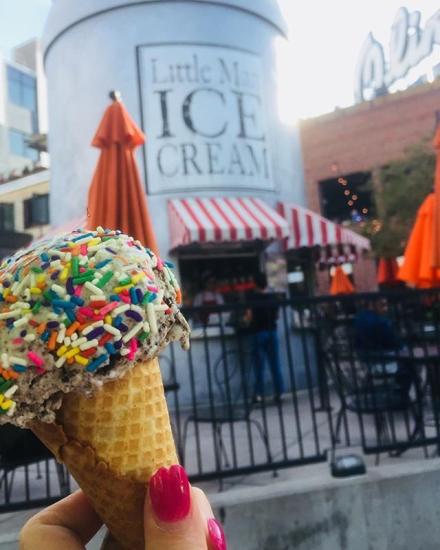 If you prefer eating ice cream in conjunction with a great burger, head straight for 5280 Ice Cream, the creamery next to 5280 Burger Bar on the nearby 16th Street Mall. Anice cream chef creates eight "everyday" and eight "something special" flavors seven days a week that are served up as cones, sundaes and milkshakes, including Shaketinis (ice cream with booze) for the adults in the group. 
Liks Ice Cream, a family-owned creamery in operation for more than 40 years and based in the heart of Denver's Capitol Hill neighborhood, has a second location in Conifer and extensive wholesale distribution along the Front Range and mountain communities. For those who want to share or desire bragging rights, order the Piggy Split to indulge in seven scoops of ice cream, five toppings, bananas, whipped cream, nuts and cherries. The Walking Waffle Sundae also is a specialty.
Set your ice cream compass to Uptown for Frozen Matter that is aptly described as "a cow to cone microcreamery" that creates all sorts ice creams, ice pops and spirit pairings using organic and all-natural ingredients from local farms. Incredible vegan flavors like Banana Bread and Black Forest Cloud will have anyone jumping up and down along with The Dude (White Russian) and Honey Chamomile Strawberry. Watch for holiday specials like the Rose Tyler (rose water, elderflower liqueur and vanilla beans) for Valentine's Day and a matcha green tea shake for St. Patrick's Day. There is a patio in the front and a cocktail bar in the back!
Looking for a modern spin on retro ice cream parlors? Denver's ice cream scene just got even more delicious with the opening of the newest scoop shop belonging to High Point Creamery in the Berkeley neighborhood. Known for combining unique and delicious flavors and using fresh herbs and botanicals, High Point Creamy also has locations in the Hilltop and River North Art District's (RiNo's) Denver Central Market as well as a bright fuchsia food truck named Big Pinky. 
High Point Creamery's owners are dedicated to crafting ice cream like chefs make food, with everything made from scratch and natural ingredients, from the cookies in Cookies (3 Ways) & Cream to the shortbread in the Earl Grey with Shortbread Cookies. Seasonal flavors released in tandem with the new shop included unique options such as Sunflower with Lemon Preserve, Coconut Cherry Crisp and Pineapple Mint Sorbet. In addition, the shops sell ice cream bombe cakes, ice cream sodas, floats, milkshakes, malts, pints and ice cream flights. Flights include five scoops of ice cream plus a choice of handmade caramel or fudge sauce.
Ice Cream Riot also offers a mouthwatering selection of small-batch ice cream flavors and Philadelphia-style water ices, all made on-site on East Colfax. Don't ask for dairy free or egg-free ice cream options here, as it's all about pure, creamy richness with some funky flavors mixed in like Fruity Pebbles and Pumpkin Pie Pop Tart. Located in the heart of Denver's historic Broadway district, Sweet Action Ice Cream starts with all-natural Colorado dairy ingredients and works with local purveyors, farmers and bakers to source other products to craft small-batch ice cream goodness (including vegan options) like Thai Ice Tea and Ginger Lemon Cookie. Flavors change daily, and Sweet Action Ice Cream is committed to making a small footprint by being entirely powered by wind and using compostable and recyclable packaging. 
From the owners of Brothers BBQ, Nuggs Ice Cream on East Colfax handcrafts homemade seasonal ice cream flavors, desserts and ice cream cakes in the Denver metro area all with a dose of nostalgia and the opportunity to enjoy patio seating. Nuggs takes Taco Tuesday to a whole new level with a waffle taco cone filled with a scoop of ice cream and as many toppings as your heart desires. Offered other days of the week as well, don't miss trying out this Denver sweet treat sensation!
Olde Town Arvada has a gem in Scrumptious, scooping up not only all sorts of ice cream flavors but a huge selection of candy and bottled sodas as well. If a long list of flavors is on your must-have list, Bonnie Brae Ice Cream has a menu with 80-plus flavors (including the likes of Banana Cream Pie, Gingersnap, Grand Marnier Chocolate Chip and Almond Joy) and has been a Denver favorite for more than three decades. Old-fashioned red vinyl seats and a hand-written menu give this little shop a quaint, retro atmosphere and the patio is ideal for a lazy afternoon retreat in the Washington Park area.
Not only is The Mile High City know for great beer, there's a stellar ice cream experience that awaits dessert lovers of all ages!
Photos courtesy of @gabaldonart (cover); @thefallingcloset (secondary)