The Latino Cultural Arts Center (LCAC) develops, elevates and showcases the artistic and intellectual contributions of Latinos by celebrating Latinidad: an evolving heritage that overlaps Indigenous, African, Asian and European identities. LCAC puts on exhibitions, workshops, events and performances for the Denver metro area.
The organization is in the process of building a community art space, Las Bodegas (1935 W. 12th Avenue), spanning the Sun Valley and La Alma-Lincoln Park neighborhoods, not far from the Art District on Santa Fe.
LCAC Executive Director Alfredo Reyes joins us for a discussion about his tenure at LCAC and their other exciting projects such as Hijos del Sol (boutique marketplace) and the Viva Southwest Mariachi Festival taking place on Sept. 16, 2023, featuring a spectacular night of mariachi along with headliner Flor de Toloache.
The son of immigrants, Reyes grew up on Denver's westside and has lived an eclectic life that has taken him around the world. He has remained grounded in Denver and is dedicated to enriching the lives of Denverites of every background, but always through a Latino lens. He was the recipient of a Gates Millennium Scholarship, founded by Bill and Melinda Gates.
Q&A With Alfredo Reyes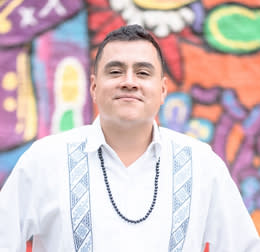 REYES: I'm proudly the son of Denver. I grew up here in the nineties. During a really interesting and exciting time in Denver's history. I grew up in a really, really diverse working-class neighborhood. I grew up with refugees from Central America, from Africa. My neighbors were LGBTQ. I really enjoyed growing up in Denver. You know, being able to go downtown as a kid on my bike. I never felt restricted in my upbringing.
I learned from an early stage that my perspective needed to be bigger than just one block. Bigger than just one neighborhood. Bigger than just one city.
VISIT DENVER: How did your college experience influence the work you do now?
REYES: I got to study abroad three times while I was there in Spain, Italy, Chile, and it was the first time that I got exposed to a lot of wealth. And it was the first time that I really understood just how much my parents had struggled and sacrificed as immigrants to create a life in a place like Denver, and to appreciate that never—in my first 17 years of life—I never felt poor. You know, if I asked for my Pokemon cards I got them. If I asked my pops for Nike's, I got them.
Later, I worked for the Department of Higher Education doing college access in southern Colorado, and I came to see that urban and rural divide in the state. I was introduced to a lot of really incredible people, from Durango to Alamosa to Manzanilla.
It was really a great experience for me, too, to see that Colorado is more than just Denver. It's more than just Boulder. It's more than just Fort Collins.
Then the Gates Millennium [Scholarship] people came knocking at the door, you know, saying either you go back to school or you lose your scholarship. So, I ended up going to CU Boulder for my first master's in educational foundations, policy and practice. That's where some of my initial background came in as an educator and pedagogy. During my second year is when I met our founder, Adrianna [Abarca], through a mutual friend who shared with me her vision for a Latino cultural arts center and asked me if I would dedicate my master's thesis to designing what became the concept plan for the Latino Cultural Arts Center.
VISIT DENVER: How many years ago was that?
REYES: That was in 2016.
Local's Tip: Where to Find the Best Tacos

"So I gotta start with El Taco de Mexico on 7th and Santa Fe. Their tacos al pastor are the best in the city. Then on Alameda and close to Decatur is Los Gallitos Taqueria. They have the best tripa tacos ever. I gotta give a shout out to Tocabe, which is known for their Indian tacos [made with fry bread].

"Over on Santa Fe is Swift's  Breakfast House, which is an old-school diner, one of the few of those left. And I have to give a shout out to the ladies over at Convivio Café, which is a Guatemalan-inspired café, and is women-owned. Really great coffee, really great snacks. You got to support those local women-owned businesses for sure."

—Alfredo Reyes
VISIT DENVER: I do want to get into your programing at LCAC, but first, I'm very interested in what you were saying about all the travels you did. You did a lot of traveling within the U.S. and then also to Europe and South America. How have you taken the things that you learned in those places and applied it to the work you're doing now?
REYES: We have far more in common with everybody. At the most fundamental level everybody is seeking love, safety, security and belonging. It's through that lens that some of our best programs were born.
For example, our ofrendas. After losing my dad in early 2020, and realizing that for better or for worse, I wasn't the only one that was grieving at that time. Literally, thousands of people were losing a loved on every single day. Grief is universal. Within the Mesoamerican tradition of ofrendas and altar-making, we were able to create something universal and beautiful.
VISIT DENVER: And it's really at the heart of something like Dia de los Muertos.
REYES: Yes, it's not just an ethnic version of Halloween. The celebration is sacred and should be revered and respected, not be something that you go to Hobby Lobby or Walmart and buy these mass-produced pieces. At best, you make it yourself, you know, or support an artisan supplier to artists that puts their heart and soul into every item. And finally, to be able to elevate those conversations about grief, about resilience, mental wellness and especially against depression. It might take a long time to flourish and set our mentality on a course where we see all these things. By and large, we already have enough research about the problems that we face in our society.
We already have enough research about what it takes to have good schools, good hospitals, to address environmental change, and so on. What we lack, however, is the political courage and political imagination to do things differently. And it's not going to come from academia. That was the second thing that I learned. Research is a technical language reserved for the few, whereas art is universal.
VISIT DENVER: The Las Bodegas project seems to directly address what you are talking about here, a lot about art making, making the change in a way that mere theory can't.
REYES: Yes, Las Bodegas will become both an anchor and a bridge between two of Denver's most historic and diverse neighborhoods: Sun Valley to the east and Villa Park to the west. What's so powerful is that these warehouses belong free and clear to the LCAC and to the 501(c)(3), thanks to our founder and our board chair.
VISIT DENVER: And you'll be doing it through arts education programs and also digital media programs, right?
REYES: Correct. Our programs will focus primarily on visual and multimedia arts. And not only that but I'd like to share that Las Bodegas will be one of the first commercial buildings in the city to be fully electric. It'll have solar panels. It'll have battery storage. So the building itself is a tool to teach our community about environmental stewardship and resilient infrastructure.
VISIT DENVER: Yeah, it's huge. It's huge. And will these programs be discounted, or will you offer scholarships or something similar?
REYES: Yes. I mean, the goal is to make all our programming free for youth and be able to offer it at a sliding scale for others, because that's one of the things, too, that when you depend solely on the mercy of philanthropy. There's a lot of variability which makes growing and scaling your programming really tough, so working with sponsors and philanthropy allows us to offer that high quality and reach more people.
VISIT DENVER: Las Bodegas will be a welcome new addition to the city and we can't wait to see it get off the ground. I'd like to shift gears and talk some about your current programming. LCAC has a small boutique called Hijos de Sol that features handmade art and jewelry from Guatemala, Peru, Mexico and local artists. Also, could you tell us about your mariachi program?
REYES: We have a really exciting and powerful partnership with MSU [Metropolitan State University] Denver and their music department to elevate the academic study of mariachi. Together we host a mariachi conference in April for students of all ages and backgrounds. Then in September, we have the Viva Southwest Festival on September 16 [2023], which is Mexican Independence Day.
VISIT DENVER: Which for Denverites and visitors alike is an amazing way to celebrate that day.
REYES: Absolutely. We have a big mariachi festival at Levitt Pavilion Denver and last year, we made history with the first and only All-State Youth Ensemble in mariachi music. We brought out the best youth talent from across the state, from rural and urban communities to come and open up for that year's headliner, and we're going to do it again this year. We have special VIP tickets for $65 but otherwise, the concert is free and we look forward to welcoming the community there.
Interested in supporting Las Bodegas? The Latino Cultural Arts Center is in need of donors to close the gap in funding needed to begin construction.