Before Denver International Airport, Stapleton International Airport was Denver's hub for air travel from 1929 to 1995. The former airport is long gone, with the Central Park neighborhood sprouting in its place.
But one remnant remains: The 12-story flight control tower. Now surrounded by housing, the 1960s-era tower is an icon for Central Park and the local aviation community.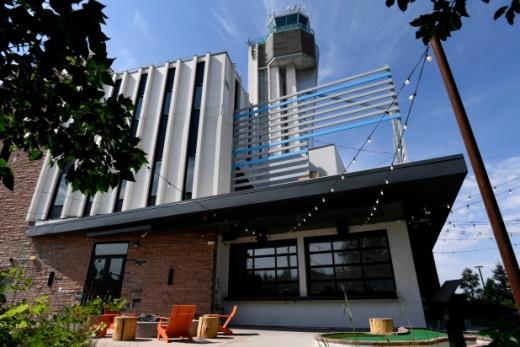 It only makes sense that it's the new outpost for aviation-themed FlyteCo Brewing in northwest Denver. The original brewery near Tennyson Street in the Berkeley neighborhood features an aircraft fuselage, other aviation artifacts and beer names with aviation references like P-38 Pumpkin Porter.
Branded as FlyteCo Tower, the new establishment opened in August 2022. Co-founders Morgan O'Sullivan, Eric Serani and Jason Slingsby jumped at the opportunity for a second location for obvious reasons. (Serani and Slingsby are both seasoned pilots who fly for recreation and to pick up fresh hops from western Colorado.)
"This particular space takes a very specific tenant, just how large it is, all the entertainment aspects, and the unique aspect of our brand being so closely tied to aviation," says O'Sullivan. "The opportunity to move into a former air traffic control tower really seemed like a no-brainer."
FlyteCo took over the first two floors of the former administration building at the foot of the 164-foot tower, and a 5,000-square-foot private event space on the third floor is set to open in early 2023.
Opening up the tower itself is part of FlyteCo's long-term plans.
"Lots of ideas, lots of dreams," says O'Sullivan. "I would love nothing more than for someone to sit down and enjoy one of our beers or a nice cocktail and be able to watch the sunset over the Rockies."
Like FlyteCo's original outpost on Tennyson Street, there are runway markings on the floor that mimic those at Stapleton three decades ago. There are murals of planes and Stapleton in its aviation heyday. And there are artifacts from the nearby Wings Over the Rockies Air & Space Museum aviation museum, a FlyteCo partner, on temporary display.
FlyteCo is also donating 10 percent of profits to aviation scholarship programs and is offering a 10-percent discount to anyone who works in the field.
"The whole industry has come around and supported us, whether it's pilots, whether it's flight attendants, baggage handlers, ramp guys," says Serani. "We provide a community place for them."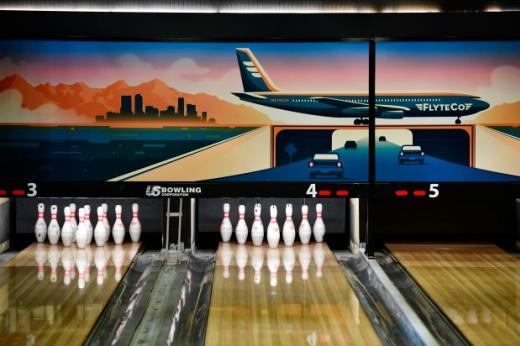 Beyond the flight motif, the menu includes coffee and burritos for breakfast and dishes like pork tacos, fish and chips, burgers, and pizza for lunch and dinner. (Don't miss the decadent Wonton Fried Pickles: wonton-wrapped dills with muenster cheese and sriracha ketchup.) The bars serve FlyteCo's beers — brewed at its Tennyson location — as well as wine and craft cocktails. A pilot system for experimental brews is coming soon to the first floor.
"The event potential and community collaboration for a system that size is pretty much endless," says O'Sullivan. "If a local charity or organization wants to brew a specialty beer for a fundraiser, we can brew five kegs of it."
Then there's a wide swath of family-friendly diversions inside and out: 18 holes of mini golf, vintage arcade games, pool, darts and six bowling lanes.
"There's really a little something for everybody," says O'Sullivan.
An annual tradition: flying hops in from Colorado's Western Slope for a batch of the freshest wet-hopped beer in the city.
"We fly out to the hop farm, get some bines, run them through the machine," says Serani. "Hops come right off, go into the bag, onto the airplane and back to Denver. By the time we get back to Denver, the brew kettle's about ready boil and have them go in, so the hops have been off the bine for about three hours before they make it in the beer."
The tower itself provides a wayfinder for customers. Serani calls it "a great sign" for the establishment.
"It's tough to generate that sense of place for people, and this building already came with it," adds O'Sullivan: "The community itself seems to have a sense of ownership of the building that extends beyond anything that we do here. It's their icon."