One of Denver's most inventive and established dance companies, Cleo Parker Robinson Dance (CPRD) blends dance, live music, the spoken word and customs from around the world into a holiday tradition that has become a Colorado favorite. Now in its 29th season, this year's production of "Granny Dances to a Holiday Drum" will be an online, streaming event. After purchasing your ticket, a link to the show will be sent to you. The performance may be watched an unlimited number of times between Dec. 5, 2020, and Jan. 2, 2021.
The ensemble's home, the beautiful Shorter Community AME Church in Denver's vibrant Five Points district, serves as the perfect backdrop for Granny's memories, which are her gifts to those she loves. Granny has forgotten many of her stories and the magical dances she's seen and performed at winter festivals throughout the world honoring the birth of Christ, the African Harvest, Native American Winter Solstice, Celtic Yule Time, Las Posadas in Mexico, Kwanzaa in the United States, Hebrew Festival of Lights, Chinese New Year and Caribbean Junkanoo Day.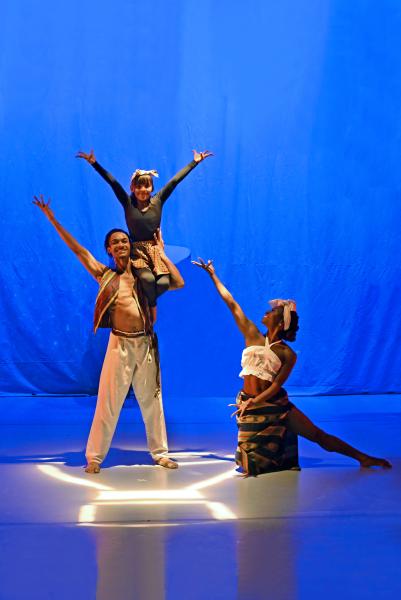 "Granny Dances to a Holiday Drum" is a multicultural celebration for people of all backgrounds that kindles the wonderment and magic shared across the winter holiday season. Each year, Granny highlights new stories from her rich life for her grandchildren, TiSean and Nakia, setting the stage for an artistically fresh production every time. Ensemble founder Cleo Parker Robinson performs each year as Shakti, Granny's guardian angel.
Rich Legacy
CPRD has played an influential role in Denver's artistic transformation for 47 years. "There's more than you can imagine here. When we started 40 to 50 years ago, Denver wasn't the cultural mecca it is now. Now there's something going on all the time," Cleo Parker Robinson says.
Robinson and her team have developed CPRD into a cross-cultural, contemporary dance institution that provides dance instruction, performances and community programs and convenes artists and audiences of all backgrounds and ages. She has brought her craft around the world, serving as a cultural ambassador and leveraging the universal language of dance to honor African American heritage, explore the human condition and offer transformative experiences through physical movement.
It's fitting that CPRD is located in Denver's Five Points district, the neighborhood of Robinson's youth that was once known as the "Harlem of the West" due to frequent visits by jazz greats including Billie Holiday, Louis Armstrong and Miles Davis. Today, the three-level, Shorter Community AME Church features a 240-seat theater, three dance studios and an amphitheater.
One Spirit, Many Voices
Robinson was awarded the prestigious Kennedy Center Medal of Honor and appointed to the National Council of the Arts by President Bill Clinton in 1998, a role she held until 2005. The philosophy of "One Spirit, Many Voices" is reflected in all of Robinson's efforts, and it's the vision she brings to everyone she meets and that is being carried on by her son, Milek, who serves as executive director of CPRD.
Don't miss one of Denver's favorite holiday traditions and the opportunity to see CPRD's gifted performers in this beautiful production.