Hundreds of exciting adventures for the whole family can be found near the Denver metro area. Here are some gorgeous hikes and best places to try birding.
Kid-Friendly Hikes
If you're planning a hike with young ones, Colorado Mountain Club's "The Best Front Range Hikes for Children" guidebook details 46 hikes that vary in difficulty that you can find in the Denver, Boulder, Colorado Springs and Fort Collins areas. The hikes are grouped by area and classified with a handy rating system that parents can use to select age- and ability-appropriate trails at a glance.
Here are a few hikes in the Denver area to try:
The 1.3-mile Audubon Nature Trail in Littleton is an easy loop hike. Admission is free and dogs are welcome if they are leashed. This trail is good for spotting birds and wildlife and is known by some as "Animal Tracks" because of the hoof, paw, talon and webbed prints embedded in the cement. In addition to an easy hike, there is also an education center where kids can learn all about birds through programs and nature activities.
Nearby, Waterton Canyon Trail is another fun option for kids of all ages. This wide and relatively level trail follows the South Platte River. Children will almost always be able to spot the Bighorn sheep that live in the canyon and can often be found on the trail or the cliffs that border it. You can set your own length on this out-and-back hike or follow the route length suggested in the book.
The full Rawhide Trail, a 4.1-mile trail in White Ranch Park, is a more difficult hike that might be more suited to older kids or those with previous hiking experience. There are shorter and longer loops that give you the flexibility of adjusting the length of the hike to suit your family's needs. If you complete the full trail, it will take you through meadows filled with grasses and wildflowers into forested hills. You'll be rewarded for your hard work with the Princess Anne View, which looks across a unique and gorgeous canyon to the towering Ralston Buttes.
You could spend a full day exploring all that Rocky Mountain Arsenal National Wildlife Refuge has to offer. This nearly 16,000-acre sanctuary is home to more than 300 animal species, and you can see them on the trails, in the nature center or on their scenic self-guided Wildlife Drive auto tour. (If you do the drive, you'll be able to go through the bison habitat and might see them up close!)
Birding Spots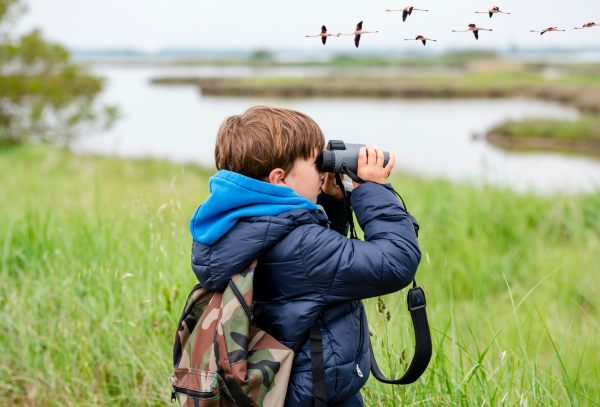 Birding can be a valuable introduction to nature and ecology for children. Birds are not as elusive as other wildlife and can be viewed safely. Combined with your favorite hiking spots, it can be a welcomed addition to a day out on the trails. Bring a bird identification guide and encourage kids to create drawings and ask questions.
If you want to know the best locations for you and your family to spot birds out on the trails, the CMC's "Best Front Range Bird Hikes" is a great resource. Here are a few birding tips to get started:
1. Adjust your binoculars to your specific vision to avoid blurring.
2. Be still. Birds are sensitive to movement and noise.
3. Wear muted colors so as to not stand out against the surrounding landscape.
If you're wondering where to go, check out a few easy trails near Denver:
Bluff Lake, located in Bluff Lake Nature Center, is an easy 1.5-mile loop and provides fine birding in an urban setting. Here you could spot a snowy egret, black-crowned night heron, great blue heron, wood duck, blue-winged teal, cinnamon teal, black-chinned hummingbird, Bullock's oriole, belted kingfisher, American goldfinch, and more.
Genesee Mountain Park, situated in Jefferson County, is good during any season. Follow this loop through ponderosa pine and open prairie. Keep your eyes open for a Williamson's sapsucker, tree and violet-green swallows, pygmy, white-breasted and red-breasted nuthatches, brown creeper, mountain chickadee, mountain and western bluebirds, chipping sparrow, western tanager, and red crossbill.
On the west side of Denver, Lair o' the Bear Park is an excellent birding area due to the unusual variety of habitats in a small area, accessible by several trails. The hike will cross small prairies, follow a creek, ascend through brushy hillsides and top out in a coniferous forest, all within less than a mile of the starting point. Be on the lookout for Cordilleran flycatcher, American dipper, cedar waxwing, Townsend's solitaire, MacGillivray's warblers, black-headed grosbeak, lazuli bunting and lesser goldfinch.
From big hikers to wildlife enthusiasts, there's something for every age outdoors. So put on your hiking boots, grab your binoculars and hit the trails with the whole family this summer.