With its sunny weather and active population, Denver is crazy about cycling. But in the late 1800s, hopping on a bike was also something of a political statement. 
At History Colorado Center an antique bicycle is on display. "We use it to tell the story of women's suffrage," says Julie Peterson, public historian and exhibit developer for History Colorado.
A successful popular referendum gave Colorado's women the right to vote in 1893. The referendum was a national first (only Wyoming granted women the right to vote earlier, but it was written into the state constitution), and it predated the Nineteenth Amendment, which granted women the right to vote across the country in 1920, by more than 25 years.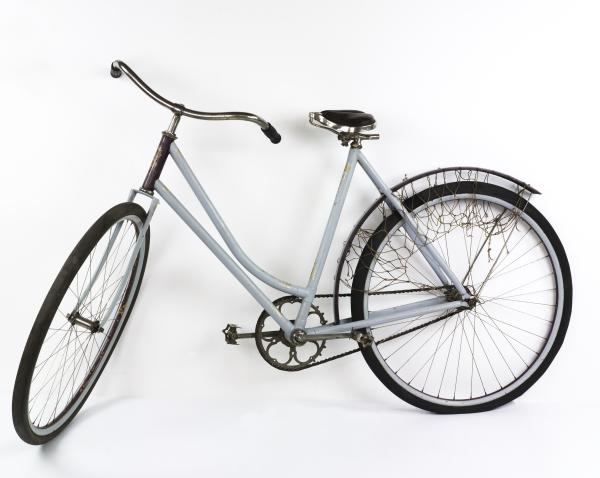 And bikes like the Mauro Special were a big part of it. "A lot of women who were campaigning for women's suffrage in Colorado rode bikes," says Peterson. "It represented a lot of freedom for women."
Women's suffrage was debated when the state's leaders wrote the Colorado Constitution in 1876, and a compromise emerged: Women would be allowed to vote in school elections and the issue could be later put to vote by referendum. The first such effort failed a year later, but a populist wave again brought the issue to the forefront in the 1890s.
During the 1893 campaign, activists distributed more than 150,000 leaflets, wrote countless letters to local newspapers, and organized lectures and speeches in support of their cause. A common refrain of the time was: "Let the women vote; they can't do any worse than the men have."
Colorado had more bicycles per capita than any other state at the end of the 19th century. The bicycle on display at the museum, sold by the Mauro Company in Denver, is an early women's model, featuring a low crossbar and netting on the back wheel to keep dresses from getting caught in the spokes. Suffragettes in Denver rode models like this around the city as they built support for the local women's rights movement.
After the referendum, the phenomenon spread to other states as the women's suffrage movement gained momentum. In 1896, legendary women's rights activist Susan B. Anthony said bicycling "has done more to emancipate women than any one thing in the world."
As the country approaches the 100th anniversary of the Nineteenth Amendment, women cyclists continue to make waves in Colorado. The Colorado Classic in August features a women's bicycle race from Vail to Denver that is part of USA Bicycling's Pro Road Tour. The bicycles in the race are a bit more advanced than the Mauro Special, but they still embody freedom for the women who ride them up and down the dramatic passes of the Rockies.
Photo courtesy of History Colorado Center.