Tocabe is a Denver gem and the only American Indian-owned and -operated restaurant in the metropolitan area. Now in its 15th year, Tocabe has been recognized with national awards and, even better, by a large and growing clientele of satisfied customers who appreciate the opportunity to have both a cultural experience and delicious, authentic food sourced from healthy ingredients.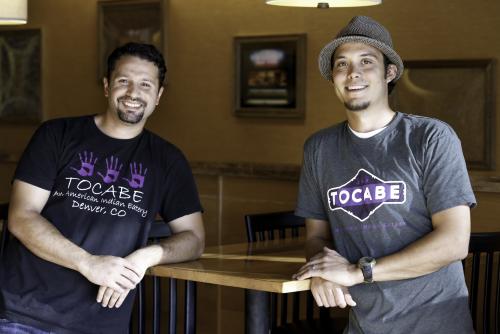 On the menu are Tocabe's signature shredded bison, bison ribs, Osage hominy, Indian tacos, soups and stews, and posu (grain) bowl. Endorsed by Guy Fieri's TV show "Diners, Drive-Ins and Dives," among others, Tocabe has attracted committed followers for eat-in, take-out, food truck and catering options.
Tocabe, located at the intersection of 44th Avenue and Lowell Boulevard in the Berkeley neighborhood, was founded by Ben Jacobs (on the right in photo) and Matt Chandra, who met as students at the University of Denver. Jacobs was only 25 and Chandra 26 when they started planning Tocabe.
"Tocabe is about the only thing I've done. I graduated with a history degree. Matt, with a digital marketing degree, designed our original logo and all our merchandise," Jacobs said.
Jacobs credits Chandra for being the impetus for the growth and development of the business. They understand each other's strengths — Jacobs characterizes Chandra as a financial whiz — and have deep respect for one another.
When asked for the most interesting customer feedback, Jacobs said, "After the first few weeks of being open, a visitor remarked that the restaurant 'wasn't Native enough.'"
This bothered Jacobs. After all, for him the whole point of building Tocabe was to share who he is as a citizen of the Osage Nation and as a Native person. After reflecting, Jacobs knew the mission of breaking the romanticized popular stereotype of American Indians was the right path to take. He wants people to question their perceptions explaining, "Tocabe is not selling an image."
That encounter inspires Jacobs today in his daily work. His message for his 35 employees is to be yourself — not who people think you should be. He wants his crew members to flourish in their own self-confidence, an achievement that was a struggle for Jacobs. As a child he was painfully shy and grappled with self-confidence and identity, but he had Indigenous friends who supported him and helped him grow. Similarly, he wants his team to support each other and to find fun and happiness in their work.
Emerging Initiatives
Tocabe is growing. After 10 years of laying the groundwork, the partners recently launched the "Seed to Soul" Initiative, a supply chain that supports economic development not only at Tocabe but also for Native and tribal entrepreneurs, programs and communities.
Many Indigenous people are food insecure and many communities are food deserts. The goal of Seed to Soul is to create a sustainable, cyclical Native food system that makes more food available while keeping dollars in the community. Tocabe is just one aspect of this entire food system initiative, which also supports Tocabe's Online Indigenous Marketplace and suppliers of Native-sourced staple ingredients such as corn, tepary beans, wild rice, maple syrup and salt. Tocabe also has their own signature line of sauces and rubs and are launching a direct-to-consumer Harvest Meals program on Indigenous Peoples' Day (Oct. 9, 2023). Customers will be able to explore the flavors of Indigenous ingredients through Tocabe's signature style via ready meals that will include plant-based bowls and Native-sourced free-roam bison.
Urban and local populations and nonprofits are finding ways to partner with Tocabe. Currently, Tocabe prepares 13,000 meals for the Spirit Lake Reservation in North Dakota. At the Tocabe location in Greenwood Village, the meals are trayed, sealed, boxed and frozen for transport on pallets using a third-party shipper. Jacobs' plan is that Tocabe will eventually deliver the food with stops along the way at reservation communities to drop off and pick up supplies, such as bison from the Rosebud Sioux Tribe in South Dakota or traditionally harvested wild rice in Minnesota. It's about building their own food distribution process, one that Jacobs envisions expanding to Oklahoma and New Mexico.
"We're filling a niche with meals made of traditional ingredients ready in five minutes," Jacobs said.
Another growth area is Tocabe's recent investment and partnership with Arctic Circle Wild Seafood — a Native-owned Arctic food company — where 95 percent of the people who catch the fish are Indigenous. It's another way that Tocabe's owners can demonstrate that they're with the suppliers from the ground up.
Coming to Denver International Airport
In July 2024, Tocabe will be opening another location at Denver International Airport, in partnership with another restaurant enterprise.
Establishing this new outlet has been a long process because the Tocabe team wanted to partner with a minority-owned business that mirrors their philosophy and values. Ingredients will be sourced from Tocabe, which has oversight and will take the design lead.
The new restaurant will have an aesthetic reminiscent of Jacobs' Osage homelands in Oklahoma. He is excited about the design, which will convey the impression of an arbor where families gather for celebrations. The wall décor will represent prairie grass, and the color blue, his mother's favorite, will be abundant.
"What's cool about it is I can go to the airport and eat our own food," Jacobs said.
Finding the Balance
Ever since they started Tocabe, Jacobs and Chandra have seen the restaurant not as a job, but as a passion. They want people to have better balance in their lives, and they know that starts with healthy food.
"The Native culinary world is really small. It is really fun. I hope to be doing this in the next 50 years," Jacobs said.
We hope so too!