Ever feel like all spa menus look the same? Not in Denver, where options for relaxation and restoration are on the ultra-creative side. Spas are adding local essences like evergreen, utilizing the restorative qualities of microbrews, and integrating the benefits of water through float tanks and Vichy showers. 
Not only is there an abundance of terrific spas open to the public in Denver's high-end boutique and brand-name hotels, beautiful stand-alone spa/salon combinations and wellness centers are sprinkled around the city. 
Spa Hopping in Downtown Denver
Indulging in one of the signature treatments at The Oxford Club, Spa & Salon at The Oxford Hotel downtown is like going to gourmet spa heaven. The Almond Joy Experience features a full-body exfoliation with coconut sugar scrub and chocolate body masque while cocooned in a cozy body wrap. Warm almond oil is applied after a rejuvenating shower, completing this version of "spa candy." 
Or head straight for a Milk & Honey Bath that begins with a warm milk and honey mask and sugar scrub before a nourishing milk bath in an antique claw-foot bathtub, cool stone face massage and relaxing scalp massage. The 80 minutes of pure bliss concludes with milk and honey body butter to firm, tighten and hydrate skin. Both treatments feature products made by Sanitas Skincare in Boulder, Colo.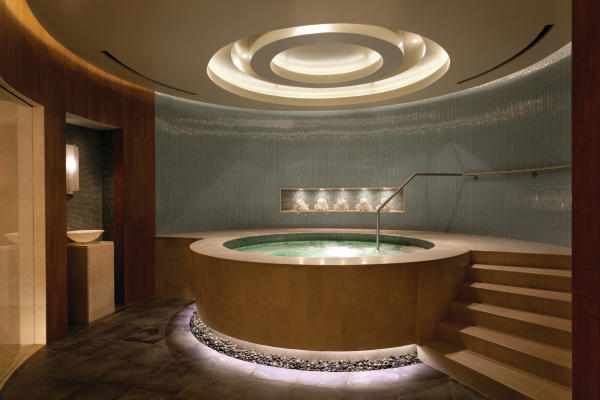 The evergreen tree is an iconic part of Colorado's landscape and was used by Native Americans for medicinal purposes. Evergreen oils applied during the Evergreen Massage at Four Seasons Hotel Denver Spa are known for their anti-inflammatory properties, easing out pain from tired and sore muscles. This deep tissue massage begins with heated energy healing sticks that alleviate tension and smells fresh like the Colorado outdoors. 
During holidays, it's all about minty aromas as this luxury spa gets into the spirit with special offerings like a Peppermint Twist Body Scrub and Candy Cane Pedicure.
Tea, Beer & Herbal Bliss
Oakwell Beer Spa near downtown Denver is a modern-day wellness space that combines a day spa and a craft beer taproom into one. Relax after a session in an infrared sauna, a soak in an herbal beer bath (carefully curated by Oakwell Beer Spa's on-staff master herbalist to treat the hair, skin and mind) and a massage in an automated zero-gravity chair. Then head to the taproom to sample wine, cider or beer.
For more than 125 years, The Brown Palace Hotel & Spa has been hosting some of the world's biggest names, providing rest and relaxation to all, and contributing to the rich history of The Mile High City. The spa's Girlfriend Getaway package for two includes classic pedicures and the hotel's exquisite afternoon tea, complete with delicious house-made scones, pastries and tea sandwiches served in the spa. 
If beer is more your style, the Microbrew Ex'Beer'ience at The Ritz-Carlton Spa, Denver incorporates two beers from nearby Great Divide Brewing Co. A full body exfoliation using hops and malt sugar gently works its magic while a luxurious cascade of water from one of the city's few Vichy showers soothes tired muscles. The ingredients of craft beer, such as active yeasts with B vitamins and saccharides, leave skin smooth, tightened and deeply hydrated. Sip a cold beer after this 75-minute treatment that also includes a wrap, scalp massage and moisturizer.  
Or head the herbal route with the spa's 80-minute Herbal Peaks Poultice that combines steamed herbal compresses to reduce stress, energize and detoxify the body with Thai and aromatherapy massage techniques.
Pure Relaxation Around the City
A New Spirit Wellness Center & Spa is a holistic healing center in the historic Highland neighborhood near downtown that focuses on mind, body and spirit. All sorts of body, skincare and detoxification treatments are offered as well as floatation experiences that replenish mental and emotional reserves from within one of three tranquil, Epsom-salt-infused tanks that eliminate outside environmental stimulation. It's like a bath and a nap for pure relaxation. 
The center's Body Cleanse Foot Bath provides an efficient way to cleanse and purify the body quicker than herbal or fasting protocols. An array is placed in the water with the feet so its metals, in combination with the water and salt, generate positively and negatively charged ions that neutralize charged particles in the body. There also is a menu of six express spa treatments that features mini massage, facial and floatation options that can be enjoyed in 30 minutes or less.  
The Spa at Hilton Denver Inverness in Englewood offers CBD massages, facials and nail treatments featuring THC-free, plant-based products by CBD Care Garden, a skincare line created locally. In fact, any massage on the spa's menu can be upgraded with CBD oil, which helps joint and muscle pain, repairs connective tissues and encourages relaxation. 
Another popular new option at The Spa at Hilton Denver Inverness is the Sleep Massage, designed to help clients savor a deep night's sleep by utilizing soothing massage and essential oils. After a dreamy massage, guests are sent home with a sleep essential oil made by 21 Drops to take home. 
Just the name Glosshouz Aesthetic Bar & Spa Retreat sounds worldly, and spa-goers won't be disappointed at this divine getaway less than two miles from Hilton Denver Inverness and near Park Meadows Mall. The Body Contouring Wrap by Arosha from Europe is a body-slimming and anti-cellulite treatment that involves the application of glycolic spray, active serums and Arosha body wrap before being enveloped in warm thermal blankets. Scalp, face and reflexology massages make time breeze by, and a warm shower rinse completes this treatment that leaves skin and tissues feeling firm, smooth and more resilient. 
Another way to pamper skin in Colorado's dry climate is with an Image O2 Lift Luminizing Facial that infuses oxygen, plant-derived stem cells, peptides and a high concentration of enzymatic botanicals so skin looks luminous, refreshed and rejuvenated. Or add on Glosshouz's Soaking Spa Bath Bliss with a large bath menu featuring bath bombs, milks, bubbles, salts and soaks by Cottage Greenhouse and Library of Flowers, lines that are crafted in the Denver area.
Photo credits: The Brown Palace Hotel & Spa (top) and Four Seasons Hotel Denver Spa.