Perhaps it's not surprising that a city obsessed with altitude (we call it The Mile High City, after all) and blue skies is home to a world-class air and space museum. 
Located in the Lowry neighborhood of north Denver, Wings Over the Rockies Air & Space Museum offers visitors a chance to explore America's aviation history in a venue steeped in history of its own: Hangar 1 of the former Lowry Air Force Base, which operated from the late 1930s until 1994 and graduated more than one million enlisted members and officers.
The museum includes more than 182,000 square feet of hangar space and 50 iconic aircraft, spanning nearly half a century of air and space flight. On the military side, you'll find everything from early fighters like the WWI Nieuport 28 to the supersonic F-14 Tomcat (of Top Gun fame), a UH-1 Huey helicopter that served for three years as a gunship in Vietnam, and bombers like the Republic F-105 Thunderchief (nicknamed "Thud" by its less-than-enthusiastic crews) and a Douglas B-18 Bolo Bomber — one of only six still in existence. This aircraft, which was used to detect and sink German submarines during WWII, is currently undergoing restoration, a process that visitors can watch in real-time from just steps away.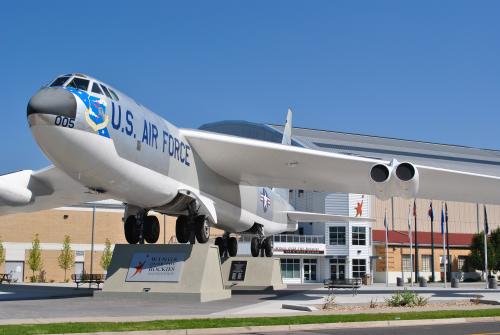 The museum also has an exhibit dedicated to military ejection seats and the valuable role they played in saving pilots' lives. The seats were developed by Stanley Aviation, which was originally based in Aurora. 
Civilian aviators get their due as well. The museum features a host of general aviation aircraft such as aerobatic biplanes, business jets, a Murray Model T homebuilt helicopter and numerous homebuilt gliders. And some of the aircraft have ties to Colorado like the Adam A500, which was being developed at Centennial Airport. The futuristic-looking, twin-engine airplane was designed by aviation legend Burt Rutan. 
Got a need for speed? Racing enthusiasts can check out the "Spirit of America – Sonic Arrow," a vehicle that looks like a cross between a tiny plane and "the world's fastest tricycle." The Sonic Arrow was fitted with a jet engine, and its top speed was predicted to be between 850–900 mph. Adventurer Steve Fossett planned to use it to break the land speed record of 763 miles per hour, though he died before he could accomplish the feat.
If that's not inventive enough, there's one aircraft at Wings Over the Rockies that's straight out of the imagination. Movie buffs will thrill to see a replica of the plane that helped destroy the Death Star, the X-Wing Starfighter. Built by Lucasfilm in 1996 to promote the re-release of the original Star Wars trilogy and signed by members of the cast and crew (including George Lucas, Harrison Ford, David Prowse and more), it's the only X-Wing on public display in the world. There's even a working R2D2 on board!
Although the planes are definitely the main event, there's plenty more to see at the museum, including a tribute to the Colorado Air National Guard and their renowned precision demonstration team, the Minute Men; a gallery that details the evolution of airplane nose and wing art, an introduction to Colorado astronauts like Jack Swigert and Scott Carpenter (did you know one in five U.S. astronauts hail from the state?), and a stirring sculpture memorial to the 88,000 airmen who lost their lives during WWII. 
Ready to take to the skies? Wings Over the Rockies Air & Space Museum is open Monday–Saturday, from 10 a.m. to 5 p.m., and Sunday from 12 p.m. to 5 p.m. 
---

The museum does a monthly video blog series called "Behind the Wings" where you can gain some cool insights on the facility and the various aircraft.