Our Standards are a Mile High
VISIT DENVER is continually monitoring developments surrounding COVID-19 and is following the lead of local, state and national health and travel authorities. The safety and well being of our community, partners and visitors is our number one priority. We are fully engaged with local and state officials to coordinate a safe return for visitors and meetings.  Our hospitality community is working together to implement enhanced procedures to safely welcome you back with our Mile High Standards.  
Last reviewed May 11, 2021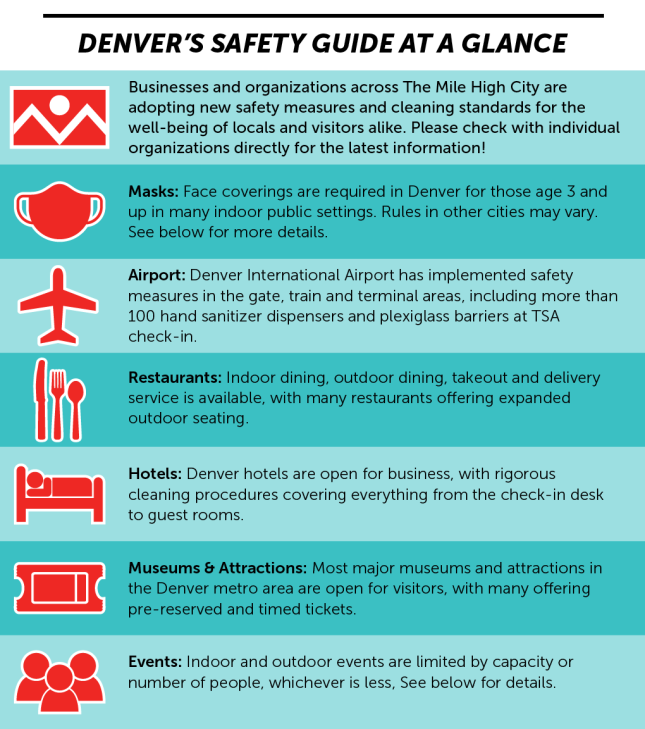 As of April 16, the City and County of Denver, with the Denver Department of Public Health and Environment (DDPHE), is directing ongoing pandemic response regarding capacities. 
Denver's current Level Blue status:
Indoor Events: 
Indoor seated and unseated can operate at 100% capacity up to 500 people (excluding staff), whichever is less, per room within their usable space with 6 feet distancing required between parties. Seated events can place up to 10 people at a table with tables spaced 6' feet apart.
Indoor events with over 500 people must consult with the Denver Department of Public Health & Environment.
Outdoor Events:
Outdoor seated and unseated events may operate at 100% capacity up to 5,000 people with a written mitigation plan that facilitates social distancing between parties. If an outdoor event is more than 5,000 people, the planner must first consult with the DDPHE.
Denver's 5 Star Certification Program:
The program allows certified businesses that implement safety measures beyond what is already required by public health orders to expand operational capacity. Business sectors eligible are: General Business, Personal Services, Indoor Events (venues for meetings, receptions, concerts, trade shows and other), Outdoor Events, Restaurants, Gyms, Sports Facilities, and XL Events. Certified 5 Star businesses may allow up to 50 additional people in each setting beyond the limits set for non-certified industries or sectors except that restaurants, indoor events and recreation (including gyms, recreation centers and pools) may only operate at the Level Blue restrictions. Learn more about Denver's 5 Star Program here.
Face coverings are required in Denver for those ages 3 and older in personal service facilities, grocery stores, large retail stores, local government buildings, on public transportation, and when in public indoor settings where 10 or more unvaccinated people, or people of unknown vaccination status, are present. Masks are not required in outdoor settings, indoor settings with nine or fewer people (except for those settings that still require masks), or in indoor settings of 10 or more people where 80% of individuals have shown proof of vaccination. Face coverings are required in the State of Colorado for those age 11 and older in state government facilities, personal services, schools, and more. This statewide order is in effect through June 1, 2021. 
We strive to post the most current and accurate information here, but changes do occur. Please check directly with individual businesses and organizations to confirm their most up-to-date guidelines.
Last reviewed May 11, 2021
Header images credits: Mural by artist Austin Zucchini-Fowler​, photo by @vasuskin via Instagram; Bluebird Theater photo by sonj85 via Instagram.