Denver's comedy scene is booming. The clubs regularly attract the biggest and brightest stars in stand-up from around the country, and there are plenty of local comics who entertain with their distinctly Denver humor. And that's not even mentioning the numerous cutting-edge improv troupes and indie sketch comedy groups that call The Mile High City home. Here's a quick primer on Denver's comedy world. To find out what's happening now, take a look at the Denver 365 comedy events page.
Video Series: Comedians Doing Stuff in Denver
Get ready for some serious laughs when comedians from The Mile High City get paired with other things Denverites love: beer, street art, world-class cuisine, arts and culture, and sports!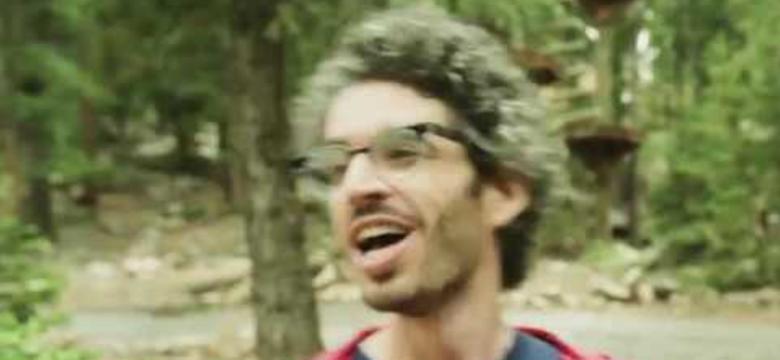 Denver comedian Daniel Reskin explores the great outdoors at Lawson Adventure Park.
COMEDY CLUBS 
Denver has some serious comedy clubs that draw top comedians from everywhere. 
Comedy Works in Larimer Square should serve as the starting point to any exploration of the Denver comedy scene. Named one of the top five comedy clubs in the country by USA Today, and owned by Denver comedy veteran Wende Curtis the original downtown location is a longstanding Mile High City institution, where local comics hone their craft and where the most famous stand-ups in the world go out of their way to perform at. Chris Rock, Jerry Seinfeld, Dennis Miller -- they've all brought down the house at Comedy Works. Head to the club every Tuesday night for New Talent Night, where tomorrow's stars try out their latest and greatest material -- you might even be inspired to start writing jokes yourself! Comedy Works also has a location at the Landmark in Greenwood Village. 
BOVINE METROPOLIS THEATER
This sketch/improv comedy theater's name is a play on Denver's old reputation as a "cowtown." At the Bovine Metropolis Theater, you have several options, all of them side-splittingly funny. "The Sketch Comedy Show" is a hilarious, often-changing scripted performance in the tradition of Monty Python, Saturday Night Live and Kids In The Hall, with sketches, videos and songs. "On The Spot" remains a local favorite, using the audience's unique suggestions to improvise scenes, games and songs to make newcomers or regulars laugh themselves silly! "The Battle Royale" sees Denver's best improv teams go head to head in a belly-laugh-inducing contest. Finally, if you want to get in on the action, the BMT offers classes in the fine art of improvising.
MORE PLACES FOR COMEDY IN DENVER
The Oriental Theater in the Highland neighborhood of Denver frequently brings local comedians to its stage. Lannie's Clocktower Cabaret, located in the Daniels & Fisher Tower on the 16th Street Mall downtown, hosts comedians, novelty music acts and burlesque performers. The Impulse Theater Improv Comedy Club mixes comedy, theater and audience interaction to hilarious effect. And the Bug Theatre, also in the Highland neighborhood, hosts the amazing Grawlix comedy troupe once a month. 
Andrew Orvedahl
Andrew Orvedahl is a comedian and full-fledged person presently based in Denver. If you were a comedy sommelier, you might say his comedy is somewhat cerebral, with a dry finish and floral notes of sarcasm. He prefers mixing real-life stories with creative (and often improvised) observations within those stories. He is a regular at Comedy Works and has performed at the Montreal Just for Laughs as well as the Bridgetown, Aspen, Las Vegas, Seattle and Great American comedy festivals. Orvedahl is one-third of the Denver comedy supergroup The Grawlix. Check out one of his bits from Comedy Works.  
Ben Roy
Taking comedy audiences by storm since 2004, Ben Roy brings unparalleled energy and a unique voice to the stage. Often compared to Lewis Black or Bill Hicks because of his passionate, ranting approach, Roy has a style that is definitively his own. Roy cut his comedic teeth in Denver at Comedy Works. Since then, he has been selected to perform at the Montreal Just for Laughs Comedy Festival and all the other major laugh fests. He's also been featured on HBO's "Funny as Hell" series; in John Wenzel's book, "Mock Stars: Indie Comedy and Dangerously Funny" (alongside comedy greats like Patton Oswalt and Fred Armisen); and on the Comedy Central show "Adam DeVine's House Party." 
Brent Gill
Brent Gill has devoted his life to comedy. This enables him to report back to audiences on the terrible decisions and ridiculous insights that make up his daily existence. Described as "a boisterous paragon of Denver comedy" by Westword, Gill produces/hosts one of Colorado's top weekly comedy shows, the Boulder Comedy Show. Check out one of his bits from Comedy Works. 
John Novosad
John Novosad, also known as "Hippieman," is a seasoned veteran of both stand-up and sketch comedy. A favorite at Denver's Comedy Works, Hippieman provides an alternative voice in Red State America. Audiences love his unique perspectives on topics ranging from corporate America to his original recipe for baked goods. Hippieman has toured extensively over the years and continues to do so. He has shared the stage with some of the biggest national acts working today such as Lewis Black, Kathleen Madigan, Kevin Nealon and Craig Ferguson. Check out his debut on "The Late Late Show." For upcoming appearances, see his Facebook page.   
John Crist
In 2014, award-winning stand-up comedian John Crist performed at more than 250 live shows. Crist's act comes highly touted as a Denver finalist of the 2013 Comedy Central Up Next Comedy Competition and, in addition to several appearances on "The Bob and Tom Show," Crist completed a USO Comedy Tour for the Troops in Kuwait. Crist has headlined comedy clubs, colleges and churches all over the country, sharing the stage with some of his favorite comedians like Dave Chappelle, Seth Meyers, Tim Hawkins, Anjelah Johnson, Adam Carolla and Louie Anderson. Check out his bit about pedicures.
Justine Marino
Hailing from Denver, Justine Marino attended St. Mary's Academy High School before quickly deciding she wanted to tell jokes until the end of time. Now living in Los Angeles, Marino has been seen on NBC's "Last Call With Carson Daly," Jenny McCarthy's "Dirty Sexy Funny," MTV, and E!, and was selected in 2014 as a "New Face" at Montreal's prestigious Just for Laughs Comedy Festival. She's still just a Colorado girl at heart, though, as she can most regularly be seen binge eating at Voodoo Doughnuts after shows. Check out her bizarre wedding plans. 
Kevin Fitzgerald
With a background that ranges from being a bouncer for The Rolling Stones and The Who, working in veterinary medicine for 25 years, and performing for more than 20 years as a professional stand-up comedian, Kevin Fitzgerald is a true renaissance man. Perhaps best known for his 10 seasons on Animal Planet's "Emergency Vets," Fitzgerald's passion for making people laugh is surpassed only by his unwavering dedication to all creatures great and small. Fitzgerald has appeared on "The NBC Nightly News," "The Today Show," Discovery Channel's "Home Matters" and CBS's "The Late Late Show." Check out his brand of humor from Comedy Works.
Louis Johnson
Denver comedian Louis Johnson has been seen on Showtime, Comedy Central, A&E and B.E.T. He's also done more than 20 USO comedy tours for military troops. He's presently headlining comedy clubs, major cruise lines, colleges and corporate events. Johnson is also a founding member of the critically acclaimed Sellout Comedy Tour and recently headlined at the Melbourne International Comedy Festival. Check out his YouTube Channel.
Phil Palisoul
Phil Palisoul has made his living as a comedian for more than 20 years. He's been all over the world, performing in such far-flung places as Hong Kong, China and Alaska. Palisoul recently toured Afghanistan to perform for the troops with Comics on Duty. He's worked with and won the respect of some of the biggest names in comedy, like Jerry Seinfeld, Drew Carey and George Lopez. His list of corporate clients is long and illustrious. Check out his performance from "The Late Late Show."
Sam Adams
Smooth. Clever. Colorful. Hilarious. These words are often used to describe Sam Adams as a comedian, public speaker and master of ceremonies. In 2001, he stepped in front of a microphone to perform stand-up comedy for the first time — at age 41. Eight years later, the former award-winning sports journalist was inspired to start a full-time career in entertainment after winning at the 2009 Great American Comedy Festival. Check him out on "The Sports Show with Woody Paige and Les Shapiro."