Denver artist Pat Milbery had only 15 minutes to instruct the city's first lady on the artistic use of spray paint. Standing on a scissor lift, they were facing a bare white wall in the Art District on Santa Fe. With smooth bursts, as media and city officials looked on, Mary Louise Lee painted an "L," the first letter in the word love.
"She did a phenomenal job and was one of fastest humans to pick up a can and absolutely do a fantastic job of being my partner in creation. I couldn't be more thankful for that opportunity," Milbery says. "She has amazing energy." 
While the mural at 7th and Santa Fe represented the kickoff of Denver's latest public art project back in 2016, the process actually began long before in Milbery's mind. Serendipity made it a reality.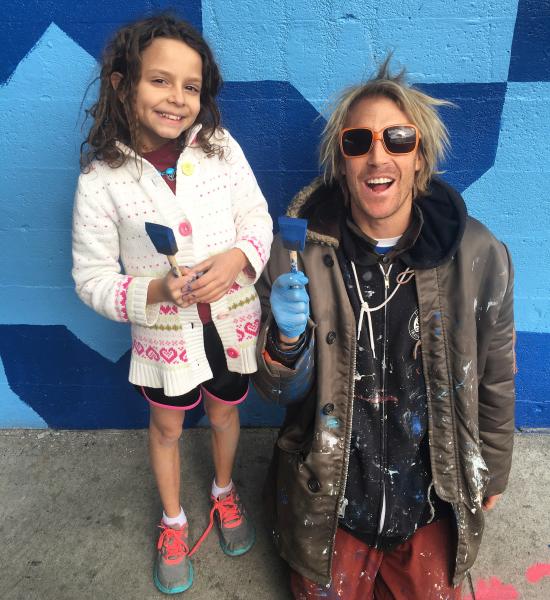 Milbery had envisioned a mural that would express his love for the city and approached VISIT DENVER, which happened to be looking for a special way to celebrate the 10th anniversary of Denver Arts Week. 
Taking on these projects required coordination with the neighborhoods and associated arts councils as well as private property owners who were willing to donate space on their buildings. Milbery went through several design iterations and color schemes to make sure the murals aligned with each neighborhood's respective character. From there, it was a matter of preparing the surfaces, a strenuous endeavor with curious neighborhood kids pitching in where needed, and, of course, braving the late fall elements at all hours, day or night.
He successfully finished the first mural during Denver Arts Week. It has since evolved into a much bigger project, expanding to six murals around town. See the locations below.
But unlike paintings in museums, street murals face environmental challenges. The fourth mural, located in the River North Art District (RiNo), recently found itself in jeopardy after its host building was slated for demolition. Milbery had to mount a rescue effort. Luckily, the mural was painted on sheet metal, which is much more portable than concrete. 
Birds, Hearts and Blue Sky
Although each mural is different, they all contain the words, "Love This City." So what does Milbery love about Denver? The sunshine lifts his spirit on a daily basis. He also appreciates the collaboration within the creative community, having mountains close by, delicious green chile dishes to munch on, and strong government and business support for public art.
"The music scene here is contagious, and all the young energy makes the city feel alive and well," he says. 
While the meaning behind Love This City is straightforward enough, the murals also contain heart and bird symbols that require a bit more elaboration. The heart, being geometric, represents the many layers of love, from joy to pain.
"The different tones of color express the different stages of being in love and the feeling of when you love, your heart can project. Love is a very simple concept, yet can become very complex and layered," Milbery says.
In other words, the hearts represent the city's loving energy. But Milbery adds a philosophical caveat: "If you are open to feeling it."
As far as the birds are concerned, Milbery had something a tad loftier in mind.
"Nature reigns supreme! The birds symbolize freedom of expression and a reminder for all of us to reach for the sky with our ideas, creativity and energy. Birds are free-flowing, gliding creatures of the sky who have the ability to spread our message higher than most throughout our beautiful blue, one-of-a-kind Colorado skies. Sometimes we need nature to help teach us to respect the evolution of our planet and fly high through love," he says.
Keep Creating!
Milbery is a self-taught artist who originally hailed from Minnesota but calls Colorado home.
"My mother and father have always been super encouraging of creative expression. They taught me at a young age to be respectful of others, yet just create and don't worry about what people think of your art," he says. "If it makes me happy, just listen to your heart and don't be worried if people don't like your art. Keep creating!"
Milbery has an abundance of energy. He's collaborated with other muralists and left his expressions all over the city and across the country. You can find his works on the walls of boutiques, breweries, bars and other businesses, whether it's the Douglas Apartments in Lower Downtown (LoDo), Declaration Brewing in south Denver or the Buffalo Exchange boutique in the Capitol Hill area.
One of his early collaborative works, located on 13th Avenue, is of Robin Williams portraying Mork from the "Mork & Mindy" sitcom. Or there's the "Colfax is for Lovers" alley cat on the side of the Lost Lake Lounge. He's worked on major art installations for Ford Motor Company, X Games and Pabst Blue Ribbon, among other large brands.
Besides being a street muralist, Milbery is known for the entertaining photo and video shoots he did as a professional snowboarder. He's also the co-owner of So-Gnar, a collective that's responsible for the Snowboard Camp Tour (a freestyle riding camp he founded to inspire children), a streetwear and apparel line he helps design, and the Shredded Beats hip-hop concert series he promotes.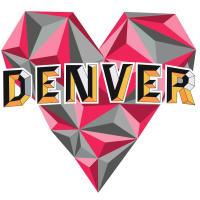 The Love This City campaign was a joint effort on many levels with help from fellow So-Gnar artists and friends Jason Graves, Pat McKinney, Rem Robinson and Andre Rodriquez.
"I can't forget to thank all the people of Denver that passed by our creative process at each of the locations and gave us a honk, a shout and contributed positive vibes. We couldn't have completed this campaign without all the hard work and overwhelming amount of effort each one of these amazing humans contributed to it," he says.
You can support the project and share your love for the city by ordering a sticker. Proceeds go to local charities. 
And if you want to find Milbery, look for his van loaded with snowboard gear and spray paint cans. It'll be either parked on a city corner or heading for the mountains.  
Mural Locations, Best Time of Day to See Them
"With Love From Denver" - RiNo/Five Points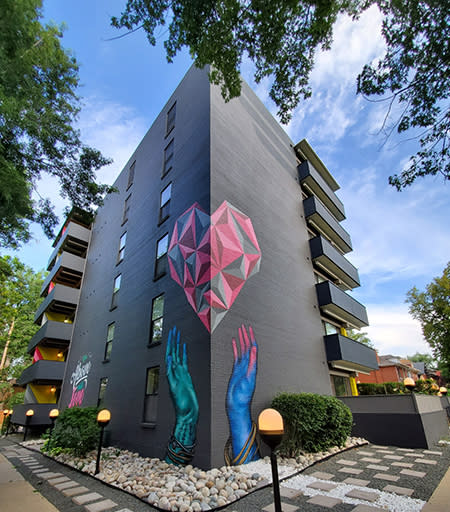 2314 N Broadway #100 
Best time of day for viewing: afternoon
"We Love, We Roam, We Paint in Color" - Art District on Santa Fe
722 Santa Fe Dr. 
Best time of day for viewing: afternoon
"Freedom of an Open Heart" - Lower Highland
3206 Osage St. 
Best time of day for viewing: afternoon
"Rise Above With Love" - Congress Park
1380 Steele St.
Best time of day for viewing: afternoon
"Heart of the City" - Golden Triangle Creative District
123 W. 12th Ave, 
Best time of day for viewing: afternoon
"Love Reflects Purpose and Direction" - Bear Valley
2855 S. Lamar St. 
Best time of day for viewing: afternoon
All Love This City materials are copyrighted by Love This City LLC and used with permission. All rights reserved.