At the northwest corner of Speer Boulevard and Alcott Street in Denver sits a monument to a fast-food milestone that allegedly took place here nearly a century ago.
Erected by a local dairy association in 1987 in what is now a lily garden fronting a KeyBank branch, the monument honors the long-gone Humpty Dumpty Barrel, Colorado's first drive-in, as the birthplace of the cheeseburger.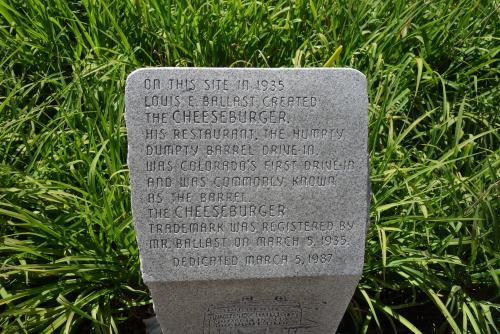 As the story goes, Humpty Dumpty proprietor Louis Ballast acquired a trademark for "The Cheeseburger" in 1935. Ballast had first experimented with burgers topped with chocolate and peanut butter, but taste testers preferred cheese. The barrel-shaped restaurant then made a name for itself selling cheeseburgers to the mile-high masses—thus the monument to the invention of the cheeseburger.
Case closed. Or is it?
The Rite Spot in Pasadena, California, also lays claim to be the birthplace of the cheeseburger in 1926, and there are menus from Los Angeles diners with cheeseburgers on them from the late 1920s. Kaelin's in Louisville, Kentucky, also laid claim to the invention in 1934, a year before Ballast won his trademark (which he never enforced).
Whether Ballast was just good at branding or grilling up a true culinary breakthrough is terrific fodder for a pointless debate. (Feel free to do that on your own time.) The genesis of the hamburger is similarly cloudy: It was already on menus across the country in the early 1900s, but there are no less than a dozen different origin stories out there.
And all it took was adding a slice of cheese and melting it on top of that lowly hamburger. Simple as it seems, it's a culinary innovation that's withstood the test of time. Of the tens of billions of hamburgers eaten in the U.S. every year—experts put the total at 20 billion to 50 billion—about half are cheeseburgers. That's about a cheeseburger per American per week, give or take.
The cheeseburger might just have been a catalyst for innovation that followed. Scientists working on the first atomic bomb would frequent the Owl Bar in San Antonio, New Mexico, before its initial test at the nearby Trinity Site. Within 20 years, the atomic age began, and man walked on the Moon within a half-century.
So go ahead and see "Oppenheimer" with that in mind, and plan ahead: National Cheeseburger Day is celebrated annually on Sept. 18.
The cheeseburger monument is located in front of the KeyBank location at 2776 Speer Blvd.
Where to Find the Best Cheeseburgers in Denver
While the Humpty Dumpty shut down decades ago, there is no shortage of places to get a good cheeseburger in Denver. Here are some reliable purveyors to visit after honoring its dubious invention at the cheeseburger monument.
5280 Burger Bar: Their burgers are made from Colorado beef (hormone- and antibiotic-free) and they source their produce from local and regional farms as much as possible. On top of that, they have a creamery, 5280 Ice Cream, right next door. 
Highland Tap & Burger: It's hard to go wrong with the Classic Smashed, unless you're vegan. Then you'll want the Hoff, a black bean patty with roasted red pepper, arugula and pickled onion. There are three other Tap & Burger locations in metro Denver.
Sam's No. 3: The Monster Burger, with mushrooms, onions and peppers plus three strips of bacon and Monterey Jack, deserves its moniker.
The Cherry Cricket: Open since 1945, the Cricket served a burger Food Channel host Aaron Sanchez called "the best thing I ever ate."
Crown Burgers: The pastrami-topped Royal Burger is the stuff of legend.
Snarfburger: From the minds behind Snarf's Sandwiches, Snarfburger transfers its mother chain's attention to detail to burgers.
Bodega: The Double Bodega Burger features two smashed patties with the "fanciest sauce" on a potato brioche.
Candlelight Tavern: Served with chips, the beloved dive's cheeseburger pairs perfectly with a beer (or three).
Dalton's at RiNo Country Club: This mini-golf bar makes a mean smashed crispy "cheeseburg" with Cooper sharp American cheese, sauce, onion and pickle.
Good Times: The Golden-based chain's burgers are some of fast food's best, available at 10 locations in the metro area.
My Brother's Bar: The city's oldest continuously operating tavern has been serving Denverites since 1873. Even the cheeseburgers are served old-school-style by wrapping them in paper alongside a caddy with all of the fixings.