One of the most historic parks in the country, Lakeside Amusement Park, is half attraction, half museum of mechanical, thrill-generating Americana. Its creators were inspired by the 1893 World's Columbian Exposition -- a.k.a. the Chicago World's Fair -- where the fairgrounds were nicknamed "White City" due to the color of materials used to cover building facades.
There were more than 30 amusement parks with the name White City in the wake of the event, from Australia to Seattle to Atlanta to London, but Lakeside is the only one operating today.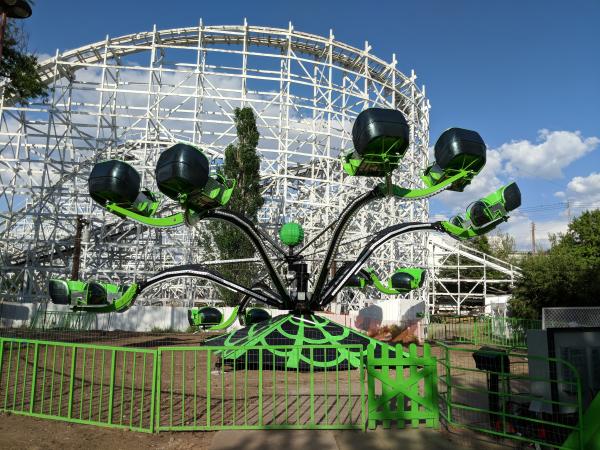 All of the White Cities shared a similar design that became the prototype for the modern amusement park. The parks typically included a Ferris wheel, roller coaster, midway, shoot-the-chutes ride and a pavilion. The Tower of Jewels was another trademark feature, and Denver's still stands sentry on Sheridan Boulevard.
Ben Krasner bought the park in the 1930s and gave it an Art Deco update, courtesy of architect Richard Crowther. With a candy-colored glow and retro ride, a visit to Lakeside is like a trip in a time machine.
Ben's granddaughter, Brenda Fishman, manages the park's operations today. Over the years, she's done it all at Lakeside. Growing up, she says, "I spent a lot of time in the game stand working." She remembers working the Skee Roll game most of all. "You just sell the games," she adds. "If someone wins, you make a big deal of it."
Regardless of Lakeside's status as the last White City standing, she's hesitant to lather on the historical superlatives. "There are a number of parks in the Northeast that are older," says Fishman, but allows, "From an architectural standpoint, we have a much grander layout than some of the parks inspired by the Columbian Exposition."
Only one of the original rides from when the park opened in 1908 -- the merry-go-round -- was still operative as of opening day in 2018. "It is billed as a Parker," says Fishman, referencing Charles Wallace Parker, whose company manufactured roughly 1,000 carousels from the late 1890s to the 1950s. According to the C.W. Parker Carousel Museum in Leavenworth, Kan., there are only 16 operating Parker carousels.
However, Lakeside's carousel has a few quirks. "It's a menagerie merry-go-round, meaning it has animals other than horses," says Fishman. "That's very unique for a Parker." Her theory: The park's original owners acquired some non-Parker steeds to get it up and running for opening day. "There are a number of carving styles," she explains. "It's definitely a little different."
Another original ride, the steam train that circumnavigates Lake Rhoda (named for Fishman's mother), is undergoing repairs and could be operative by the end of the summer.
There are two trains, and one dates to the 1904 St. Louis World's Fair while the other was built in the 1970s. "None of the parts exist," says Fishman. The park has a machine shop on-site and also works with outside companies to manufacture them, but it's no simple task. "We're hoping to have them back online for this season, but I'm not sure."
Built in 1940, the Cyclone is a thing of roller-coaster legend. The wooden coaster hits a top speed of 55 miles per hour on 2,800 feet of track. It's one of just 40 Coaster Landmarks designated by American Coaster Enthusiasts (ACE) in the U.S.
Lakeside the park is located in Lakeside the town, incorporated in 1907 in Jefferson County adjacent to northwest Denver. As of 2010, the population was eight people, giving it the distinction of the least populous town in Colorado.
Even with Denver's ongoing housing boom, there are no plans for new residential development, says Fishman, due to a covenant banning it. "That's the last thing we'd want," she says.
Fishman says she's nostalgic for some of the rides that are no longer running. "I liked a lot of stuff that has been taken out over the years," she says. "There was a ride called the Tumble Bug. We still have a mini version of it called the Kiddie Turtle."
Like a lot of the old rides, the park's old Tumble Bug was a rarity: Only two are currently operating nationwide.
Lakeside doesn't just showcase old rides. "We have a new Spider ride," says Fishman, noting the old one was decommissioned before the 2017 season. "It's way prettier -- it's brightly colored, with glitter and LED lighting -- and it's way quieter than the old one. It's a smoother ride."
And another new ride might open before the end of the 2018 season. "It's a roller coaster," says Fishman. "We're working on it. Things like that just take time. We're hoping this year, but not tomorrow."
What is it called? "It does not have a name yet," she says. The park has had naming contests for new rides in the past, so Lakeside fanatics might want to start brainstorming. "We're thinking of doing it again."
But the new rides are exceptions to the general rule: Most things stay the same at Lakeside. "Parking's free and we let people bring in picnics. You can't grill, but you can bring in a chicken dinner," says Fishman. "We try to keep our food prices low. An Icee is $1 and a small popcorn is $1."
Lakeside Amusement Park is located at 4601 Sheridan Blvd. Gate admission is $4 and ride coupons are 50 cents each; rides require one to six coupons. Unlimited rides with gate admission is $17 to $26 per person. Photos courtesy of Lakeside.