Don't call her "Molly." At least, not if you want to be historically accurate.
Margaret Tobin Brown didn't ever go by the name Molly during her lifetime. It was after her death in 1932 that tabloids inaccurately portrayed her as the unsophisticated "Molly Brown," a moniker that became cemented by the popular 1960s musical and film "The Unsinkable Molly Brown."
While pop media portrayals of Margaret Brown have certainly held their entertainment value over time, Denverites know the truth about this powerhouse woman. That's because she settled in Denver in a house on Pennsylvania Street in 1894 after her husband, J.J. Brown, struck gold in Colorado's mines. You can visit their Denver home, rescued from demolition in the 1970s and now preserved as the Molly Brown House Museum, for the real scoop on her life. Admission is by guided tour and includes a 45-minute circuit of the restored home, accompanied by an illuminating retelling of her adventurous life.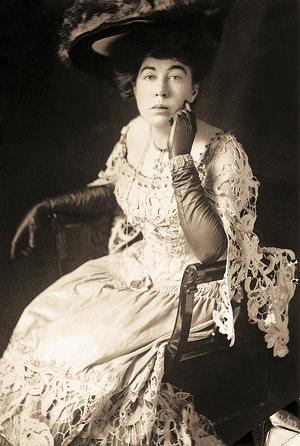 During the tour, you'll certainly learn about Brown's harrowing survival of the Titanic disaster and her subsequent humanitarian efforts: Brown tirelessly raised funds to help survivors of the tragedy — many of whom were immigrants who had lost everything, including family members, in the shipwreck — and lobbied for increased safety measures on passenger ships. But as museum tour guide Mallie Bussum notes, "Her response to the Titanic disaster was just one more example of her passion for making change."
Early on, and even more voraciously after she and J.J. became overnight millionaires, Brown devoted herself to nearly every conceivable charitable and social cause of the time. She fought resolutely for women's suffrage, helping Colorado to become the first state in the union to grant women the right to vote (Wyoming preceded Colorado in this effort but was still a territory at the time). She helped establish the Denver Dumb Friends League, Denver's first animal shelter, still in operation today. She fought for miner's rights and juvenile justice reform. She ran for U.S. Senate in 1914, six years before the 19th Amendment was passed. And she earned the French Legion of Honor award for her relief work efforts in France during World War I.
When Brown wasn't out conquering the world — she was an avid international traveler who learned five foreign languages — she kept in physical shape by boxing with a punching bag, hung from the ceiling of her home's carriage house.
How did this daughter of Irish immigrants from Hannibal, Mo., become such an unflappable force in the highest circles of society? Bassum says, "My sense is that, because she had fairly humble beginnings, even when she married J.J. and came into money, she never forgot what it was like to be on the other side. Her parents also saw the value in education, and she received more than most women of her time, so I believe they were quite progressive in that respect." 
One of Brown's late-life adventures was a foray into the world of theater. She rented a hotel room in New York City's Barbizon Hotel and pursued her interest in acting. It was here that she died at age 65.
There is always more to learn about this dynamic woman who seemed to be in perpetual motion, and a great way to do so is to visit the Molly Brown House Museum. Look for these gems within:
—  The "Turkish corner," an impressively adorned foyer where guests were welcomed and left their calling cards — sometimes folded in a particular way to convey a message.
—  The bathroom, believed to be the most authentically preserved room in the house, by nature of the fact that "there's no way that huge bathtub was ever getting out of this house."
—  Books about the Titanic, which staff have hidden among the early 20th century-era volumes stacked in the home's original shelving. Can you spot them?
— The uniquely painted dining room ceiling, which to some looks like a spider web and to others a window gazing out onto a garden.
—  A 1930s Capehart radio Brown commissioned from a local Denver maker, featuring a phonograph that flips your records for you automatically.