For more than a decade, Denver Botanic Gardens has put on an annual Día de los Muertos festival — an event so popular that the attendance had reached up to 12,000 visitors over the past few years. In 2023, however, the gardens announced that the sun has set over the iconic event and it would be replaced with a year-long project called "Yo Soy" or "I am."
We sat down with Yvonne Garcia Bardwell, who is the associate director of community relations for the gardens as well as the mastermind behind both the Día de los Muertos festival and Yo Soy, to chat about what the future holds for this new program.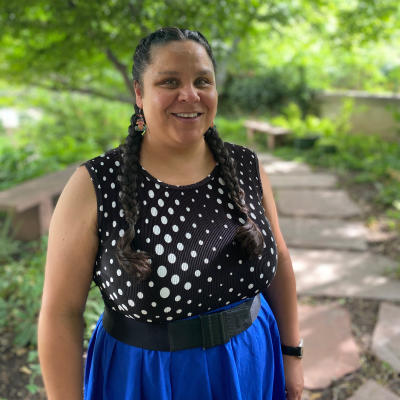 The original ethos behind the Día de los Muertos festival was simple: to build relationships with the community and to establish trust and communication between the gardens and the public. By all counts, the event was a massive success, growing year after year.
"At the time we started, there really wasn't a whole lot in the community celebrating Día," says Bardwell. "Everyone is doing Día de los Muertos now," she laughs.
As a result, Bardwell felt that this was the perfect time to hand Día de los Muertos back to the community.
"The community is already [putting on celebrations], so I feel like we're in competition."
Rather than draw attendees away from community-sponsored events, Bardwell decided to retire the festival in favor of focusing more on pursuing new avenues to connect with other Denver communities and to elevate their voices.
As every city or community leader knows, strategizing ways to tackle community building is often a complex and rather daunting task.
"I started thinking, how do I do this? What would this look like? Then Yo Soy came to me. I really want to not think of Latino culture as just Día de los Muertos. I want people to learn about Latino culture in Colombia, in Peru and Central [and South] America. I think this is the way to do that," Bardwell says.
Because Yo Soy is in its first year, the future of the program is still very much in development.
"With Día, it got to the point where I didn't feel like I was truly taking the relationships we were building to the next level simply because the event took so much time to coordinate and execute," Bardwell says.
Wanting to avoid adding another 20 events to the annual calendar, the plan is for Yo Soy to run on a quarterly schedule. The types of events will vary and integration into the existing community will be a key focus moving forward.
"People don't know how culturally diverse we are. I really want to bring that to the spotlight. We are very diverse, we have great art and exhibits and food and culture and festivals — and people just don't know about them. I want people to know about them," Bardwell says. "I don't want to create something totally new."

Instead, the focus will be on integrating the Yo Soy program into projects that communities in the Denver metro area have already created.
"I'm working with a few organizations and having conversations about events for March — perhaps a film series celebrating International Women's month," Bardwell says.
Ultimately, the goal is to partner with groups like Denver Film or to involve the student body at Metropolitan State University of Denver to elevate the vibrant culture that already exists across the Denver metro area, and to build on existing community infrastructure instead of starting from scratch. There are exceptions, however.
"Nobody really does Posadas, so we may do something with that in December," she says.
While Yo Soy will first and foremost be built by and for local communities, the project aims to go far beyond that.
"Our gardens are so international," Bardwell says. "Where else in the world can we really connect?"
Bardwell's vision for the project is to reach Latinos outside of Denver.
"Most people that are coming from Mexico are going to [the mountains] to ski. I think about it as 'beyond Vail' — making Denver a destination instead of a place you pass through to get to the mountains."
Currently, the gardens are a conduit to Central and South America for their members, selling trips to places like Oaxaca for Día de los Muertos, to Colombia for Festival de Flores, to Queretáro for wine and cheese.
"These projects for me are about connecting. I feel proud to be Latina. I think that's why I'm passionate about this. First generation, second generation — I want Latinos to feel proud of where they come from and who they are, and to never forget that. Even if they weren't born in Mexico, that's the blood that runs in their veins. That's the culture. Let's reconnect with that. Let me help you reconnect with that."
Yo Soy is a starting point, an umbrella that Bardwell hopes to expand into new areas as the program is developed.
"I think about it as 'Yo Soy Cine', 'Yo Soy Communidad,' 'Yo Soy Health and Wellness'. […] so we can really connect with different communities around those themes," she says.
Reception for the new project has been overwhelmingly positive so far, with many community members expressing excitement surrounding the currently mysterious project and whatever it brings next.
Keep an eye on the Denver Botanic Gardens' website for announcements of future Yo Soy events. For those interested in partnering with the series, contact the gardens at community@botanicgardens.org.