A breeze stirs the tall prairie grasses, gulls soar overhead, the low sun warms the landscape's rocky outcroppings, and a not too distant ow-ow-owwwwwww rings out—a single wolf song that soon becomes a chorus of howls.
This is the scene as you step onto the Wild Animal Sanctuary's 1.5-mile-long viewing platform, stretching out across the Colorado plains, just 45 minutes outside of downtown Denver.
But before long, you're bound to spot a massive, striped tiger lumbering below you or catch the thundering sound of a lion's roar—and suddenly, this pastoral Colorado scene transforms into an exotic adventure.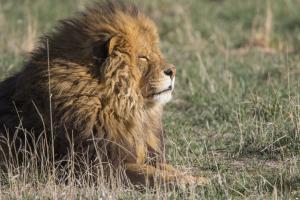 There are more than 460 rescued animals at the Wild Animal Sanctuary, many of them large carnivores, such as tigers, bears, lions and leopards. And you'll be able to look down into their spacious, natural habitats to observe them playing, napping, swimming and roaming their territories.
The Wild Animal Sanctuary was founded in 1980 by Pat Craig. After going behind the scenes at a zoo where "surplus" lions were kept in depressingly small cages, he decided to take action and began successfully rescuing animals in distress.
Today, his organization is the world's largest non-profit sanctuary to rescue large carnivores that have been mistreated, neglected or housed illegally. The sanctuary recently expanded with the purchase of an additional 9,000 acres in southern Colorado near the town of Springfield, Colo. (though this new section of the sanctuary is not open to the public).
Early on, Craig noticed that when any humans came within the line of sight of one of the traumatized animals, it would send them into a panic. But one day, while he was working on the roof of a shelter, unnoticed by the animals, he realized a raised viewing platform would allow visitors to see these majestic animals without causing them fear. The sanctuary now boasts the world's longest footbridge, from which visitors can unobtrusively view the resident refugees.
About the Animals
The Wild Animal Sanctuary's sprawling habitats house hundreds of tigers, leopards, bears, African lions, mountain lions, wolves, lynxes, coyotes and foxes, plus a smattering of porcupines, ostriches, emus, alpacas and more.
When you pay your entry fee and make a donation at the entrance, you can pick up a tour book detailing the animals' harrowing stories. Some were rescued from truck stops where they were the "roadside attraction," others from cruel circuses abroad or ill-equipped operations claiming to be zoos in the U.S. Their stories may move you to tears, but they will also inform you about the captive animal crisis in the U.S. and fill you with gratitude as you observe the animals now playing happily in their home at the sanctuary.
At the Wild Animal Sanctuary, the journey for these animals begins anew when they arrive. Many undergo life-saving medical treatment and all receive ongoing health care. Chief Science and Welfare Officer, Becca Miceli, says, "We specialize in rehabilitating each rescued animal so they can live freely with others of their own kind and enjoy a more natural life."
When You Go
Best time to visit: It is incredible to see the animals any time of year—winter, spring, summer or fall. As for time of day, late afternoon seems to be an active time for many of the residents. But note that it takes quite some time to walk the length of the elevated walkway (set aside at least three hours), so plan to arrive well before closing time.
Hours: The Wild Animal Sanctuary is open to visitors daily, 9 a.m. to sunset, except when it is closed on New Year's Day, Fourth of July, Thanksgiving Day and Christmas Day.
​Admission:
Adults (ages 13 to 69) – $30 per person + unspecified animal care donation (whatever you consider appropriate to help the animals)
Children (ages 3 to 12) – $15 per child + unspecified animal care donation (whatever you consider appropriate to help the animals)
Children (under 3) – No donation required
Seniors 70 and older – Seniors who demonstrate they are interested in becoming an active supporter at some level can visit without charge
Reminders: There are picnic tables on the observation decks, so bring some snacks or a picnic! In summer, bring hats and sunscreen. In winter, bring sunscreen and dress in warm layers. Please remember that the sanctuary is not a zoo, and these animals have been through a lot. You are invited to come visit them in their homes to help support the mission of the Wild Animal Sanctuary, but you'll be expected to be a considerate, non-intrusive guest. If you do so, it'll be an experience you won't soon forget!