The Mile High City boasts three hundred days of sunshine a year, a vibrant arts and cultural scene, and easy access to plenty of outdoor adventures.
Find out more on VISITDENVER.com  and on the sections of the website highlighted below.  
Denver is home to several internationally recognized museums including the Denver Art Museum with its western and American Indian art collections, the Museum of Contemporary Art Denver with its edgy contemporary art, the Clyfford Still Museum featuring the story of this abstract expressionist and the Kirkland Museum of Fine & Decorative Arts which is truly a treasure chest filled with fine and decorative art.
To find out more about what to do in Denver and Colorado in English language, click here
Denver is a city that knows how to have fun, from live music at one of the bars or clubs in LoDo (Lower Downtown) to cheering on one of the seven professional sports teams like the Colorado Rockies baseball at Coors Field. The must-see attraction is Red Rocks Park & Amphitheatre where famous musicians perform surrounded by ancient rock formations.  And, dozens of brew pubs offer great flavors in local craft beers.
To find out more about what to do in Denver and Colorado in English language, click here.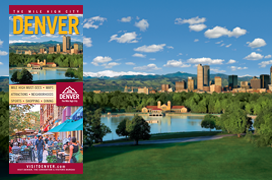 Download a printable version of the brochure on Denver.
For American brands, upscale retailers, boutiques and galleries, Cherry Creek Shopping Center and the Cherry Creek North neighborhood are the place to be. Downtown shopping includes the 16th Street Mall, Denver Pavilions and Larimer Square.  A short drive from downtown, visitors enjoy Belmar, FlatIron Crossing, Park Meadows Retail Resort or the Outlets in Castle Rock or Loveland.
To find out more about what to do in Denver and Colorado in English language, click here.
Visit the History Colorado Center with its interactive exhibits, explore the Black American West Museum, and the Denver Museum of Nature & Science, or take a short drive to the Buffalo Bill Museum & Grave near Golden, Colorado.  For your very own boots or hat, shop at Rockmount Ranch Wear, the iconic shop in the heart of downtown Denver.
To find out more about what to do in Denver and Colorado in English language, click here.
Sample the farm-to-table cuisine served by local chefs in downtown's Larimer Square or in Denver neighborhoods like Highlands. Restaurants feature everything from sushi or Mexican fare to buffalo and Colorado lamb along with spirits, wine and beer produced in the state. And, there are landmarks to experience like The Fort or Buckhorn Exchange that feature elk, rattlesnake and plenty of American steaks. Whatever you are hungry for, Denver will surprise you.
For more information on Denver restaurants, click here.
Find the latest information on dance, music, theater, history, heritage, museums, festivals and events or sports on Denver 365, Denver's comprehensive online calendar of events. Search by date, type of event, title or neighborhood.
For the events calendar home page in English language: click here
Denver has a walkable downtown with free shuttle bus service along the 16th Street Mall and B-cycle bicycle sharing program throughout the city. There is also light rail to take visitors to some of Denver's diverse neighborhoods, so it's easy to get around without a car. Nonstop flights are available on British Airways from London, Lufthansa from Frankfurt, Icelandair from Reykjavik, Volaris from Mexico City and United from Japan.
To learn more about Denver transportation, click here.
Take a day trip from Denver to experience the Rocky Mountains - hiking, whitewater rafting, mountain biking or skiing, or explore nearby historical mining towns with steam-powered trains and don't miss Rocky Mountain National Park with wildlife and amazing scenery within an hour and a half drive. Learn how to explore Denver and Colorado, in English language...click here for Denver area ideas and here for day trip ideas.
Denver offers something for all attendees. This fast-growing city combines innovation, tradition and culture with an energetic Rocky Mountain spirit. The Colorado Convention Center is right in the heart of downtown within walking distance to dozens of hotels in all price ranges. Read on for more great reasons you will enjoy Denver.