A serendipitous meeting at the Denver Central Library in 1945.
Fire-breathing letters that told rambling, intertwined stories of love affairs and benders.
A few headlong cross-country treks on two-lane highways across two-thirds of America.
These are the seeds that grew into the Beat Generation, the literary movement that skyrocketed to prominence in the 1950s with the success of Jack Kerouac's "On the Road," in which Denver is a prime setting.
Raised by an alcoholic father who spent his days and nights drifting on Larimer Street – which looked markedly different during the 1930s and 1940s – Neal Cassady was the catalyst.
Cassady was stealing cars in Denver by the age of 14 and later got into books in a big way. He met Hal Chase at the Central Library in 1945. Back at Columbia University in New York, Chase was the link that connected Jack Kerouac and Allen Ginsberg with Cassady, who also was the writer of th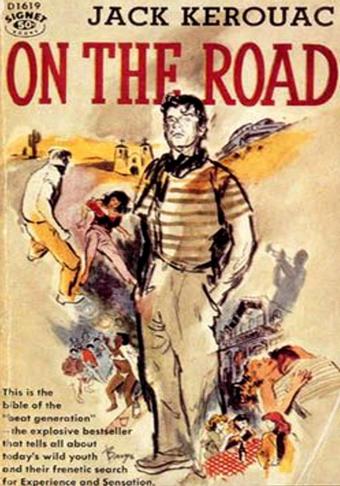 e aforementioned rambling letters.
When Cassady road-tripped east in 1947, he met Kerouac and Ginsberg, who soon followed him back west to explore Denver and the seemingly endless ribbon of blacktop running through the heart of the country. His adventures and misadventures have attained mythical status. Cassady wrote countless letters and a posthumously published novel, drove Ken Kesey's psychedelic tour bus, Furthur, and rambled around North America until his untimely death in Mexico in 1968.
Denver Beat Tour
While New York and San Francisco are more closely associated with the Beat Generation, Denver kindled the movement in a big way. It's the cross-pollination of Cassady, Ginsberg and Kerouac that helped give rise to a casual but frenetic writing style, imbued with an in-the-moment stream of consciousness, that breaks more rules than it follows.
Start in the heart of the city at the McNichols Civic Center Building, formerly the Denver Central Library in Civic Center Park, where Cassady met Chase. Today, it serves as city offices and a venue for events; there are rotating art exhibitions inside and out.
North via Broadway, Sonny Lawson Field (2301 Welton St.) in Five Points is the second stop. Featured in "On the Road" as Sal Paradise looks for Dean Moriarty one summer night in Denver, the park is one of Denver's seminal Beat landmarks. Welton Street was a hotbed for jazz in the 1940s and 1950s and remains home to several music venues, including Cervantes Masterpiece, and a plan to reopen the historic Rossonian Hotel and the lobby-level jazz club is in the works.
The adjacent neighborhood of Curtis Park was Cassady's stomping grounds when he was growing up. Few of the original structures where he lived and frequented remain intact, but he was baptized at the Holy Ghost Church (just west of Broadway at 1900 California St.) in 1936.
Then head over to Larimer Street, once Denver's skid row and now an eclectic high-end urban strip with craft breweries, coffee shops, music venues, and eateries. Dean spent many nights here at flophouses and soup kitchens with his itinerant father, but he probably wouldn't recognize the street today. You can ramble up and down Larimer in the 21st century and hit such spots as Our Mutual Friend Brewing Company, The Meadowlark, Biker Jim's Gourmet Dogs and Rioja.
Another must-visit on the tour is My Brother's Bar, Denver's oldest tavern. Slinging drinks since 1873, the legendary watering hole and burger joint was once frequented by Kerouac, Ginsberg and Cassady, whose letter asking a friend to pay off his tab is framed on the wall near the restrooms.
If you're in need of a nightcap, another Cassady hangout, the Nob Hill Inn, is still open for business. The legendary dive was referenced in Cassady's celebrated "Joan Anderson Letter" he sent to Kerouac in 1950. Probably the best known of any of his rollicking correspondences, it was lost for decades before resurfacing in 2014. Kerouac later said the 18-page, single-spaced letter had a direct influence on his writing style.
 
Modern Larimer Square pictured above. For more detailed tour information on the Beat Generation's hangouts, see Denver's Beat Legacy.