Denver is a city with boundless outdoor fun and has an ideal location next to the foothills of the Rocky Mountains. While The Mile High City is conveniently close to major peaks for hiking, there's actually no need to head into the mountains when Denver's regional trail system encompasses hundreds of miles for all ages and abilities to explore.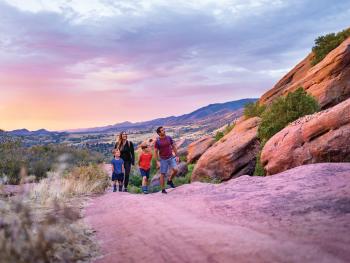 And just beyond that, about 15 miles from town, is Red Rocks Park & Amphitheatre where you'll find a gorgeous network of trails with views of the city and sandstone monoliths. 
In any case, make sure to have a comfortable pair of shoes, appropriate clothing layers for the weather conditions, plenty of water and a snack. It's also handy to have a copy of "The Best Urban Hikes: Denver," written by Chris Englert for the Colorado Mountain Club, in your pack, as the trail descriptions and accompanying maps can help ensure excursions go off without a hitch. Englert focuses on 30 options that have easy access and typically range from 2 to 8 miles, including eight routes that are part of the 9 Creeks Loop that covers 41 miles.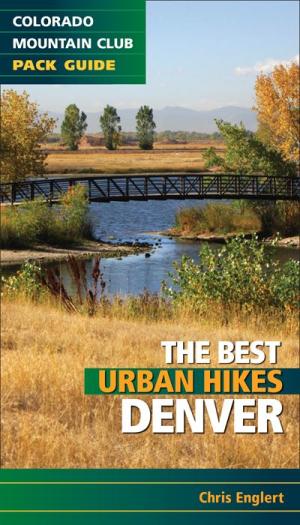 Selecting a hike usually means considering the area of the city you are basing out of and what else you want to experience in the metropolitan area. A couple of easy walks that have many attractions nearby are in City Park and Confluence Park. City Park is a 320-acre gem with five formal gardens, loads of beautiful trees, a lake, Denver Zoo and the Denver Museum of Nature & Science. Stroll up to 2.5 miles here or head to the 3.5-mile Confluence Park loop trail that skirts along water most of the way (the South Platte River and Cherry Creek converge here). This downtown trail starts and ends near Denver's flagship REI store and goes by landmarks such as Elitch Gardens Theme & Water Park and Empower Field at Mile High. Or connect to Cherry Creek Trail to extend your walk.  
For those seeking nature and wildlife watching, the 2.4-mile Lowry Park Loop is in the floodplain of the Aurora-Kelley Road Reservoir and is a favorite for bird watchers. On top of the dam, enjoy views of both downtown and the mountains. Rocky Mountain Arsenal National Wildlife Refuge, previously an army base, covers more almost 23 miles and has 15 miles of trails. There is a visitor center, ponds and lots of wildlife to view, including bison.
Even if you are staying out near Denver International Airport (DEN) or you want to squeeze in one last hike before flying home, there is a 3.8-mile option that is situated on airport-owned land next to Rocky Mountain Arsenal National Wildlife Refuge. The "First Creek at DEN Open Space Out-n-Back" trail parallels First Creek and is slated to link up to High Line Canal Trail in the future.
Speaking of airports, Central Park has miles of trails through Denver's former Stapleton Airport grounds and is one of Denver's largest urban parks. There's even a route that traverses by former runways and the old control tower.  
"The Best Urban Hikes: Denver" guide also has all sorts of recommendations for hikes throughout the metro area, including options in Arvada, Aurora, Brighton, Broomfield, Centennial, Commerce City, Golden, Lakewood, Littleton, Thornton and Westminster. What's unique is how many involve water, open space, banner views and a taste of Colorado's iconic plains. Even more distinct is the fact that the metropolitan area has successfully created a 41-mile trail system known as the 9 Creeks Loop that circles Denver's core via the Sand Creek Greenway, High Line Canal, Cherry Creek Trail and Platte River Trail. 
Englert describes the 9 Creeks Loop in eight segments, each with their own trailhead. In addition to the water, natural environments and urban sights along the way, a few highlights along the loop are the historic Riverside Cemetery, Bluff Lake Nature Center, Morrison Nature Center at Star K Ranch, DeLaney Farms, Fairmount Cemetery (featuring one of North America's largest heritage rose collections), Cherry Creek Golf Course, parks that honor two of Denver's sister cities, Sunken Gardens Park, and public art. 
Denver residents are an outdoorsy bunch, so don't be surprised if you see people on these trails year-round! Even in the middle of winter there are often a 60- or 70-degree days. Some trails are busier than others based on location and if they are on commuter paths for locals going to and from work, school and other favorite places. 
Get out and hit the trails—even if it's for just a short time—to experience The Mile High City from the ground up!