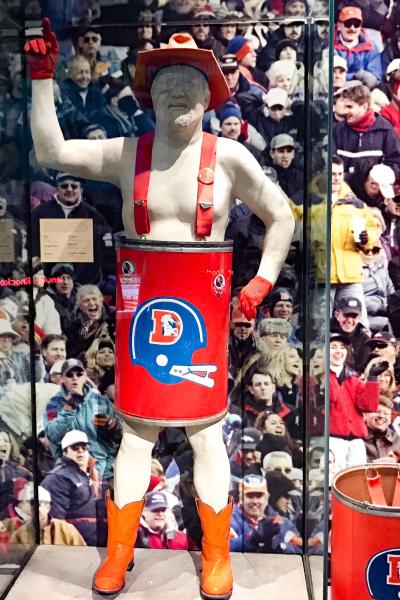 Suits of armor have been around for ages. In its most basic form, armor provides a barrier against attack—physical or otherwise. For Tim McKernan, a.k.a. "Barrel Man," his suit was his spark, a way of glorifying his favorite football team and attracting attention.
One of his get-ups is on display at History Colorado Center on a roughly life-size plaster replica of the legendary fan.
As the man who attended almost every Denver Broncos home game for 30 years (plus many away games) wearing nothing but an orange-colored cask, cowboy boots, hat and suspenders, McKernan is symbolic of Denver's passion for football.
"Fans loved him, they bought him beers, they got their picture taken with him," says Shannon Voirol, manager of exhibit planning at the museum. "The newspapers also loved him. There are some great pictures of him on the airport tarmac saluting the Broncos airplane as they took off to the Super Bowl."
The Barrel Man did his part to contribute to the show, and many suspect, the Broncos' success.
The costume was a ruse, a joking way to throw opposing players off their game and mock losers (the barrel signified miners who lost it all and had nothing left to wear but a cask). The gimmick started in 1977 when his brother bet him $10 that if he wore a barrel he'd end up on TV. The Barrel Man's presence helped vault the Broncos to Super Bowl XII, but they would ultimately lose to the Dallas Cowboys. Twenty years later, McKernan cheered on the Broncos as they won their first Super Bowl. In 2006, McKernan auctioned the barrel he was wearing that season on eBay. Reports vary, but the final selling price was somewhere between $30,000 and $46,100.
McKernan's wife, Becky, says he was a shy man, but the barrel, like all good armor, emboldened him. He would stand among thousands of football fans in all-weather conditions, wearing nothing but a tin. That took guts, and maybe a couple of brews, but it also took discipline. McKernan had to spray paint the boots and barrel and build in a special compartment for keys and a wallet. Besides dealing with weather, he had to suffer the discomfort of wearing a metal drum for hours without being able to sit.
"There are superfans for the Broncos and other NFL teams," says Voirol. "But I've never heard anyone that's come close to Tim's dedication—it's 30 years of cheering his team in any weather."
History Colorado attained the original (circa) 1970s painted barrel in 1988 from former Gov. Dick Lamm. Barrel Man himself donated the suspenders, buttons, gloves and boots to the Aurora History Museum, which in turn passed it along to History Colorado, a more proper representation of his importance to the entire state's story.
There hasn't been a fan quite like McKernan since he passed away in December 2009, and it'd be hard to match him. Museum staff member Mark Wanker, due to his resemblance to the icon, was asked to stand in for McKernan when the artist was creating the statue for the exhibit.
"We knew we wanted to capture Tim's likeness much more than a mannequin would do," says Voirol.
After receiving the blessing from his wife, Wanker traveled to Santa Fe, N.M., where he was covered head to toe in Vaseline and plaster and asked to breathe through a straw while the cast was built. McKernan's family was the first to see the completed piece.
"He had passed not too long before that, and they missed him," Voirol says. "So it was a little bittersweet for them."
Next to the Barrel Man, visitors are invited to test ride a replica to see what it may have been like to walk around wearing a big hanging tin. Not the most comfortable thing, but just like the rest of the "A to Z" exhibit, where McKernan's relics are found, it gives you a sense of the grit, humor and sport fanaticism that defines the city and state at large.
"Coloradans love their football," Voirol says. They love their Broncos and this man is emblematic of that love. He lived that love."