The Rocky Mountains make up the third-longest mountain range in the world, running from northern British Columbia to New Mexico. At its center is Rocky Mountain National Park, some 400 square miles of preserved natural beauty with 147 lakes, 360 miles of trails and more than 100 peaks that are 11,000 feet or higher. It can also be one of the most congested spots in Colorado with more than a million visitors descending on the park in just six summer weeks.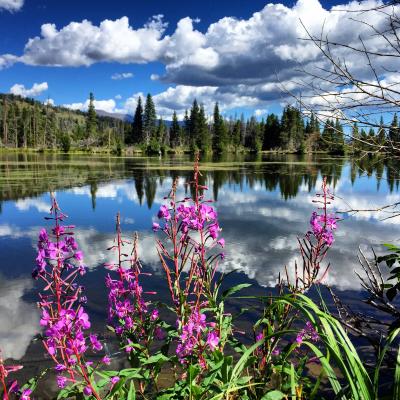 Of course, everyone must visit the park, which is only 71 miles from Denver. For those with little time, the highlights can easily be done in a day trip from Denver and have you back in the city in time for a night baseball game at Coors Field or a soothing craft beer along the Denver Beer Trail.
Here are some tips:
Go in winter and off-season. Snowshoeing is an excellent way to see lakes and waterfalls. Many of the trails stay dry and can be hiked in late fall and early winter without too much snow. 
Go mid-week and go early. Very early. Parking at popular spots can fill by 8 a.m. on weekends. Since the mountains become overcast in summer afternoons, and can often have afternoon rain and lightning storms, it is well worth getting up here early. In early morning, lakes are as still as mirrors and there is more wildlife.
Stay away from Bear Lake. Yes, Bear Lake is pretty, and the 4-mile roundtrip hike to a chain of upper lakes (Nymph, Dream and Emerald) is the park's most popular trail. But there are many others that have one-tenth the traffic. If you must go, then go early, or take the shuttle.
If it's your first visit or you are showing the park off to out-of-towners, Sprague Lake is the prettiest for an easy, half-mile level stroll. Unlike nearby Bear Lake, Sprague has less traffic and cars, and arguably better views.
Ride the shuttle. The shuttles from Glacier Basin are quick and efficient, and much less hassle than driving and searching for parking spots. There is generally easy parking at Glacier Basin and the buses come often.
Top experiences in the park? 
Drive up Trail Ridge Road and stop at the visitor center two miles above sea level. Bring a jacket and hike to the top of the ridge to throw a snowball (possible year-round) and take in the 360-degree views of this moon-like landscape above the trees.
Pick a backcountry lake (Gem, Bierstadt, Bluebird, Cub, Mills, or the Loch are all special) and hike in for a picnic lunch.
Climb a peak. Deer Mountain is the easiest, Longs Peak the most popular, but remember, as a general rule, to avoid lightning, be off the summit and heading down by noon. Longs Peak is a major 14- to 16-mile round trip climb and cannot be done on a day trip without departing the city in the middle of the night.
Have a late lunch in Estes Park. This beautiful little town can also be crowded, but instead of the strolling the main street, walk parallel to it on the river paths, which go under the busy roads, and take you right to the shore of gorgeous Lake Estes with its views of the Stanley Hotel and the park.
Have a drink on the porch of the Stanley Hotel. If you only have a day to visit, an unforgettable experience is the view of the Rocky Mountains from the porch of the Stanley Hotel, the location made famous as the inspiration of Stephen King's novel, "The Shining."
Photos by Rich Grant