There's no shortage of green space in Denver, and each of its more than 270 public parks has its own appeal. Sloan's Lake Park, on the city's western border, is The Mile High City's second-largest park and claims the capital's largest body of water.
Legend has it that the lake was created accidentally when homesteader Thomas Sloan struck an aquifer while digging an irrigation well. Soon, his land was flooded with water, and Sloan's Lake was formed. Originally the site of an amusement park (Ferris wheel included), it became a public park in 1923.
Today, Sloan's 290 acres are often filled with tennis players, water-skiers, SUPers, runners darting around the 2.6-mile path that encircles the water, and families enjoying the playgrounds. (And a healthy population of Canada geese.)
The Sloan Lake neighborhood that surrounds the park is primarily residential—a blend of architectural styles, from 1920s brick bungalows and Tudor ranches to modern townhomes and new-build apartments—but as the area's popularity grows, its amenities are improving, too. Another perk: The 'hood is situated near West Highland, Jefferson Park and Edgewater's Historic 25th Avenue, locales flush with popular eateries, charming boutiques and laid-back coffee shops. 
Here's what to do and where to eat next time you're in the neighborhood.
Eat Well
The number of restaurants within Sloan's boundaries may be small, but they're mighty good. As one of the only full-service eateries in the neighborhood, Chili Verde serves authentic bites from Puebla, Mex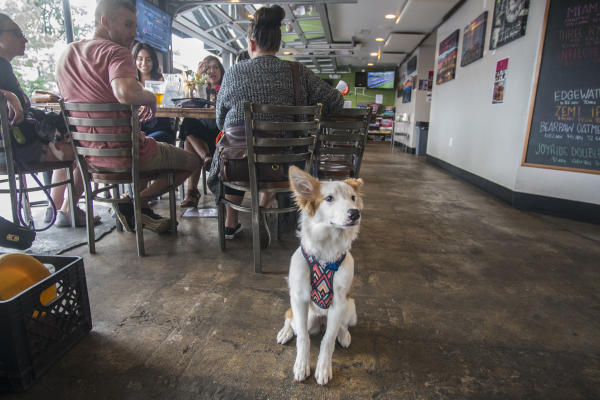 ico (try the pozole). Locals flock to Colorado-born chain Santiago's for budget-friendly breakfast burritos—smothered in green chile, of course.
There are north-of-the-border eats, too. At breakfast and lunch, Leroy's dishes up fresh-baked bagels in more than a dozen flavors. Rise & Shine Biscuit Kitchen and Café helps guest carbo-load all day long with fluffy, house-made biscuit sandwiches, coffee drinks and a solid tap list; in the evenings, barbecue-inspired dishes, like a pulled pork sandwich, are added to the offerings. 
Nearby, Tap & Burger Sloan's Lake is the perfect place to catch the game or enjoy brunch on a patio. US Thai Café, just across Sheridan Boulevard in Edgewater, is the spot to find tongue-numbing Thai dishes. And Sarto's serves classic Italian eats and an easy-sipping Aperol spritz in Jefferson Park. 
Drink Up
Speaking of drinks, Sloan's is home to just one brewery, Hogshead Brewery, which specializes in cask-conditioned ales. Adjacent neighborhoods fill in the blanks, with Little Machine Beer (Jefferson Park), Seedstock Brewing Company (West Colfax) and Joyride Brewing Company (Edgewater), which now has a rooftop patio, all in close proximity. 
Java fiends will want to check out SloHi Coffee + Bike. The small café serves all locally roasted coffee, plus Colorado-made kombucha and organic juice. And, yes, there's a bike shop inside, too, in case you need a tune. 
Have Some Fun
Sloan's main claim to fame is the annual (and free!) Colorado Dragon Boat Festival. Held every July, the highlight of this two-day cultural extravaganza is the dragon boat competition, during which dozens of intricately designed boats race across the water. Live music and dance, a Taste of Asia food court, and family-friendly events round out the celebration of Asian heritage. 
While shops aren't prevalent in the neighborhood, Planted is worth a stop. The corner shop sells a plethora of succulents, blooming plants and reclaimed wood containers so you can bring the outside into your home. Just across the neighborhood boundary, on West 29th Avenue, Aspen & Pine is a chic boutique selling men's and women's clothing and accessories perfectly suited to the Colorado lifestyle.
On chillier days, or when you need a break from the sun, head just two blocks south of the park to Alamo Drafthouse. The eight-screen movie theater offers a full food and booze menu—and will deliver it all to your seat during the movie. The attached BarFly is an ideal spot to grab a tipple before or after a show. 
Joyride Brewing Company pictured above.