With its abundance of sunshine, Denver is a gardener's paradise. Frederick Law Olmsted Jr., the son of the famed designer of New York's Central Park, helped design Washington Park (known locally as Wash Park), which is consistently picked by residents as their favorite.
The long, rectangular park has two lakes, paddle boat rentals, bike rentals, shade trees, a two-mile jogging path, mountain views and a huge area for volleyball tournaments, but it's the gardens that people like the best. Dogs on leashes are welcome and on most days there are almost as many canines as humans.
The north garden is a formal affair near circular Smith Lake, with geometric crushed gravel paths winding through two dozen flowerbeds filled with roses, geraniums, petunias, begonias and impatiens. The shallow lake is more of a reflecting pool, and on still evenings, is the place to watch a sunset over the mountains as the lake reflects everything in the brilliant sky. Look for hundreds of Canada geese, and even bald eagles in the trees.
The south garden on the shore of Lake Windemere is a replica of Martha Washington's garden at Mount Vernon, with the same bursts of color in a smaller area. The southwestern edge of Washington Park is just a few blocks from the Louisiana-Pearl light rail station, accessible on rail lines E from Denver Union Station, and F and H from the 16th Street Mall. At the Louisiana-Pearl station, walk east on Louisiana Street for seven short blocks to a beautiful patch of evergreens at the southwestern corner of the park. It's a lovely two-mile walk to circle the two lakes and the gardens (from the eastern shores there are views of snowcapped Mount Evans).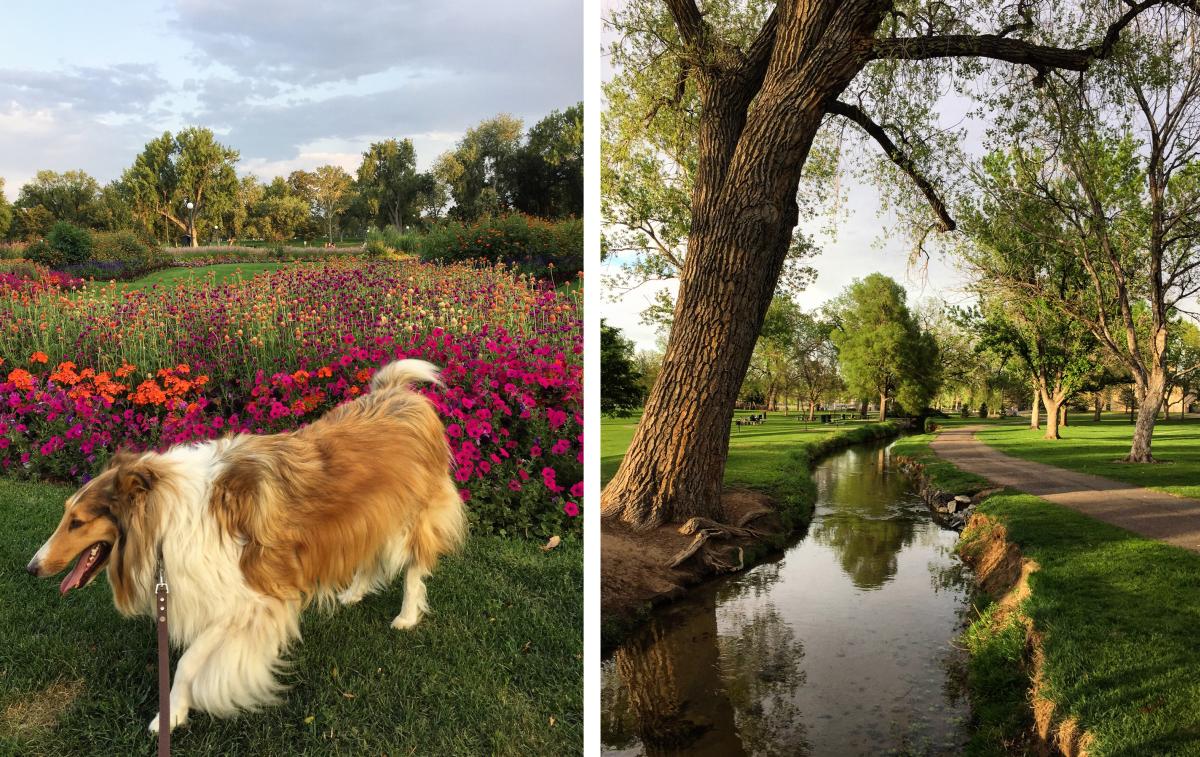 Afterward, if you've built up an appetite, head back toward the light rail station, and walk south on Pearl Street for two blocks to a wonderful neighborhood of coffee shops, taverns, breweries and restaurants. South Pearl was originally a stop on Denver's horse-drawn trolley system. Today, many of the old buildings now house things like The Tavern, the Sushi Den, Platte Park Brewery, Sexy Pizza and Sweet Cow Ice Cream. 
On Sundays, May-November, the street is closed and becomes one of Denver's favorite farmers markets with dozens of booths with fresh farm goods, innovative crafts, whiskey and wine tastings, plus a food-truck roundup. South Pearl is closed at certain times of the year for annual food, drink and music festivals.
Of course, as far as gardens go, Washington Park is just the beginning. The city's park system has 26 flower gardens, and all of the city's 17 boulevards have flower plantings. Denver Parks and Recreation has its own greenhouses where they grow 140,000 flowers a year, and there are another 20,000 flowers planted in flower boxes along the 16th Street Mall. Take time to smell the roses.
Photos by Rich Grant