Denver is just the city for the guys to get away for a long and muy macho weekend, from craft beer to pro sports to outdoor recreation. Where else can you swim with sharks, drive exotic cars, play war games and go indoor skydiving all in the same weekend? To keep the better half entertained, check out our "A Girlfriends Getaway Trip to Denver" post. 
Where to Stay
Here are some great places to set up your basecamp for the weekend.
Open for business since 1892, the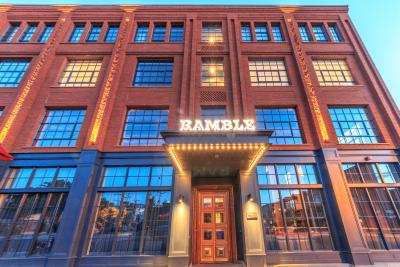 Brown Palace Hotel & Spa is one of the most historic lodgings in the West. Be sure to check out the suites: Three are named for presidents — Reagan, Roosevelt and Eisenhower (complete with a dent in the fireplace mantel from Ike's practice swing) - and the Beatles Suite features a custom jukebox and plenty of Fab Four paraphernalia.
In the River North Art District (RiNo), the 50-room Ramble Hotel started welcoming guests in 2018. Slick but not overbearing, the hotel features plenty of exposed brick and chandeliers, with the added perk of the only Death & Co Denver cocktail lounge this side of New York.
Near the Colorado Convention Center, The Curtis Hotel offers a break from the usual with themed floors and rooms and an impressive collection of work by local artists. Themed units include the Video Game suite, with a full-size Donkey Kong arcade console, and rooms inspired by "Star Trek," "Talladega Nights" and "Ghostbusters."
For something a little more budget-friendly, check out Hostel Fish. This upscale hostel has a great location near downtown and has dormitory as well as private rooms, plus a guest lounge and bar and kitchen. The staff organizes activities like city tours and pub crawls.
Where to Eat
Carnivores will like the menus at these iconic eateries. (You can also find vegetarian and vegan options here.)
The proud owner of Denver's first liquor license, the Buckhorn Exchange is a local landmark that's been in business since 1893. With walls clad in more taxidermy, the menu is heavy on steaks and game (including buffalo, elk and alligator), and proudly serves Rocky Mountain oysters as appetizers.
Established by former Denver Mayor and Colorado Gov. John Hickenlooper, Wynkoop Brewing Company is one of the most renowned brewpubs in the country. The menu includes something for everyone — from vegetarian penne pasta to bison meatloaf — as do the taps: Try a pint of Patty's Chile Beer, spiced with Anaheim, serrano, and ancho peppers.
Around the corner from Coors Field, Biker Jim's Gourmet Dogs elevates the hot dog to an art form. Start with a dog (selections range from reindeer to rattlesnake and pheasant) and pick from such toppings as yellow mustard, blue cheese and green chile, then pair it with fries, charred cauliflower, or baked beans. The bar stocks a nice selection of craft beer and spirits.
Gourmet markets and food halls, meanwhile, have been popping up all over town. Satisfy any taste with the variety of food and drink options at The Denver Central Market, Denver Milk Market or Broadway Market. 
Where to Party, Drink Beer and Go on Distillery Tours
Denver's craft breweries and distilleries are at the forefront of their respective industries, and the city has been known for its wealth of watering holes for more than a century.
The oldest continuously operating bar in the city, My Brother's Bar originally opened in 1873 and was once frequented by literary legends Jack Kerouac and Neal Cassady.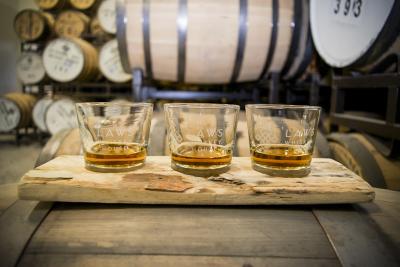 Denver's most prolific brewery in terms of volume, Great Divide Brewing Company has two locations: the Great Divide brewery and taproom downtown in the Ballpark neighborhood and the Great Divide Barrel Bar in RiNo. The beer list is long and varied, running the gamut from Denver Pale Ale and Titan IPA to Yeti Imperial Stout and Strawberry Rhubarb Sour.
Also in the Ballpark area, Jagged Mountain Craft Brewery is known for its big and experimental beers: Five Years Strong celebrated the milestone for the brewery with a 15 percent alcohol by volume Belgian quintuple, and you'll typically find a nice selection of barrel-aged and sour beers on draft as well. For more great brewery options, check out the Denver Beer Trail.
Described by founder Al Laws as a "whiskey church," Laws Whiskey House is a distillery on the south side of Denver that bottles no whiskey before its time — or about three years, minimum. The selection includes bourbon, rye, wheat and corn whiskeys, and the distillery offers a regular schedule of tours and tastings.
Punch Bowl Social is a "high-energy bar and bowling complex with a modern dinner compliment" in south Denver.
In northeast Denver, Leopold Bros. distills a broad catalog of spirits ranging from gin to whiskey to absinthe. It's one of only a handful of distilleries to malt its grain in-house and sources a good deal of ingredients from Colorado farms.
Where to Explore
Whether your interest lies in planes, trains or animals, Denver has just the attraction to please.
Car nuts will want to scope out the collection at the Forney Museum of Transportation in RiNo, featuring massive steam locomotives, antique streetcars, sports cars, motorcycles and 500 Matchbox toy vehicles.
For those whose interests are at a higher altitude, the Wings Over the Rockies Air & Space Museum fits the bill. You'll find a full complement of military aircraft, missiles and spacecraft, plus an X-Wing Starfighter that was featured as a prop in Star Wars.
In City Park east of downtown, the Denver Museum of Nature & Science and the Denver Zoo are among the best facilities of their kind in the West. The museum features dinosaur fossils, mummies and wildlife dioramas, as well as an IMAX theater, planetarium and VR arcade. Zoo denizens range from aye-ayes to zebras.
Where to Shop
From fashion to outdoor gear, you'll find it on the shelves and racks at stores in Denver.
Established in 1946, Rockmount Ranch Wear is an icon. The company's founder, the late Jack A. Weil, invented the Western snap shirt and was the first to commercialize bolo ties, and celebrities ranging from Elvis Presley to Will Ferrell have worn Rockmount's wares. The company's flagship store in LoDo stocks all kinds of Western shirts and accessories and offers a small museum as well.
Winter Session handcrafts leather bags, leather billfolds, leather keychains, leather dopp kits and other leather goods at its workshop and store in the Five Points neighborhood northeast of downtown.
Meier Skis makes skis in Denver with cores made from Colorado aspen, pine and fir trees. The result? A notably springy and eco-friendly ride down the slopes. The company dubs its factory as the world's first "craft skiery," featuring a showroom with skis, a bar with local beers on tap and a window that provides a view of the ski makers at work.
For all other outdoor gear, the flagship REI store in the historic Denver Tramway building at the confluence of the South Platte River and Cherry Creek stocks bicycles, sleeping bags, headlamps and just about every other imaginable tool for exploring the great outdoors.
Where to Watch and Participate in Sports
Denver is one of a handful of cities that's home to teams in every major pro sports league, but it really shines when it comes to getting active yourself.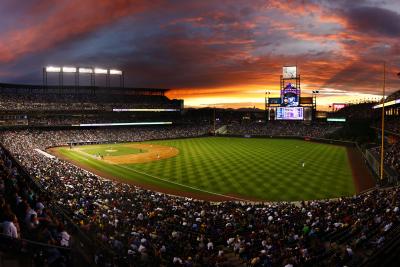 Beyond the NFL's Broncos, NBA's Nuggets, MLB's Rockies, NHL's Avalanche and MLS's Rapids, Denver is home to two pro lacrosse teams (the Mammoth and the Outlaws), University of Denver Pioneers basketball, soccer, lacrosse and hockey, and one of the world's richest rodeos at the annual National Western Stock Show and Rodeo in January. If it's the offseason for your favorite team, check out the Colorado Sports Hall of Fame and the National Ballpark Museum.
Denver has a similar abundance of participatory sports. The city-owned Denver Mountain Parks offer hiking and mountain biking at 22 parks outside city limits Ruby Hill Park in southwest Denver features the Ruby Hill Bike Park and the Ruby Hill Rail Yard for skiers and snowboarders. Further afield, the city-owned Winter Park Resort is a serious skiing destination about an hour's drive west of Denver. Or hop on the Amtrak Winter Park Express ski train at Union Station and experience an unforgettable ride through some of Colorado's most beautiful landscapes.
Want to try rock climbing? The Denver Climbing Company offers courses for beginners on the striking North Table Mountain in Golden, which is about 20 minutes from Denver. The four-hour courses begin around 10 a.m. each day. 
APEX Denver is the place for parkour and aerial classes, with open gym hours to hone those skills. A-1 Scuba takes divers and snorkelers underwater to commune with the sharks, eels, rays and other denizens of the Downtown Aquarium, and even offers a shark cage experience for non-swimmers. Topgolf Centennial, meanwhile, offers a totally different set of challenges where participants hit golf balls at various targets. It's also a great place to hang out with delicious food and drinks.
To fulfill your need for speed, get behind the wheel of a go-kart with Unser Karting at racetracks north and south of downtown. West of Denver in Golden, Oxotic Supercar Driving Experience takes you on a rally tour of the Rockies in a slick Porsche Cayenne Turbo. On tours of more than 25 miles, you can drive yourself. And south of the city in suburban Lone Tree, iFLY Denver Indoor Skydiving cancels gravity with a wind tunnel that keeps you afloat to work on your moves.
For those looking to pair your urban explorations with outdoor adventures, a number of nearby attractions and outfitters can help you do just that. Colorado Adventure Center has ziplines and ropes course and offers rafting trips from Idaho Springs, about 30 miles west of Denver. Just west of Idaho Springs in Dumont, Mile Hi Rafting guides whitewater rafting trips on Clear Creek and the Arkansas River and ATV tours in the mountains. With two locations west of Denver, AVA is an outfitter whose offerings span rafting, fishing, horseback riding and zipline tours.
Winter Park-based MAD Adventures offers trips on Clear Creek as well as the Colorado River and other waterways in Colorado's high country. Southwest of Denver near the dizzying Royal Gorge, Royal Gorge Rafting offers trips on the Arkansas River and zipline tours. Grand Adventures Snowmobiling in Winter Park offers snowmobile tours in winter and off-road adventures in the warmer seasons.
Where to Throw Axes, Shoot Arrows and Play Hammerschlagen
If hiking and skydiving aren't your bag, there are few pursuits as manly as ax throwing and hammerschlagen.
DAGAR — that's short for Downtown Art Gallery & Axe Room — allows patrons to chuck axes at wooden targets while enjoying local craft beer, wine and artwork. If you want something a little more intense, try Archery Games Denver in nearby Arvada. Yes, you can shoot foam-tipped arrows at your friends.
If you want something closer to actual combat, check out Conflict Colorado in Littleton where warriors go on the attack with realistic laser weapons. Get your thrills without the painful sting of paintballs.    
And Denver has two spots for hammerschlagen (the German pastime where you try to drive your opponents' nails into a stump before they sink yours): Bierstadt Lagerhaus, a craft brewery in RiNo, and Dougherty's Restaurant & Pub in the Baker neighborhood south of downtown.