Ville jeune et dynamique située au pied des Rocheuses. Surnommée Mile High City, la ville est nichée à 1,600m d'altitude soit un mile d'hauteur. Denver bénéficie de 300 jours de soleil par an, d'une scène artistique et culturelle vibrante, et d'un accès facile vers de multiples activités de plein air.
Pour plus d'informations, consultez VISITDENVER.com et cliquez sur les rubriques ci-dessous. Les informations sont disponibles en anglais uniquement.
Denver possède plusieurs musées réputés, tels que le Denver Art Museum abritant des collections d'art amérindien et western, le Contemporary Art Museum et ses œuvres avant-gardistes, le Clyfford Still Museum qui expose les toiles de cet artiste de l'Expressionnisme Abstrait et le Kirkland Museum, véritable malle aux trésors remplie d'objets d'art décoratifs.
Pour plus d'informations en anglais uniquement, cliquez ici: click here
Denver est une ville qui sait s'amuser, entre les concerts dans l'un des nombreux bars de la ville, et les boîtes de nuit du quartier de LoDo (Lower Downtown ), et ses 7 équipes sportives dont les Colorado Rockies qui jouent au stade de baseball Coors Field.
Pour plus d'informations en anglais uniquement, cliquez ici: click here.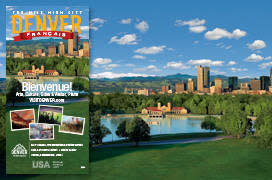 Une version imprimable de la brochure sur Denver en Français,
Le Cherry Creek Shopping Center et le quartier de Cherry Creek North sont des hauts lieux du shopping avec des marques américaines, des enseignes de choix, boutiques et galeries. Dans le centre-ville, les achats se font sur l'artère piétonne 16th Street Mall, au complexe Denver Pavillons, et à Larimer Square. Denver et ses environs comptent de nombreux autres choix de shopping avec, notamment, Belmar, Flatiron Crossing, Park Meadows Retail Resort, les factory outlets à Castle Rock ou Loveland.
Pour plus d'informations en anglais uniquement, cliquez ici:  http://www.denver.org/what-to-do/shopping
Visitez le History Colorado Center et ses expositions interactives, explorez le Black American West Museum et le Denver Museum of Nature & Science, ou sortez de Denver pour découvrir le Buffalo Bill Museum près de Golden. Pour des bottes ou un chapeau de cow-boy, rendez-vous au Rockmount Ranchwear, boutique emblématique en plein centre-ville de Denver.
Pour plus d'informations en anglais uniquement, cliquez ici::  click here.
Testez les produits frais de la ferme servis par les chefs de la région dans le quartier de Larimer Square au centre-ville, ou dans les autres quartiers de Denver tels que Highlands. Les restaurants proposent de tout, du sushi ou de la cuisine mexicaine, au bison et à l'agneau du Colorado, accompagnés de productions locales de bière et de vin. Dans les mythiques restaurants The Fort et le Buckhorn Exchange, goûtez l'élan, les serpents à sonnette et le traditionnel steak américain. Denver satisfera tous les appétits.
Pour plus d'informations sur les restaurants de Denver, cliquez ici: http://www.denver.org/dining-nightlife
Vous trouverez toutes les informations sur la danse, la musique, le théâtre, l'histoire, le patrimoine, les musées, les festivals ou les manifestations sportives sur Denver 365, le calendrier en ligne des événements de Denver. Effectuez vos recherches par date, type d'événements, titre ou quartier.
Cliquez ici pour accéderà la page d'accueil du calendrier des événements en anglais uniquement:  http://www.denver.org/events
Le centre-ville de Denver est piétonnier et une navette gratuite transporte les visiteurs le long de l'artère piétonne 16th Street Mall. Des vélos B-Cycle en libre-service sont disponibles dans toute la ville. Plusieurs lignes de tramways permettent aussi aux visiteurs de découvrir les divers quartiers de Denver, il est donc possible de se déplacer sans voiture. Des vols directs sont disponibles à partir de Londres avec British Airways, de Francfort avec Lufthansa, et de Reykjavik avec Icelandair, trajet le plus court pour se rendre depuis Paris vers Denver.
Pour plus d'informations en anglais uniquement, cliquez ici:  click here.
À partir de Denver, partez pour la journée découvrir les Montagnes-Rocheuses randonnée, rafting en eaux claires, VTT ou ski- ou allez explorer les anciennes villes minières avec leur trains à vapeur. Ne manquez pas à 1h30 de route, le Rocky Mountain National Park où les paysages et les scènes de vie sauvage vous émerveilleront. Pour toutes vos escapades à Denver et au Colorado, en anglais uniquement, cliquez ici pour des suggestions aux alentours de Denver Denver.org/what to do et pour des idées d'excursionsà la journée Denver.org/what to do.
Denver est une destination de premier rang qui répond aux envies de tous les participants. Cette ville dynamique mélange innovation, tradition et culture dans un esprit énergique, au cœur des montagnes Rocheuses. Le centre de convention est au cœur même du centre-ville, à proximité de nombreux hôtels de gamme et prix divers. Continuez la lecture pour connaître davantage de raisons de découvrir Denver.