Benvenuti a Denver, Colorado! La città outdoor con molta avventura urbana. La Mile High City gode di trecento giorni di sole all'anno, di una vivace scena culturale ed artistica e di facile accesso alle Montagne Rocciose.
Per maggiori informazioni visitate VISITDENVER.com e le sezioni del sito indicate qui di seguito.
Denver è sede di celebri musei quali il Denver Art Museum con le sue collezioni di arte Western e dei Nativi d'America, il Museum of Contemporary Art con la sua innovativa arte contemporanea, seminari e mostre, il Clyfford Still Museum dedicato al noto espressionista astratto e il Kirkland Museum of Fine & Decorative Art considerato un vero tesoro ricco di opere d'arte del Colorado ed internazionali.
Per maggiori informazioni in lingua inglese su cosa fare a Denver e in Colorado, cliccate qui.
Denver è una città che sa come divertirsi, da ascoltare musica dal vivo in uno dei bar o locali del quartiere LoDo (Lower Downtown) a fare il tifo per una delle sette squadre sportive professioniste, come i Colorado Rockies per il baseball al Coors Field. Un'attrazione assolutamente da non perdere è sicuramente il Red Rocks Park & Amphitheatre dove celebri musicisti si esibiscono contornati da antiche formazioni rocciose. E decine di pub-birrifici offrono eccellenti birre prodotte artigianalmente.
Per maggiori informazioni in lingua inglese su cosa fare a Denver e in Colorado, cliccate qui.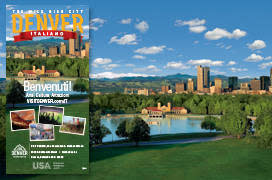 Scaricare la versione stampabile della brochure (la brochure include anche una mappa) - seleziona la lingua Italiana.
Cherry Creek Shopping Center e Cherry Creek North sono i luoghi ideali per marche americane, negozi esclusivi, boutique e gallerie. Lo shopping nel downtown comprende il 16th Street Mall, Denver Pavilions e Larimer Square. Con un breve tragitto in auto dal centro, i visitatori possono visitare Belmar, FlatIron Crossing, Park Meadows Retail Resort oppure gli Outlets a Castle Rock e a Loveland.
Per maggiori informazioni in lingua inglese su cosa fare a Denver e in Colorado, cliccate qui.
Visitate l'History Colorado Center con le sue mostre interattive, esplorate il Black American West Museum, e il Denver Museum of Nature & Science, oppure con un breve tragitto in auto raggiungete il Buffalo Bill Museum & Grave vicino a Golden, Colorado. Per comprare un paio di stivali oppure un cappello da cowboy, fate una sosta al Rockmount Ranch Wear, negozio icona nel cuore di Denver.
Per maggiori informazioni in lingua inglese su cosa fare a Denver e in Colorado, cliccate qui.
Gustate la cucina farm-to-table servita da chef locali in centro a Larimer Square oppure nei quartieri di Highlands. I ristoranti propongono di tutto, sushi, cucina messicana, carne di bisonte e di agnello, il tutto accompagnato da alcolici, vino e birra prodotti localmente. Tra i ristoranti da non perdere assolutamente, The Fort oppure Buckhorn Exchange che propone carne di cervo, serpente a sonagli e numerose bistecche americane. Denver non vi lascerà certo con l'acquolina in bocca!
Per ulteriori informazioni sui ristoranti di Denver, cliccate qui
Scoprite le ultime informazioni su eventi musicali, teatrali, sportivi, culturali, museali, di danza, di storia, su Denver 365, il calendario eventi online. E' possibile effettuare una ricerca per data, tipo di eventi, titolo oppure zona della città.
Per la homepage del calendario eventi in lingua inglese, cliccate qui.
Denver ha un centro altamente pedonabile grazie ad un servizio di shuttle bus gratuito lungo il 16th Street Mall ed al B-cycle, programma di bike sharing disponibile in tutta la città. Esiste poi anche una ferrovia leggera che collega ai vari quartieri di Denver; è quindi molto facile girare la città senza auto. Voli nonstop sono disponibili da Londra con British Airways, da Francoforte con Lufthansa, da Reykjavik con Icelandair, da Città del Messico con Volaris e dal Giappone con United. (A partire dal 3 Dicembre 2014, United lancerà anche un nuovo volo da/per Panama City).
Per maggiori informazioni sui trasporti a Denver, clicca qui.
Fate una gita di una giornata fuori Denver per vivere le Montagne Rocciose – hiking, rafting, mountain bike o sci, oppure esplorate le storiche cittadine minerarie con vecchi treni a vapore e non perdete il Rocky Mountain National Park con la sua fauna i suoi incredibili paesaggi a un'ora e mezzo in auto. Per maggiori informazioni in lingua inglese su come esplorare Denver e il Colorado… cliccate qui per suggerimenti sull'area intorno a Denver e qui per suggerimenti su escursioni di un giorno.
Denver è una destinazione di prima classe che ha qualcosa da offrire a tutti i visitatori. Questa città in rapida crescita coniuga innovazione, tradizione e cultura con l'energia frizzante delle montagne rocciose. Il centro congressi si trova nel cuore della città a pochi passi da numerosi alberghi di qualsiasi categoria e in tutte le fasce di prezzo. Continua a leggere per scoprire le ragioni che rendono Denver così speciale.